Black Cat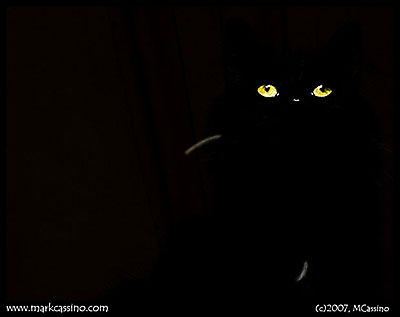 How many photos can you squeeze out of one place, one yard, one house? I love taking photos around the house – a new light on an old familiar place.
Everything is always changing, even in the same old place. The sun comes in the windows at different angles during different seasons. The light and shadows from the windows change as the trees leaf out. The quality of light varies as the snow falls and recedes.
And of course, having a cat or two around helps. They are always coming up with something new. When I moved into this house 20 years ago, I got two black cats. They hung around for a long time. A year ago the house was empty again, so we went out to look for new cats.
A friend of a friend of a friend had some kittens, and by coincidence two more black cats moved into the house. They are young still, just beyond being kittens. This one is sitting on the banister, looking at the late afternoon sun and it slips down towards the horizon.
No feedback yet