Categories: "Toy Camera"
Been a while since I posted a Holga shot - so here goes. A few weeks ago I wandered through a clearing in the Allegan Forest, but saw nothing except for grasshoppers and flies. No dragonflies, butterflies, snakes, toads or other interesting subjects. I had a Holga with me and took this shot looking back into the scrappy dense woods that look all the more dark when you are standing in bright light. Click on the image below for a larger file.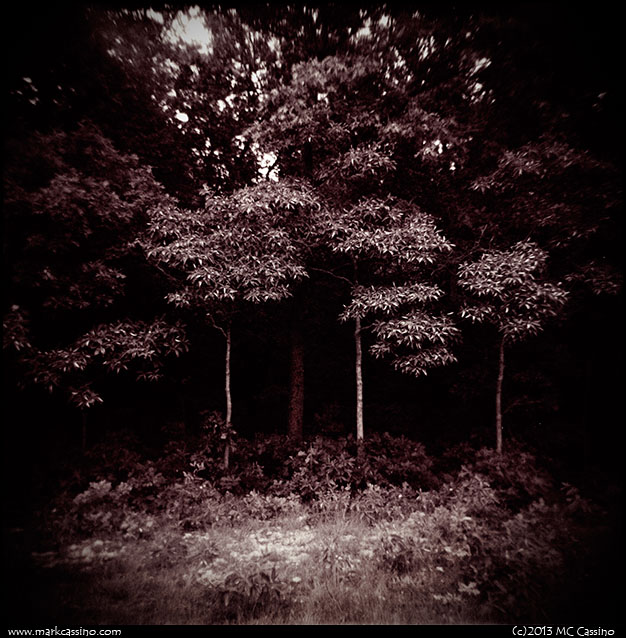 Here are a some Holga shots from the last few weeks.
First - I've been experimenting with Ilford SFX in a Holga. A 52mm deep red filter fits nicely on the front of the plastic lens (you have to push hard, but it will fit on and stay there). Here's a little country church taken with this setup: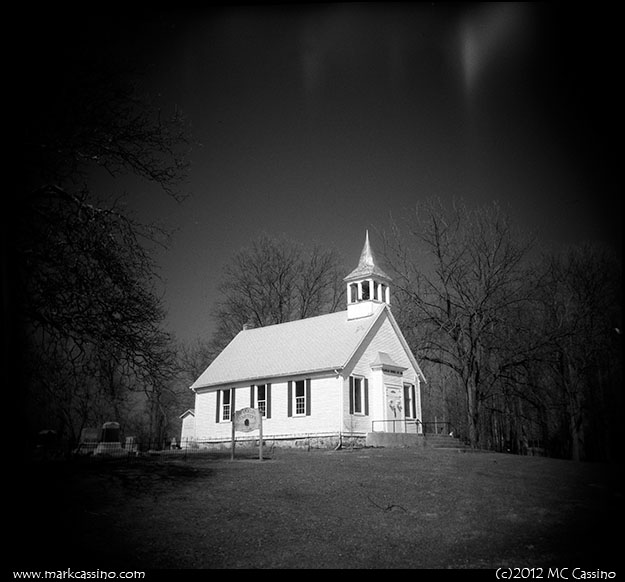 Solar flare activity was quite high when I took that shot and you can see the aurora in the sky over the church even the the midday sunlight… Or maybe the Holga was leaking light. Well, more likely that…
Here is an SFX shot of barren spring woods - not much infrared effect but there was not much greenery out yet: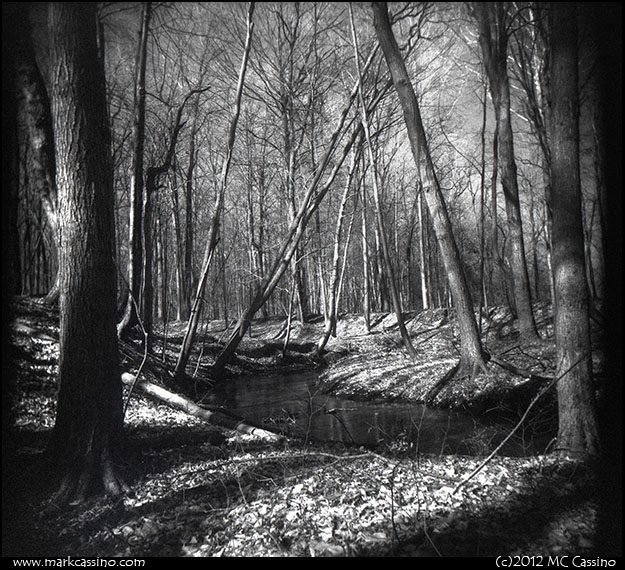 SFX is a pretty tame infrared film, but it is fast enough to be used in a hand held Holga, even with a deep red filter. (I developed the SFX in HC-110 Dil B and pushed these exposures by one stop.) I'm hoping for some more pronounced IR effects once the green foliage is out.
And here is a double exposure of a snowmobile trail, looking to the east, looking to the west …. Classic Pan 200 developed in HC-110 Dil H.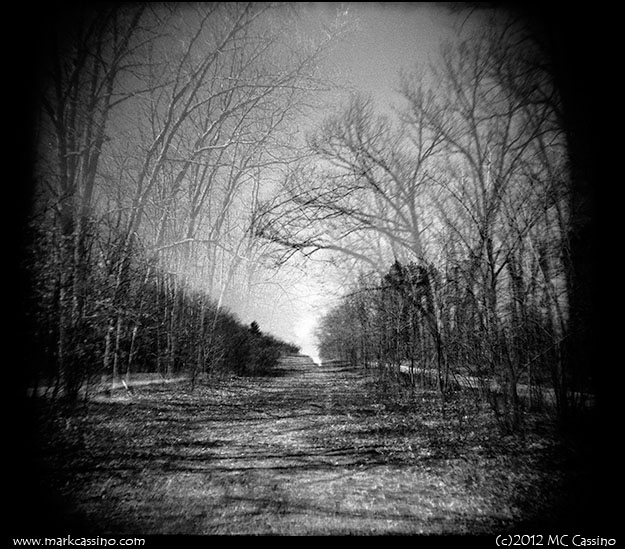 Lastly , a squirt gun found out in the woods, same place where I found a bunch of dead fish a few years ago: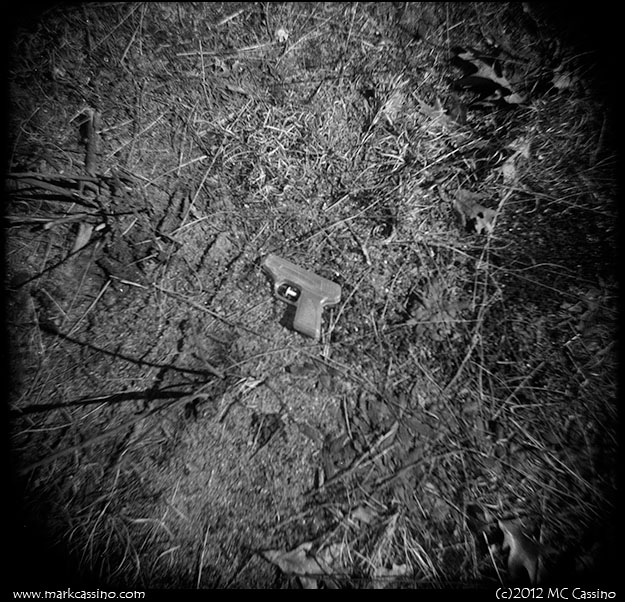 I heard about the London Street Photography Award and that got me looking through of my old B&W scans. This isn't street photography since I was driving a car when I took it (like, how can you take a street photo while driving in the, um, street…)
But it's an overlooked shot that I like. It has inspired me to unearth my original Holga from the depths of my car trunk, and I might even develop the film in it and try a fresh roll.
This shot was taken in 2007, whilst driving through Battle Creek, Michigan: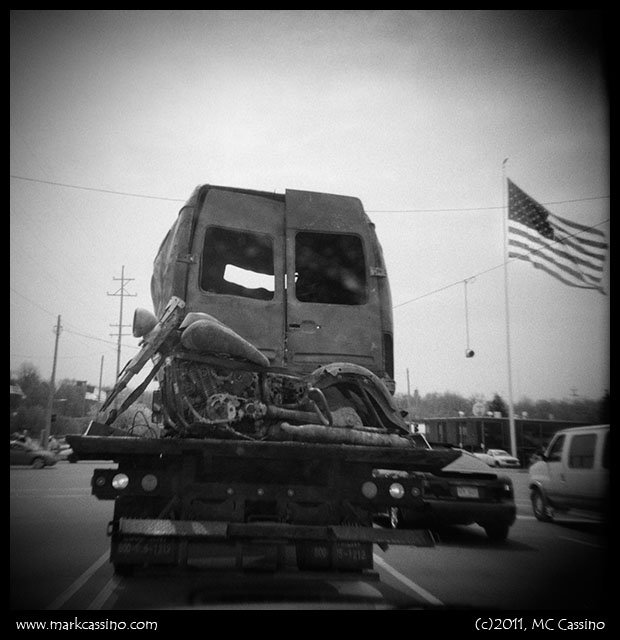 Good news arrived a couple of days ago when I learned that one of my photos, Spent, was accepted into the 2009 West Michigan Area Show, hosted by the Kalamazoo Institute of Arts. After a two year hiatus in having work accepted into this show, it's nice to get a piece in.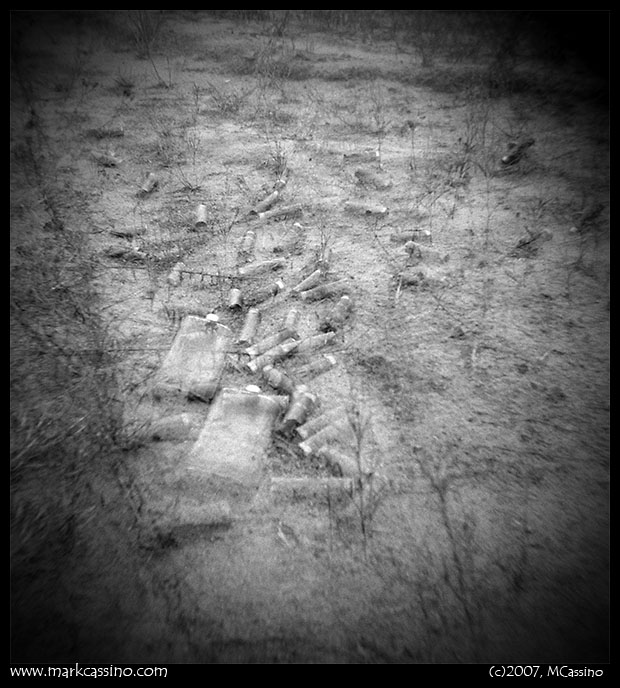 Spent
This image is one that keeps popping up on this blog, mostly because I like it. It was shot on film with a Holga in October, 2007 and where-else but the Allegan Forest. This was previously exhibited in last year's Your Best Shot show hosted by the foto foto gallery in Huntinton, NY
The 2009 West Michigan Area Show runs from February 28 – April 26 with a reception on March 1, from 2-4 pm. This year's juror is Larry Fink.
Here are a few more shots from my trip last week. We spent a day at Monticello, which was every bit as interesting as I hoped it would be. The weather wasn't the greatest - a cool steady drizzle on a rather gloomy and cloudy day. After the first hour or so I put the camera away. But here is one shot of a portico near the estate's garden:
Here's a close up of a bubble in a glass window, Williamsburg, Virginia:
A few shots with the Vivitar IC101 Panoramic Focus Free Camera… A shopping cart on the Mall, Washington, D.C.
That's probably half of the images I decided to cull out from the IC101.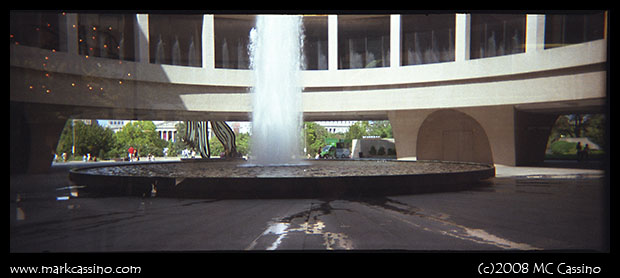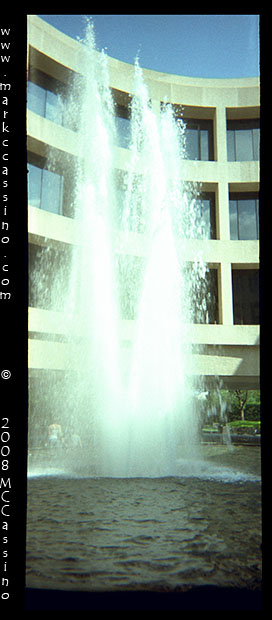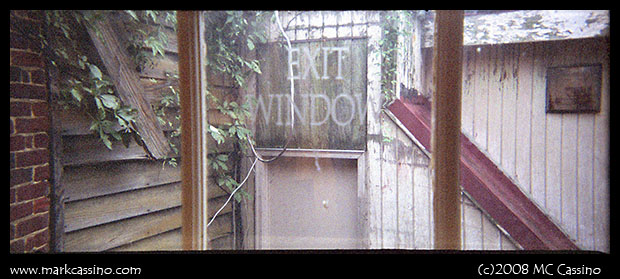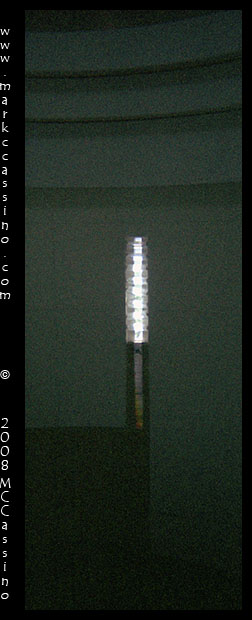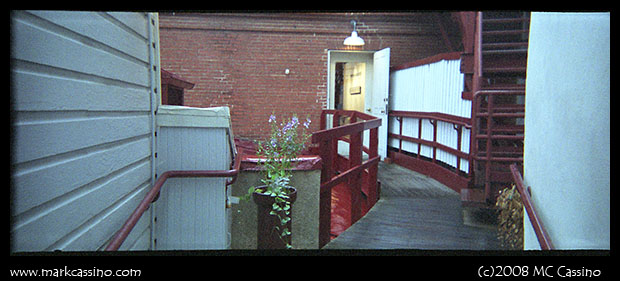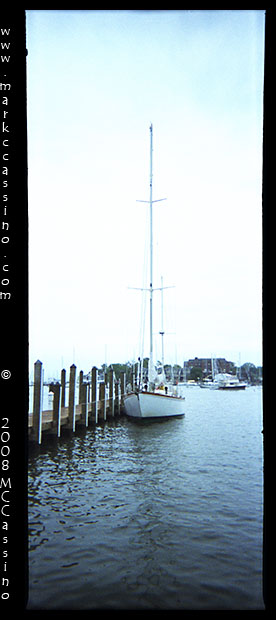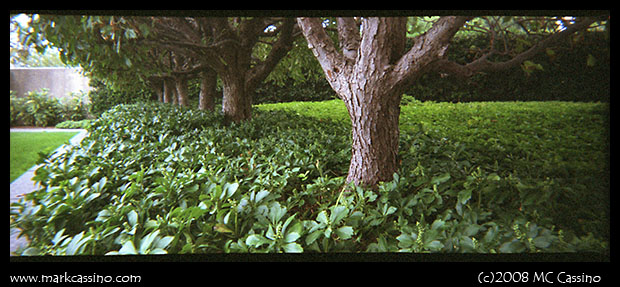 Summer's over and autumn is cooking – and I'm just standing here looking…
It's been a while since I posted – mostly because I've been on the road for the last couple of weeks, wandering through Virginia, D.C., Maryland, and New Jersey. It wasn't a photographic trip, and I don't have a bunch of new images to upload.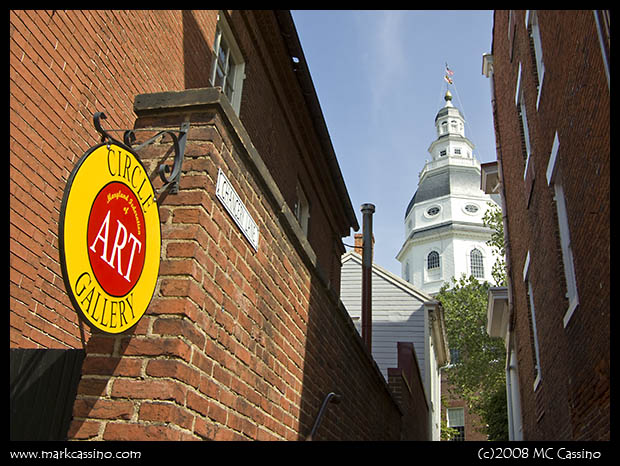 The putative reason for the trip was to attend the artist reception at the Maryland Federation of Art American Landscapes exhibit. The show looked great (as usual) with some really excellent pieces on display. Lenny Campello, the DC area art guy and blogger who juried the show, was on hand for the reception as well.
Early on in the trip I tired of carrying around an SLR, and so reverted to the smallest and lightest camera I had on hand – which was the Vivitar IC 101 panoramic focus free. My camera's mechanics are increasingly wonky – sometimes failing to advance the film and more often than not, failing to fire when the shutter button is depressed. (Though it inevitably fires *sometime* shortly after pressing the button.)Here's a shot of some shrubbery in Washington, D.C.
Maybe more later…
Almost two weeks ago now, some good news came in the mail. One of my Holga shots from last October was accepted into the fotofoto gallery's "Your Best Shot" exhibit. I didn't do a lot of Holga work last year, but "Spent" was the best shot (in my mind) that I did get with the toy camera – so I'm glad to see it head off to a show. I had the photo boxed up and in the mail a week ago, so it should be there now.
Definitely an October image - and here it is, a beautiful May morning…