Categories: "Landscape Photography"
Where to go on a hot July afternoon? Find a shady spot, of course. That was my logic last Thursday, when I found myself back in a clearing in the Allegan Forest - off of a barricaded two track, off of some seasonal road, off of 122nd avenue, off of M89. It was a place I've never been to before – I need to find more spots like that.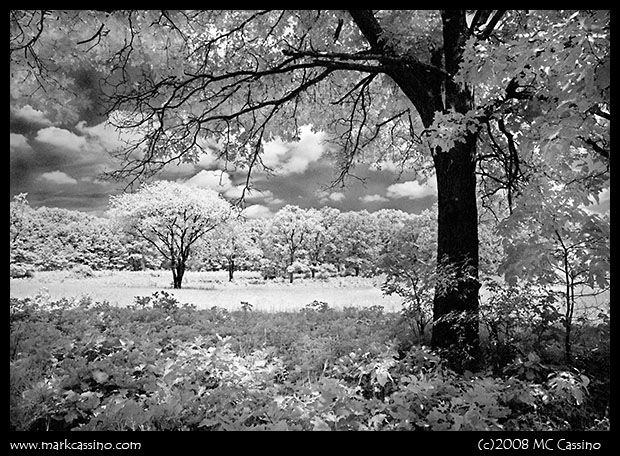 The Shadey Spot
You wouldn't expect that I'd get tired of shooting dragonflies – it seems to take longer every season, but this week I finally lost the dragonfly vibe. Though the fields were teeming with blue dashers and more than a few skimmers of various sorts, I left the digital camera and the macro rig behind. I wandered back into the clearing with a trusty Pentax LX loaded with Rollei IR 400 film, a couple of zoom lenses, and an R72 filter.
I shot two rolls of the Rollei film – 72 frames, but with bracketing only about 20 different compositions. Digital has really spoiled me – I feel like I've wasted an afternoon if I don't take 200 shots. That is one of the great perils of digital photography - you become your own army of monkeys, pounding at the shutter button. Accidental successes seem to be triumphs, but it's hard to figure out how you got there and recreate the work. Not to mention that accidnets have no concept behind them.
Well - back to the fields and forest. I found a pearl in the sandy soil, often the case there.
This was my third session with the Rollei film. It was shot with the R72 filter, metered though the lens with the ISO set at 200 (thanks, Ray!) Film was developed in HC110, Dil H (1:66) at 20C for 24 minutes, with very low agitation (gentle agitation every 3 minutes for the first 12, then every 60 seconds.) I like it, but I don't see it as a replacement for HEI. It's much too slow with the R72 filter, and I really like using a plain red filter and being able to check and tweak the composition as I'm hitting the shutter button.
Rollei IR 400, with an R72 filter, is also a pretty high contrast film. Despite my attempt at using HC110 as a compensating developer, the film is a tough beast to tame with shadow areas virtually clear on the negative. But, when it comes to B&W shots, contrast is your friend. Not a friend I've really come to terms with, but working with this film has been a big boost in helping me understand and work with higher contrast mono shots.
Note: Additional development times (stand process in HC110) can be found towards the end of this post: Ludington Dunes.
A few months ago I ordered what will no doubt be my last rolls of Kodak High Speed Infrared film. It's sad to see an old standby pass on, but while online buying film, I decided to pick up a few rolls of Rollei IR400.
I was looking for a film that could produce the same startling infrared affect that the Kodak film delivered. After shooting a couple of test rolls, it seems that the Rollei film is certainly up to that task. Here are a few first impressions of the film, plus tips regarding exposure and development. 
Exposure: Without a filter, or with just a #25 red filter, setting the ISO to 400 and metering through the lens worked fine. As with most ISO 400 films, though, I prefer the results at ISO 320 or even 200.
As you'd expect, there is no IR effect when shooting without a filter. And, unlike some other IR films, there is very little IR effect when shooting with a #25 red filter. To get a pronounced IR effect I had to use a Hoya R72 infrared filter.
My first experiments with the IR filter were disappointing. I utilized a 5 stop filter factor, so I metered at ISO 400 with no filter and then increased the exposure by 5 stops – effectively shooting at ISO 12. I bracket up and down a stop, for ISO 24 and 6. Unfortunately, with the R72 filter in place, this still resulted in a grossly underexposed negative.
So the second time around I ramped up the filter factor to 7 - 10 stops – shooting at ISO 3, 1.0, and even 0.5. The shot above was metered at ISO 1.0 and was taken with the R72 filter in place. In bright midday full sun, with the lens at f16, this was a 1 second exposure – pretty darn long and comparale to the digital IR work I've been doing. (Just to be perfectly clear for folks trying to wrap their heads around adjusting exposure to compensate for filters – I metered the above shot with the camera set to ISO 400. That gave me a recommended setting of 1/500th of a second. I then clicked the shutter button to increase the exposure by 9 stops to 1 second even.)
The R72 filter was critical for getting the distinct IR effect. The image below compares two shots, one taken at ISO 200 with a #25 Red Filter, and the other with the R72. While Kodak HIE, Ilford SFX, and even the now long defunct Konica IR750 all produced good results with the plain red filter, with the Rollei film the red filter just doesn't cut it. The technical specifications sheet recommends a deep red filter, but I have not tried that.
Development: Having only shot two rolls of this filme, I processed the first in Rodinal 1:50 and the second in HC110 Dil H (1:66). The roll dipped in Rodinal was grainy – very grainy. The HC110 roll had much more subdued grain, and much better tonal range (of course, that is also a result of the second roll being better exposed.) The successful process with HC110 was 20 minutes and 20C, with agitation one per minute for the first 15 minutes, and every 30 seconds for the last 5 minutes. For the next roll I'll probably drop the agitation for the first few minutes, and extend the time, in hopes of coaxing out a bit more shadow detail.
Rollei IR400 is the first 35mm film I've used that has a water soluble anti-halation / dye layer. While this is generally the rule for 120 and 220 films, I wasn't expecting it in a 35mm format. As recommended on the Massive Development Chart, I pre-soaked the film for 5 minutes before developing .
In conclusion, I'm really happy with the rest results from this film, and am looking forward to doing more work with it.
It's been over two weeks since I returned from visiting northern Michigan, but it was just a few days ago that I finally developed the two rolls of film that were exposed in a converted Kinoflex TLR. Background here: we were driving up north on World Pinhole Photography Day. I stuck the Kinoflex in the back seat of the car, hoping for a chance to pull off the road to snap a few shots.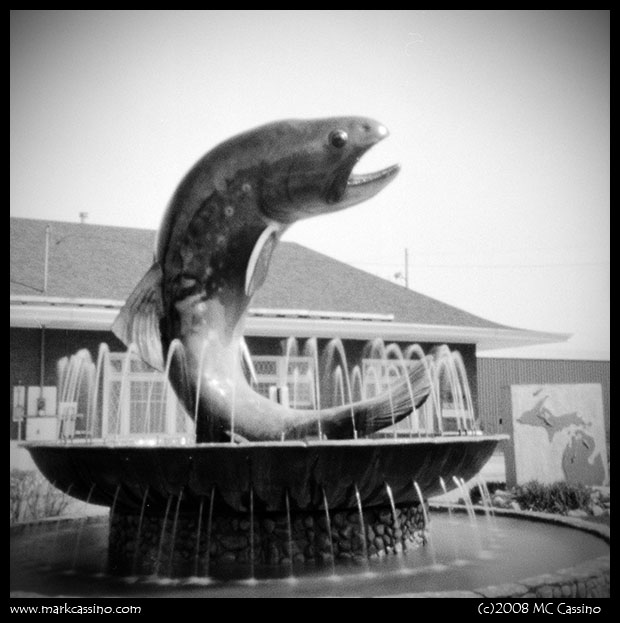 Trout Fountain, Kalkaska, Michigan
I first broke out the pinhole camera in Kalkaska, Michigan. We were heading into trout territory, and trout fishing is a major passion in Kalkaska. The city hosts the National Trout Festival on opening day of the trout fishing season (which happened to be the day we were passing through.) A large fountain featuring an enormous brook trout sits smack dab in the middle of the city, and driving through we stopped and shot the better part of a roll of 120 film of the fountain.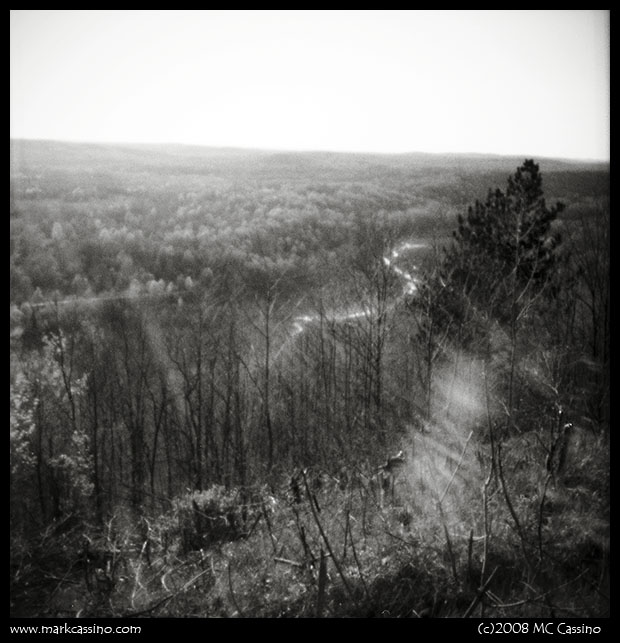 Jordan River Valley, Pinhole Exposure
Nice enough subject matter, but I really wanted to get a landscape shot. After we reached Boyne Mountain and checked into our lodging, we ventured back to the Deadman's Hill overlook. The late afternoon sun played over the flowering spring trees – just starting to show the first hints of season's foliage. The sun reflected off the Jordan River, making it a bright ribbon in the valley below.
Personally, this is my favorite pinhole shot from this trip. The sun was shining obliquely into the pinhole camera, and the 'pinhole flare' adds a little to the shot as well. Now I just have to resolve to use the pinhole camera more often, and not just on Arbor Day!
Last week Pam and I spent 5 nights at the northern Michigan resort, Boyne Mountain. This is a ski, golf, and water park resort – and our unplanned trip in late April came at the time when most of these activities were down. All but the deepest snow on the ski slopes had melted, and the golf courses, historical museums, and other local attractions were all scheduled to open on the first Monday of May.
Well, it's not like we ski or golf, anyhow… 
We spent most of our time hiking in the various open public lands in the north country. We visited a few state parks – Young State Park just north of Boyne City, and Northport / Leelanau State Park on the Leelanau peninsula. But most of our time was spent exploring the Jordan River Valley, which we either accessed directly through seasonal roads in the surrounding state forest, or via the Deadman's Hill Overlook or Warner Creek Trail.
Just driving 250 miles north, and getting closer to Lake Michigan, was like taking a time machine back a few weeks into the very early spring. The northern woods were full of Hepatica, which was blooming at its peak. Trout Lily carpeted most of the Jordan River Valley, and was just starting to open up at the end of our stay. Trillium were also abundant, although they were just beginning to bloom. The trees were just starting to bud and send out new leaves, which gave the forest a light and airy feel, with warm colors. 
The Jordan River itself proved to be a great photographic subject. Not a large river, but crystal clear and full of little islands. The river is a great trout stream, and a state fish hatchery is located in the Jordan River Valley.
The early spring setting created some interesting light and color effects. The dried grass and leaves created a golden hue, offset by the pale greens of emerging tree leaves and the deep greens of the pines and arborvitae that dotted the landscape. Marsh Marigold bloomed along the river's banks, and numerous logs extended out into the shallow water, making perfect platforms for getting out into the river for shots of the islands.
The spring landscape, sun dappled water, and grassy islets certainly made for some great subject matter.
The Skegemog Swamp Pathway was another easy walk. The trail follows an abandoned railroad bed into the swamp, ending at an elevated observation platform. The swamp itself was an interesting setting – a great combination of living and dead trees; water, mud, and vegetation. We only spent an hour or so on the trail, but it still provided some great photo opportunities.
Many more shots from this trip:
Around the Jordan River:
Last week Pam and I headed out on a little road trip, driving from Kalamazoo to Colorado with stops along the way. The purpose of the trip was to attend the opening of the Macroworld exhibit in Fort Collins – though in reality we really wanted to just get away from the cloudy snowy Michigan winter
The drive through the Midwest was uneventful, but not boring. I love watching the landscape roll out around the car and the road – changing from woodland to prairie, rolling hills to flat plains, back to hills and then mountains.
The Marcoworld exhibit at the Center for Fine Art Photography was excellent. This was the first exhibit in their new space, and the gallery looked great. The gallery was spacious, the work was well presented, and above all the quality of every print in the show was outstanding. Many of the artists were present – and some even travelled farther than me to get there.
We decided to stay in Loveland, Colorado, since it was more or less midway between Fort Collins and Denver. On Saturday morning we just hopped onto Route 34 and made out way west, toward Estes Park. At the reception Friday evening, one of the local photographers urged us to get into the mountains before we left, and that seemed like the best way to get there. 
 The drive into Estes Park was great – winding through mountain valleys until reaching the high broad valley were the city of Estes Park is located. Once there we stopped at the visitor center, where we learned that Rocky Mountain National Park was more or less closed – you could enter, but the roads were closed off at the passes a few miles in. As an alternative, we decided to head out on the Route 7 scenic byway, and then link up to the Peak to Peak highway through the mountains.
The drive was excellent. I only pulled off once to take a few photographs – one shown here - but otherwise spent the time tolling around the mountain roads, hitting the occasional snow shower on the way. We reached the small town of Nederland, which was celebrating Frozen Dead Guy Days, and after that drove in fairly heavy traffic back to Boulder.
Sunday proved to be the most interesting day for photography. On Saturday evening we visited friends who live in the area, and they suggested the Garden of the Gods as a destination. So on Sunday morning we drove down to Colorado Springs to explore this location.
 The Garden of the Gods is home to fascinating and huge rock formations. It's a Colorado Springs city park, and was donated to the city in the 19th century. We arrived at the tail end of an overnight snow, with clouds still low in the air and a light snow on the ground. By mid afternoon the sky had cleared and the surprising warm March sun was shining in full glory. The park was pretty full with tourists and rock climbers, but it still offered some great photographic opportunities. I took lots of photos during the afternoon, and spent the next few nights in hotels on the road working the images in Photoshop.
So that is it – a couple of days of photography and then back on the road, finally arriving in a still snow covered Michigan – hopefully just a few weeks away from a long awaited spring.
A few more images:
When making photographs there is an undeniable desire to take control of every aspect of the process. Digital photography has enabled us to control our work with mathematical precision – heck, since a digital photo is, in essence, a mathematical table, it's chid's play to add here, subtract there, averge across this range or that…
At some point I find myself yearning for just a bit of randomness to creep into the process. Maybe that's why I keep playing with film – no matter how carefully you work, there's no way to precisely control each and every step – how much did that stock solution oxidize since it was mixed? Just how did the solution flow in that last tank inversion? Just how old is this film and did it change in the last few hours, sitting in my warm pocket?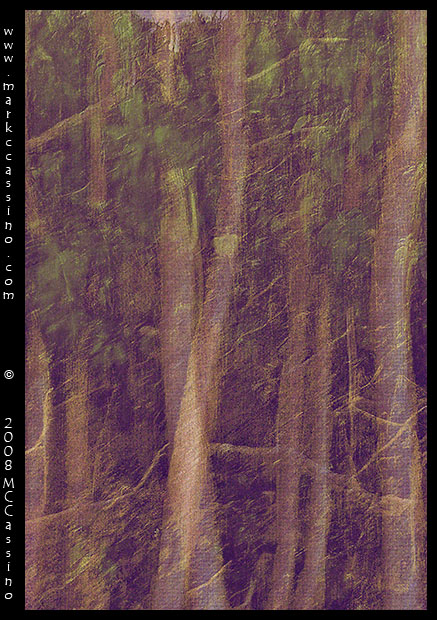 The quest for the infusion of randomness is, for me, a major allure of toy and junk cameras. Come on – it's all random when you can't control exposure or focus! No need for subtlety here…
The quest for randomness has sent me looking into many peculiar places – but here is one that is perhaps the strangest of them all: my own computer.
Of course, computers and their software, soulless things that they are, are incapable of truly random actions. They can emulate randomness by tapping into tables of pseudo-random numbers, but that's it. Pseudo-random means that the lists of figures were once, indeed, random, but have since been frozen in fixed sequence and by that are now locked in relationship with each other, and are therefore not random. Though they are probably arbitrary.
So how can you get randomness out of one of these bit boxes? Well, there's always software malfunctions…
I recently discovered the wonderful world of software emulators. DOSBOX is a favorite – fire it on top of WindowsXP or Vista, and it does a great job of emulating MS DOS from days gone by. I even unearthed my old Windows 3.1 disks, and installed it in the DOSBOX session. "Wow," I thought, "I can finally get Kai's Power Tools 2.0 back up and running…" and so that lead to installing Micrographix and the Kai's Plug Ins.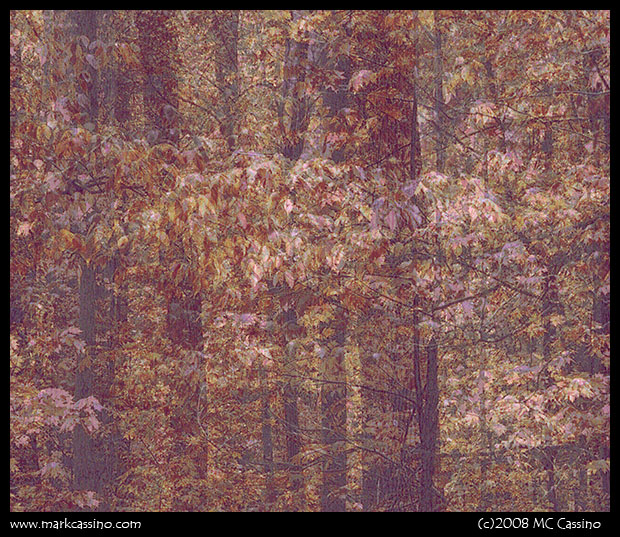 And that's when randomness took over – seems that Micrographix doesn't know what to do with a 16 bit TIFF, and Kai's has a hard time with files beyond a certain size. But it's what Micrographix does with those 16 bit files that's really interesting. It seems to dither them, fold them, crop them, chop them, and otherwise mess them up. So I immediately started throwing all sorts of photos at it, just to see what will happen…
Well, I like the effect. Pictures of trees seem to work the best – lots of trees, that look good when layed on top of each other. As with a lot of this stuff, a little goes a long way, and after looking at the lot of them for a while only a few remain interesting. But – here's another interesting trick to play around with.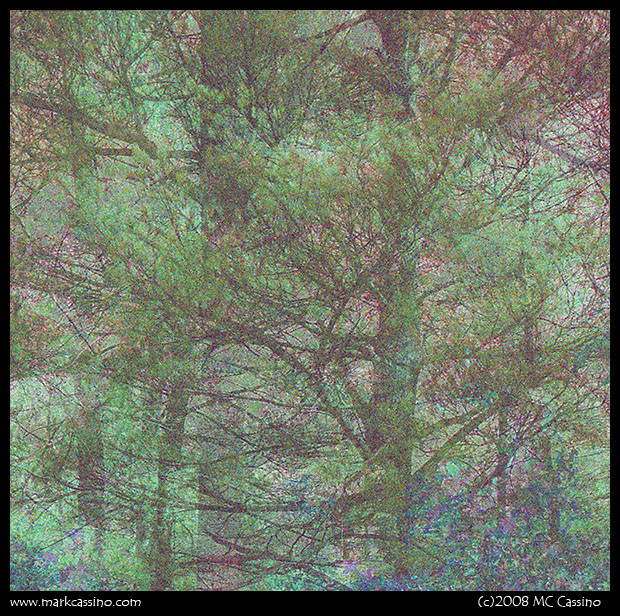 Late autumn. The sun hangs in Scorpio for a few last days. The trees are bare, and each passing day is shorter and darker than the last.
Just a few days ago the trees still held their leaves, and autumn colors in the bright clear light of autumn sunshine. Here are a few final shots from the last couple of weeks of autumn – since these were taken, the trees have dropped all their leaves and the cloudy days of late autumn have taken hold.
My favorite of these shots are the two "Frosty Morning" images. These were take on one of the first cold mornings of the season. These were shot in the Allegan Forest, of course, and I wandered into a low land area where the frost was particularly thick. The morning sun was rising in the clear air, and its rays were hitting the higher branches of the nearby trees, resulting in a steady patter of water drops, as the frost high up melted.
With only a few minutes to take a few shots, I grabbed what I could and was amazed at how swiftly the frost passed. Well – a few moments were frozen in time.
These shots make the end of my 6 x 7 medium format color work for this fall – though winter scenes no doubt will call for some B&W work with this camera.