Categories: "Landscape Photography" or "Midwestern Landscapes" or "Pictures Of Trees"
A shaft of sunlight lands on a pine sapling. This was taken on Agfa APX 400 exposed at ISO 64 and pull processed in Rodinal to compress the tonal range. Pentax 6x7 and SMC Takumar 105mm f2.4 lens. Film was rated at ISO 64 assuming the the true sensitivity of APX 400 is more like ISO 250. Taken in Michigan's Allegan Forest.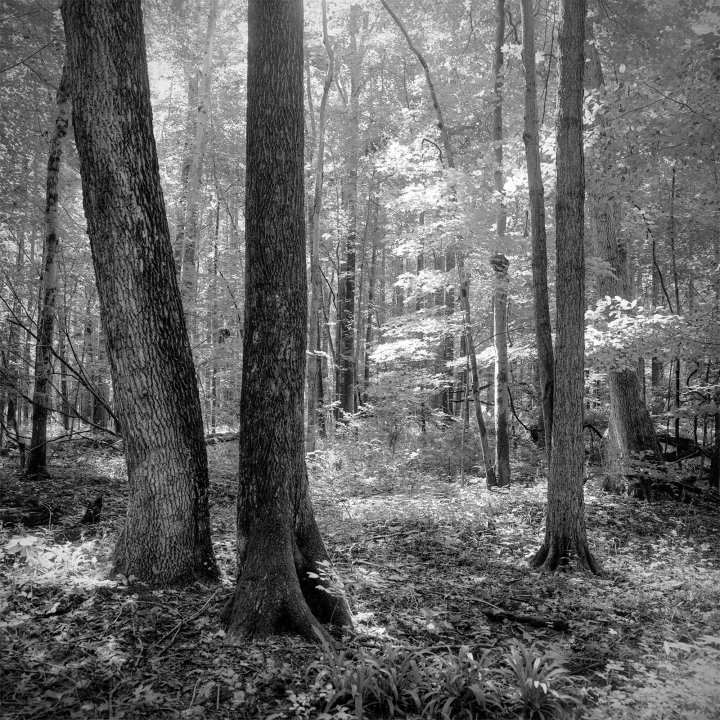 Taking a break from the stacked macro images... for the last several days I've been shooting medium format film with the trusty Pentax 6x7. Here's a scene from a woods in southwest Michigan... When I arrived in the woods the mosquito's were so thick that a swarm of them seized me and carried me deep into the forest, finally dropping me at this point. So - "Mosquito Landing." 
Pentax 6x7, 55mm f4, Afga APX 100 (long expired), Rodial 1:25.
(Click on the image for a much larger file)
 I had to laugh when I spotted this sign last week... The last time I was in this place - 11 or 12 years ago - I wandered deeper into the woods and found some large wooden signs, covered with just tatters of paper. Beyond that was a tall steep earthen berm and beyond that was an open field. I like open fields...  It didn't take long before I knew I was on the wrong end of a shooting range...
This is a film exposure - 35mm Tri-X. Pentax Mz-S, FA 20-35 f4 lens, XI green filter, film devoped in HC110 Dil B. I am reviving my "sun dappled woods" project, last visited in 2008.
I spent last week hanging out in the Hocking Hills State Park in southern Ohio, hiking some of the trails and looking at waterfalls and caves. Here's a photo of the upper falls near Old Man's Cave (click on the image for a larger view):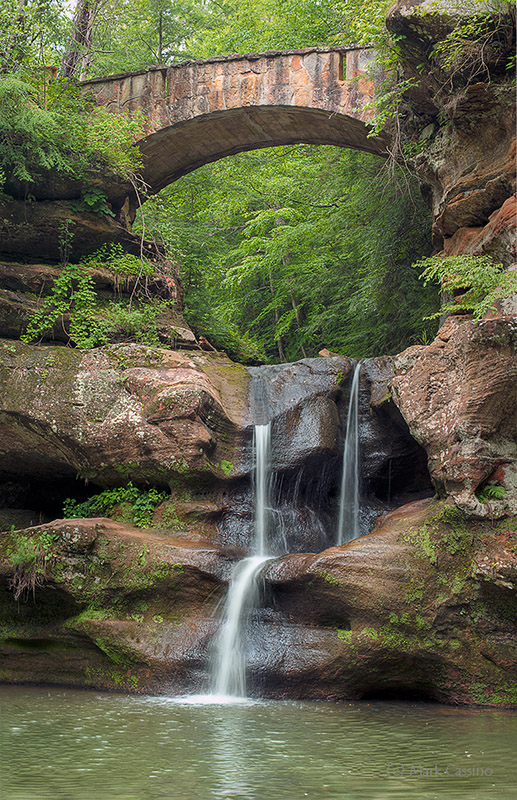 Upper Falls Near Old Man's Cave
It's a little misleading in that the place was teeming with tourists when I took this photo. I did not have a tripod so I took a bunch of images at the lowest shutter speed that I could reasonably hand hold the camera - 1/8th of a second. It was a decent compromise in that any single image what reasonably sharp and the water was slightly blurred. Post processing the images today, I stack focused the group in Photoshop and that increased sharpness considerably by blending the sharpest bits of each of the 29 exposures. I then averaged the exposures and that created a more pronounced blur in the moving water. I blended just the blurred water from the averaged composite into the focused stacked composite for the final image. It would have been better to use a tripod and a ND filter, but this way I didn't have to carry so much while hiking.