Categories: "Landscape Photography"
April 29th was World Wide Pinhole Photography Day - a great event that keeps me shooting iwth a pinhole camera (if only one day per year.) This year I took to the field with the Peinhol Body Cap for the Pentax 6x7 and with my trusty converted Kinoflex TLR. It has taken some time to scan all of the film, and I can't say that I am really thrilled with anything, but what the heck, it's relaxing to take exposures that are measured by the seconds as opposed to hundredths of a second…
So - here is a shot with the Pentax 6x7 and Pinhole body cap. This is labeled as an f244 pinhole. I was captivated by the fading dogwoods at the edges of forest clearings, so that is the subject of many of these shots (click on any shot for a larger file):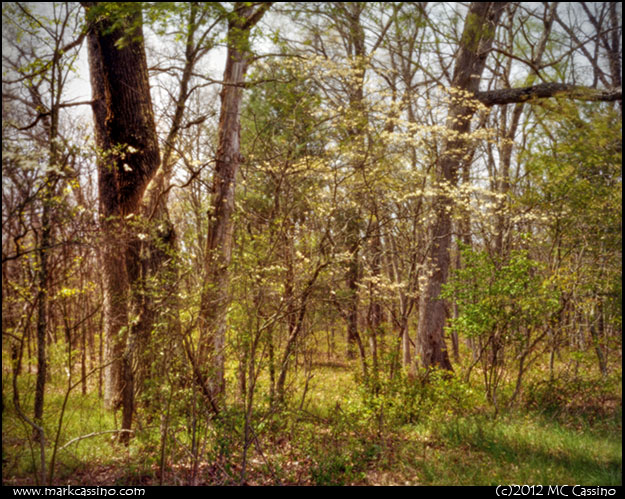 And here is a dogwood shot with the Kinoflex: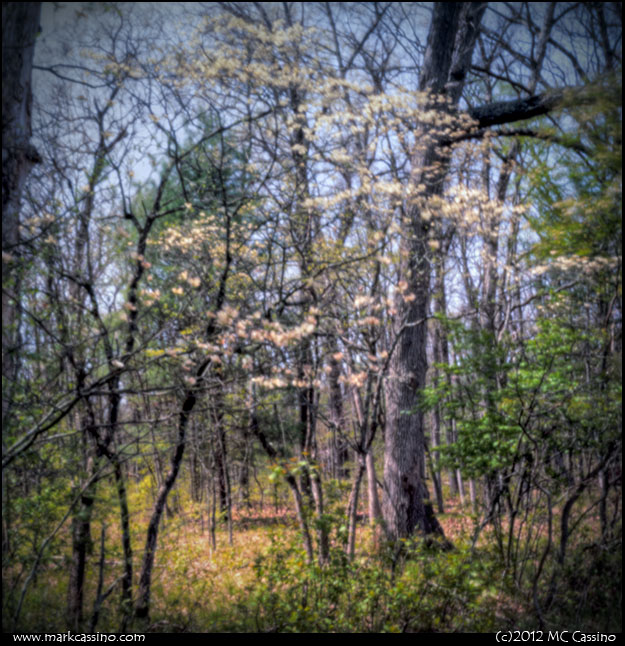 The Pentax body cap is (I think) a laser cut pinhole. The Kinoflex was drilled, and even to the unaided eye irregularities in the roundness of the pinhole can be seen. From imperical tess with exposures, I reckon the Kinoflex to be around f180.
Finally - a few small trees in a clearing. At this point I got distracted by a snake, and stopped with the pinholes and started shooting macros: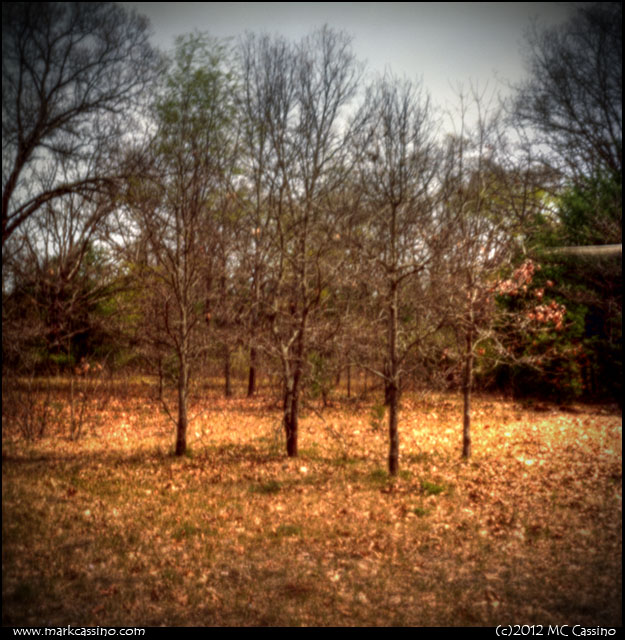 More images will be in the Photoblog as I process them.
Here's a re-work of a shot I took in 2008 and posted here then: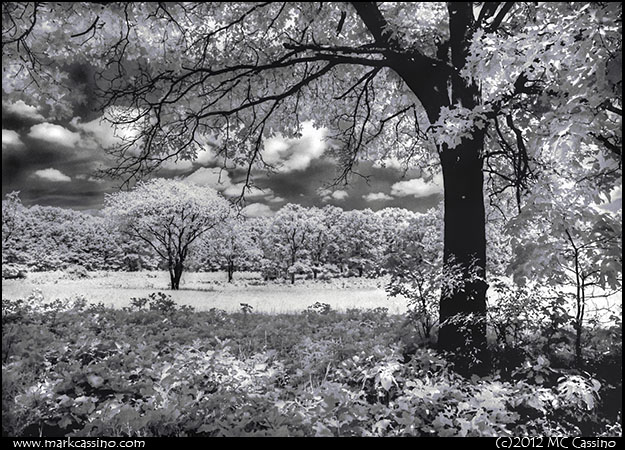 Click on the image for a larger file.
The shot was one of the few successful images I had managed to get using Rollei IR 400, but unfortunately there was just not the needed tonal separation between the foliage in the trees and foreground scrub and the clouds and grassy plain. In this re-work I rescanned the negative, ran it through Photomatix tone mapping to better balance the shadows and highlights, and then went through extensive hand toning and local dodging and burning. I think it came out pretty nice…
Unfortunately, I scanned at a low resolution and was hours into working with it before I realized that it was only about half the size of a standard 35mm scan… Hmmm - maybe that is why is came out so nice this time? Well, it makes for a very nice small print…
Taken with a Pentax LX, FA 20-35mm f4 zoom, Rollie IR 400, HC110 Dil H and Hoya R72 IR filter.
Last weekend I visited the Devil's Soupbowl, a glacial kettle hole located in the Yankee Springs state recreation area just north of Kalamazoo. It's a nice place in that it affords an opportunity to look down into the foliage of the trees growing 60 feet or so below.
It was a dim overcast day and I found myself trying to capture the colors of the trees in their early foliage and flowers. Here are a couple of photo - both taken with the Pentax 6x7 and SMC Takumar 170mm f2.8 lens on Fuji Reala. Click for a larger view.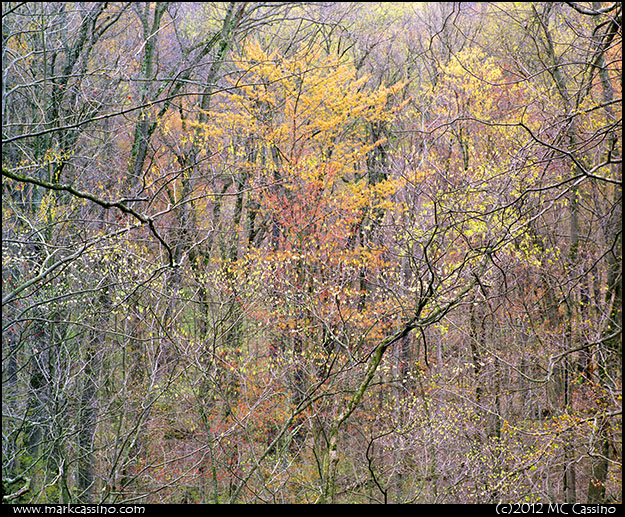 Note: I changed the above image on 4/9. You can see the original, less sharp one here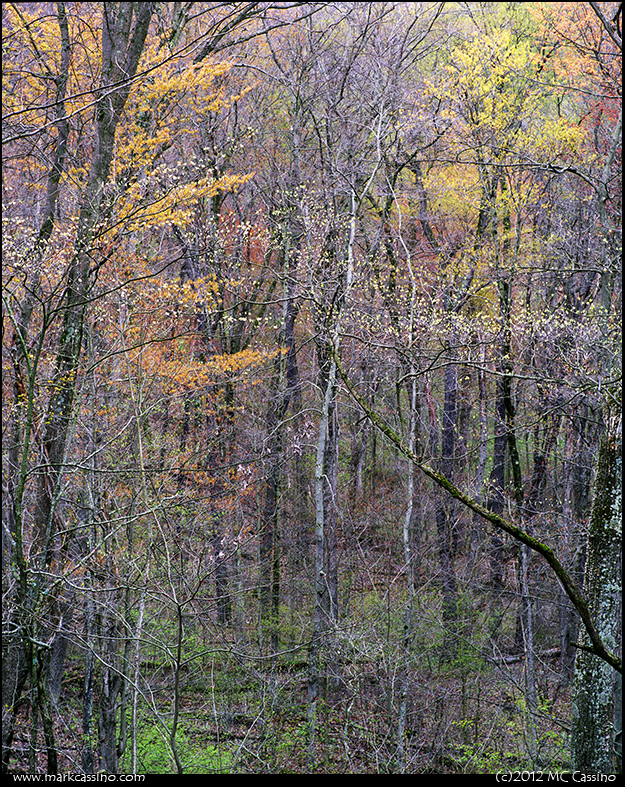 Here are a some Holga shots from the last few weeks.
First - I've been experimenting with Ilford SFX in a Holga. A 52mm deep red filter fits nicely on the front of the plastic lens (you have to push hard, but it will fit on and stay there). Here's a little country church taken with this setup: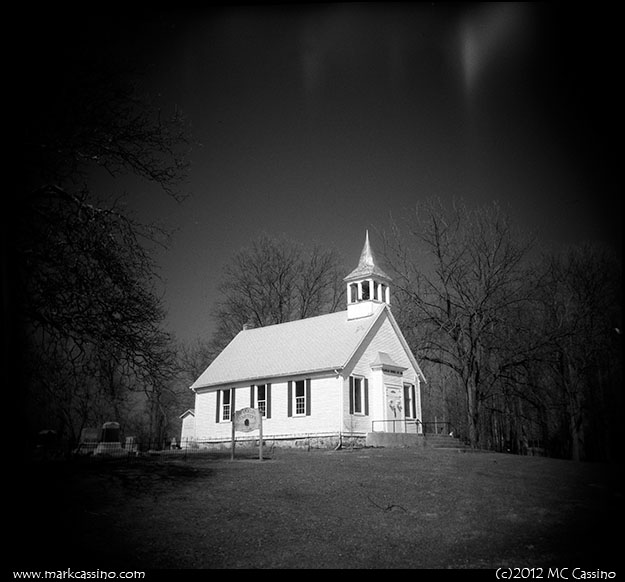 Solar flare activity was quite high when I took that shot and you can see the aurora in the sky over the church even the the midday sunlight… Or maybe the Holga was leaking light. Well, more likely that…
Here is an SFX shot of barren spring woods - not much infrared effect but there was not much greenery out yet: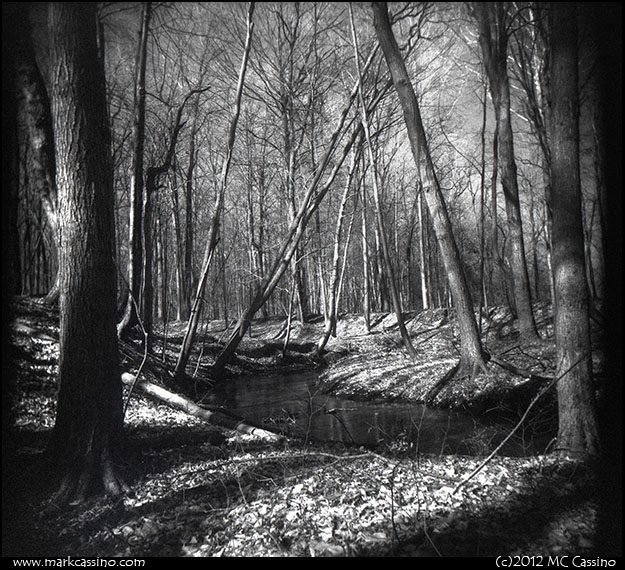 SFX is a pretty tame infrared film, but it is fast enough to be used in a hand held Holga, even with a deep red filter. (I developed the SFX in HC-110 Dil B and pushed these exposures by one stop.) I'm hoping for some more pronounced IR effects once the green foliage is out.
And here is a double exposure of a snowmobile trail, looking to the east, looking to the west …. Classic Pan 200 developed in HC-110 Dil H.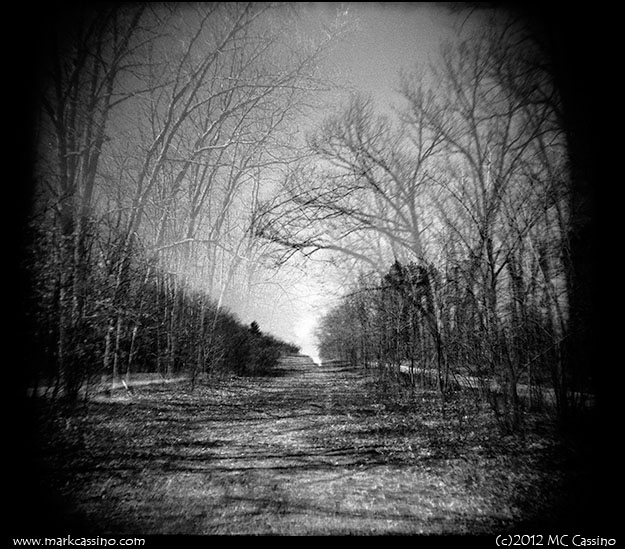 Lastly , a squirt gun found out in the woods, same place where I found a bunch of dead fish a few years ago: