Friday the 13th of October. An Arctic Blast swept through the area this week – unusually early. Several inches of snow fell before the first solid frost of the season. And I wondered when the insect photography season will come to an end…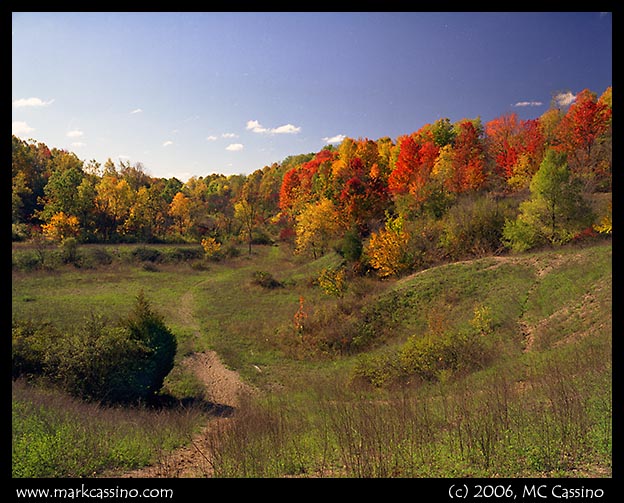 A week ago I hiked the River Vista Trail at the Kalamazoo Nature Center. It was a warm autumn day, with clear azure skies and bright early autumn colors in some trees.
As I mentioned last week, I was clumsy with the film. Tore the headers off two rolls, goofed up a roll or 35mm B&W that jammed in the camera. I shot two 220 format rolls of Fuji NPS color film, three rolls of 120 format Efke 100, one 35mm roll of Ilford Delta 100, and a partial 35mm roll of Neopan 400. The two rolls of NPS came back from the lab earlier this week – I'm still working through developing the Efke and the 35mm rolls.
(For those who are interested – Rodinal has been the developer of choice for all except the Neopan, which I plan to dunk in some of the remaining Microdol-X.)
Since I screwed up loading one roll of the NPS, I only had about 30 color shots to work with. The five photos in the image stream are the best of the bunch. Of course, bracketing used up several frames for each composition.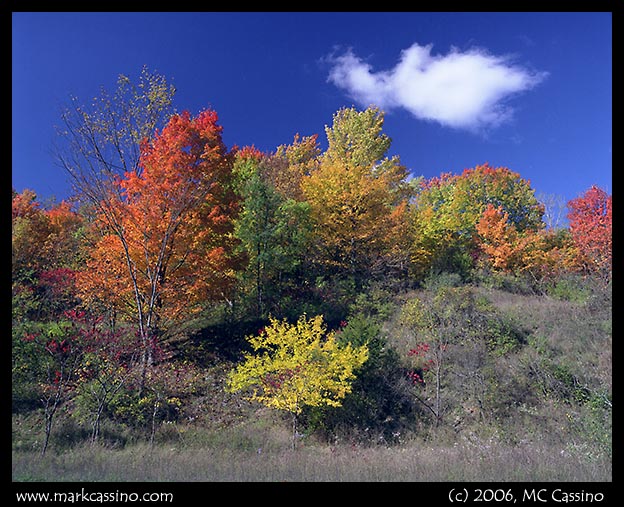 Color shots of autumn foliage are a little like deep fried food. You could deep fry your socks, and they would taste good. The same holds true for autumn scenics - put bright colored trees under a blue sky into the frame, and things are bound to come out OK.
Well, with the recent snows the leaves will probably drop off the trees while still green – hopefully I'm wrong, but that seems to be the outcomes of these early fall snow storms.
So last week's trip may have been both the start and finish of the fall color season. It's a short season anyhow – just a few weeks at most – and this year it has perhaps been cut shorter than usual.
More photos: