Category: "Midwestern Landscapes"
This scene was so stunning I did a U turn and pulled over to take out the camera. It was a bit past dawn but the early morning sun filtering through the autumn foliage was pretty remarkable - be sure to click on the image to see a larger view: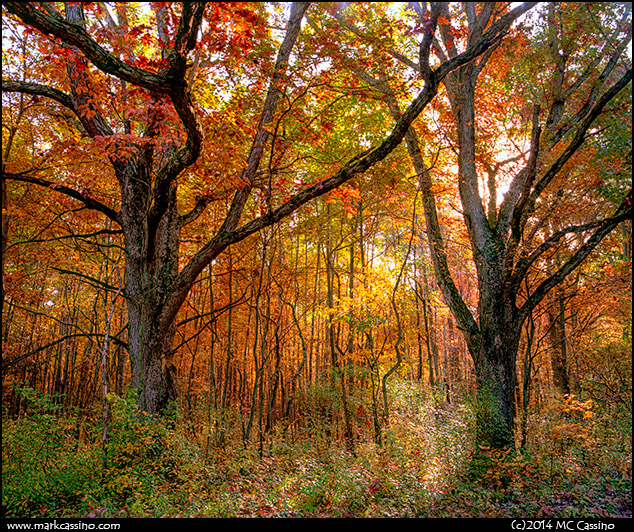 Pentax 6x7, SMC 67 55mm f4, Portra 160. Shot on October 17, 2014.
Earlier this week… Under overcast skies I tramped into the Allegan Forest. The naturally dark overcast day felt all the more heavy deep in the woods, with the tall oaks still holding their leaves and casting shadow even in the dim light. The small poplar saplings, just starting to turn yellow, caught my eye. Here's one: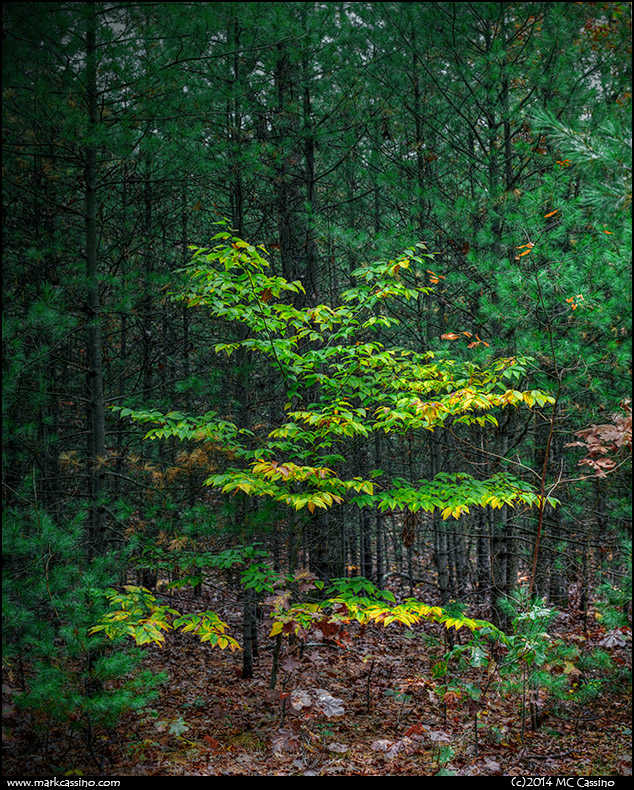 Click on the image for a much larger file.
Pentax 6x7, Takumar 105mm f2.4, Portra 160. A couple seconds of exposure.
When I visited the Allegan Forest on Tuesday, it was an overcast day with flat light. When I returned there this morning the tree was basking in a ray of direct sunlight - though filtered as the last bit of morning fog burned away. So here is a more luminous, less subdued take on the scene (click on the image for a larger file):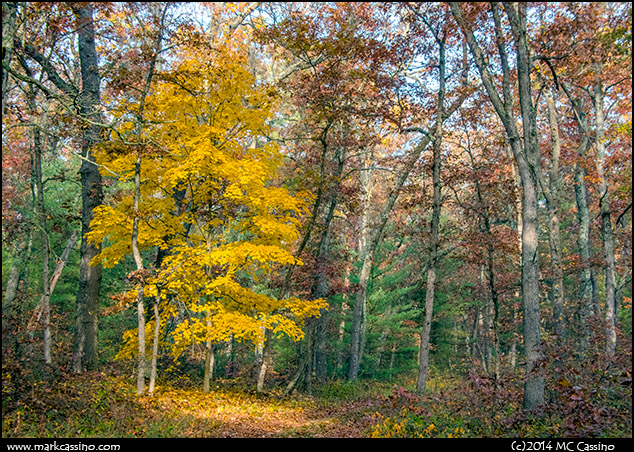 Pentax K-3, DA 16-45 f4.
I've been visiting the Allegen Forest quite a bit these past few weeks, mostly shooting medium format film. I'm waiting for the negatives to come back from the lab - hopefully by the end of this week. In the meantime, here is a digital snap of a sole maple tree, pushing its way up in a forest of oak and pine (click on the image for a larger view):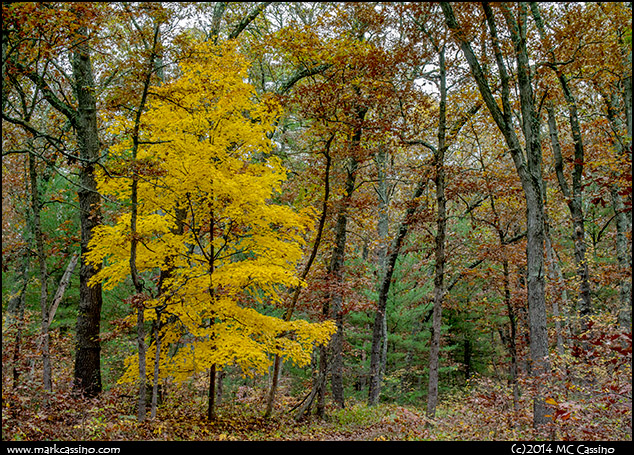 Here's an older image - from 2004 - taken on Portra film, 6x7 format - I walked by this very stand of trees this morning and can report that nothing much has changed. I'm looking forward to scanning this year's film and seeing what it holds!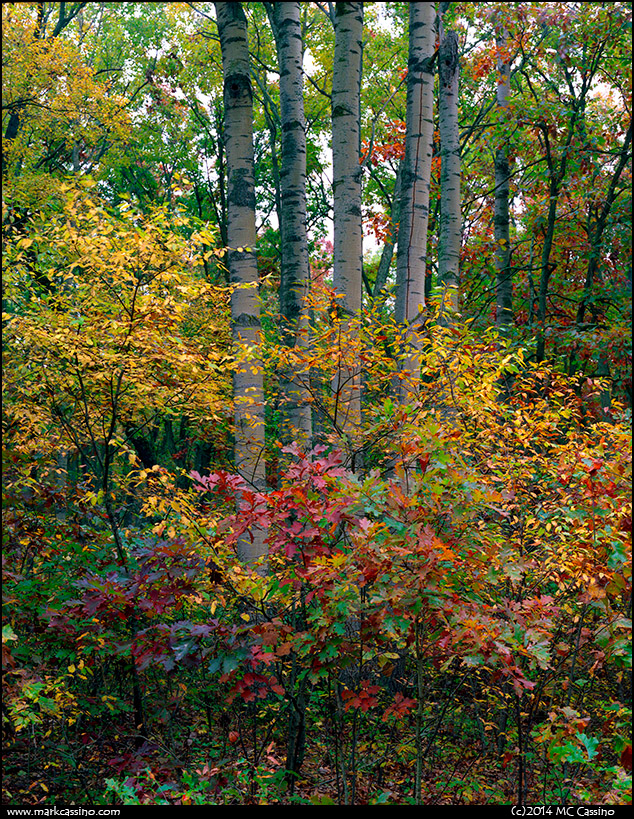 One thing I love about autumn is that (these days) it is one of the few times of the year when I feel inspired to shoot medium format color film. As great as DSLR's get, autumn landscapes just seem to be better on a big beefy negative. Large format photographers are no doubt sitting in butter this time of year…
An autumn scene from October, 2013 (click on the image for a larger view):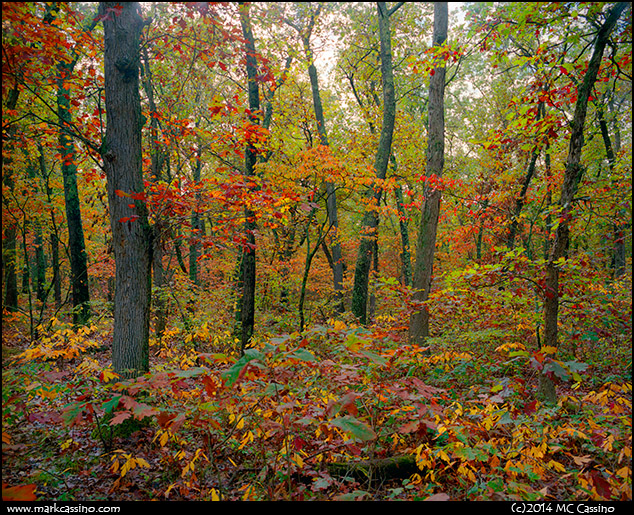 Pentax 6x7 with SMC 67 55mm f4 lens, Portra 160.
If the rain holds off I'll be out tomorrow, looking for fall colors!
Waves of Paradise is a field recording by Eric Hinchman. Recorded on the Lake Superior, near Paradise, Michigan, this peaceful, meditative recording captures the sounds of waves lapping the shore. I've taken many a vacation in little housekeeping cabins just north of Paradise, and was happy to license my photo, Canadian Windmills for the cover image.
Listening to this CD brings me back to those peaceful summer evenings - enjoying the sound of the waves, maybe sitting by a bonfire, and looking up to see both the natural beauty of the milky way in the clear northern sky and the man made light show of the Prince Wind Energy Farm feeding the Canadian power grid on the other side of the straight.
Below is my photo of the wind farm and Whitefish Bay, taken in evening twilight (click on it for a larger version.)
More about the recording, Waves of Paradise can be found here and also here.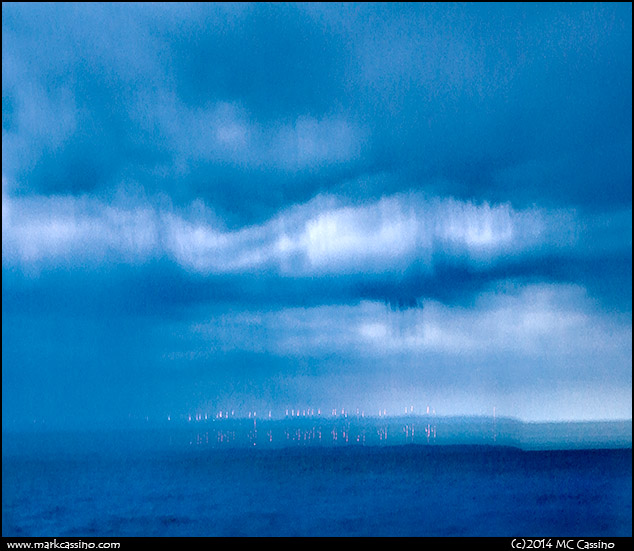 The original post from 2007 featuring this photo is in the archives, here.