Category: "Midwestern Landscapes"
Back to an old project… A few years ago I experimented with B&W film exposures of sunlight in the woods, usually in the middle of the day and by definition in full sunlight. The project had mixed results but I feel a call to get back to it and to try to capture what I see and feel at those times. A couple of weeks ago I took another run at it and took a few rolls of 35mm B&W film in lush green foliage using an #11 (XI) green filter. Films is so slow - developing, scanning, printing to a digital file… I have more to go but here is a promising photo: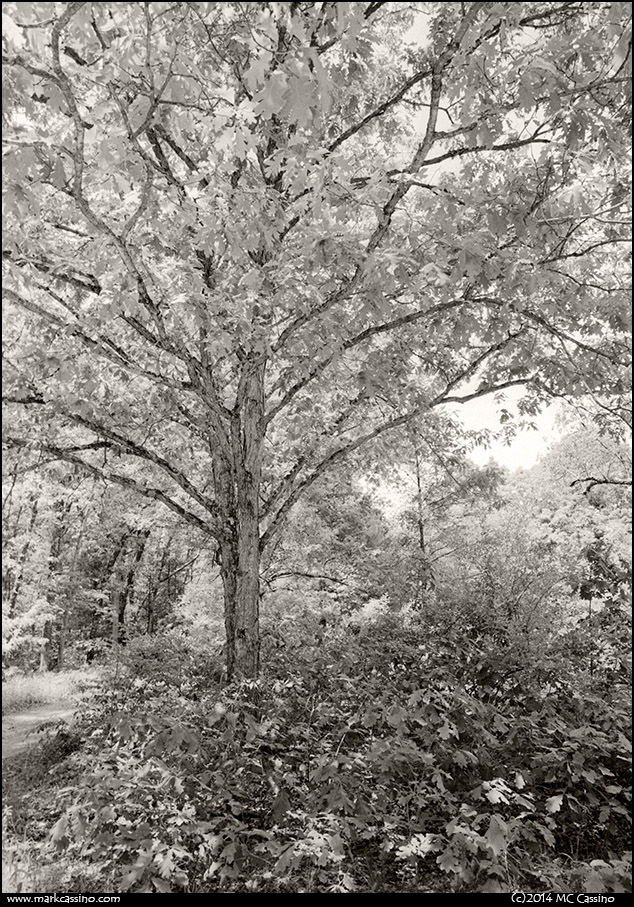 Pentax Mz-S, FA 20-35 f4, TMax 100 (expired 2010) stand processed in Rodinal 1:100 for 1 hour.
We had a little freezing rain last night and this morning everything was decked out in an icy glaze. I first took a few photos around the house, using the Pentax K-3 and DFA 100mm macro. This first one is a bit of holiday cheer, as I put some outdoor Christmas lights in the background (click the images for larger files):
A barberry branch - the bright red berries were gone, but the thorny branches looked nice, glazed with ice: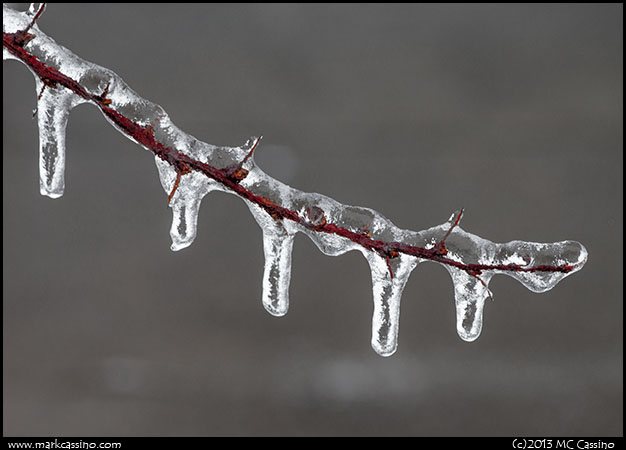 I then decided to head out to the Allegan Forest, in hopes that I could find some greater expanse of trees glazed with ice so as to make a landscape photograph. As I drove the 35 miles into the forest I realized that the ice storm had been much milder here and there was little ice on the trees. Their branches were simply glazed, but did not have the flamboyant icicles that I had seen in Kalamazoo. I almost turned around and headed back to the east, where the storm had been more severe, but since I was there I decided to give it a try. Shortly after I entered the woods a light snow kicked up and it turned out that the thin glaze of ice on the trees made the perfect substrate for the snow to stick to. In a few minutes every branch of every tree in the forest was coated in fresh white snow and I spend a good bit of time there in the woods. I have a lot of exposures to work with and sift through, but here are a couple of first outtakes: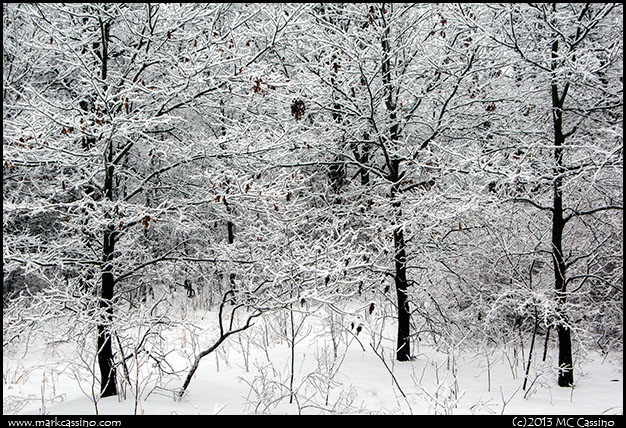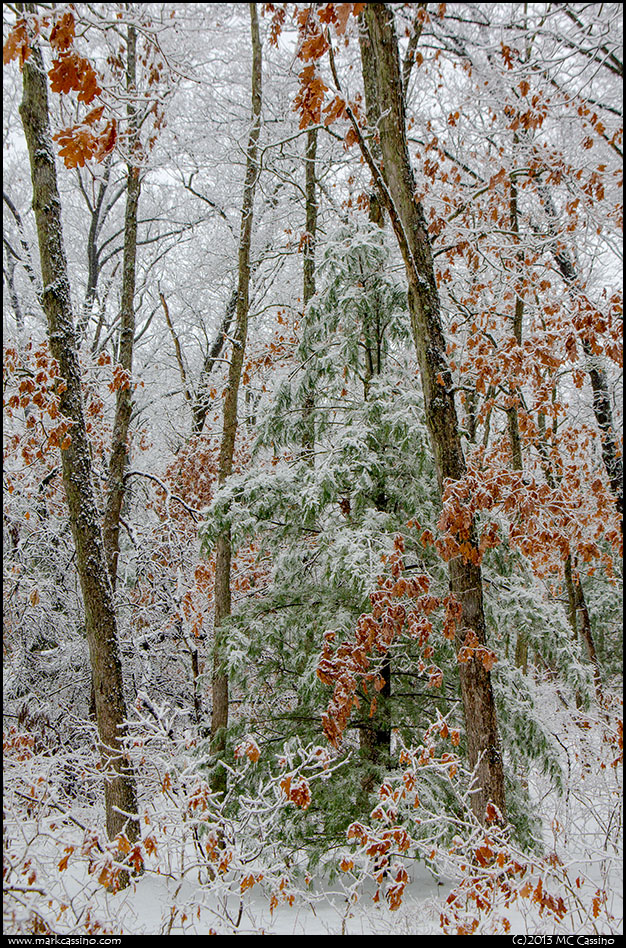 I'll probably have a few more shots from the forest to share in the next week or so…
Another (probably the last) photo from my trip up north last week. These are sand dunes in Ludington State Park, just north of Ludington, Michigan. The dunes are located between Lake Michigan and Hamlin Lake. This was taken looking east, with Lake Michigan to my back: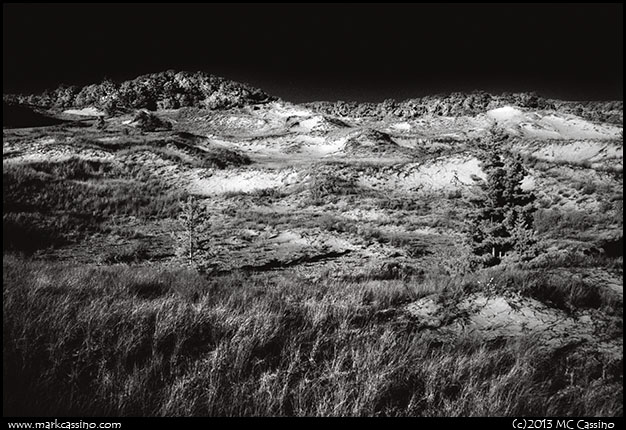 Click on the image for a larger file.
The image was made with Rollei IR 400 B&W film and a Hoya R72 IR filter. I have to say I was a little disappointed in that the film just did not deliver much IR effect. It was a couple of years out of date, though stored in the freezer, so maybe that had something to do with it.
I've commented on this film before in this post. While up north last week I decided to shoot out my stock of this film, more or less just to get rid of it. I used a #29 deep red filter for most work, hoping to tease out some IR effect, but it really just behaved more like a standard B&W film.
The Hoya R72 filter really made the azure sky of summer turn dark black, but otherwise did not coax out much on an IR response. Here is a comparison of two shots of the same scene, on taken with the #29 deep red filter and one with the R72: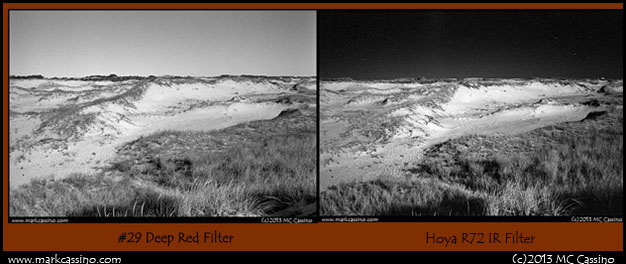 This time round I stand developed the film in HC-110. I rated some rolls at ISO 800 and some at ISO 400. The ISO 800 rolls I stand processed in HC-110, diluted to 1:100, for 75 minutes. The ISO 400 rolls were stand processed for 60 minutes. I experimented with more dilute solutions, but the double roll Paterson style tanks I was using have a maximum capacity of just over 650ml of water, and the solution could not get much more dilute than 1:100 with falling below the minimum amount of HC110 syrup needed per roll (6 ml). (Though they were double roll tanks only one roll was developed at a time with 650ml of solution.) The one time I did try a higher dilution I used only 4ml of HC110 concentrate, and the negatives were thin.
These shots were taken with a tripod mounted Pentax LX and FA 28-105 f4 - 5.6 power zoom lens (an older AF lens model.) I avoid newer film bodies (Mz-S, *ist) with IR film since they are reported to fog IR film.