Category: "Bird Photography"
I was sitting my garden a few weeks ago and spotted a hummingbird among the flowers - a rare site in my urban environ. I came back a few minutes later with camera and a 400mm lens. The hummingbird did not return but after a while I heard a rustling overhead and saw this chickadee hanging on the the downspout…
So I managed to put the long lens to good use after all!
Pentax K-3, Tokina ATX 400 f5.6. Click on the image for a much larger file.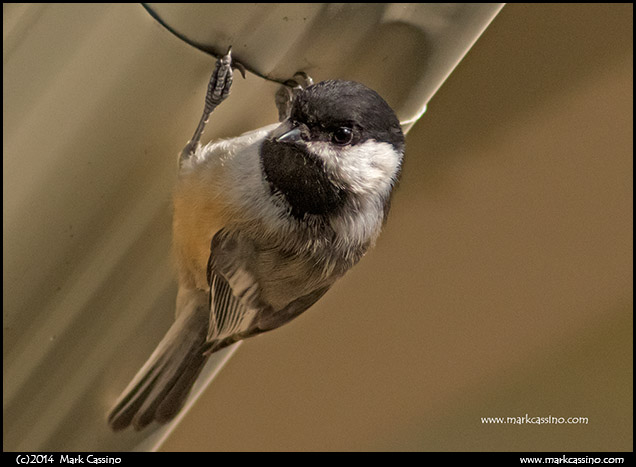 Doing some yard work around the house today I noticed a male goldfinch eating seeds out of a sunflower. Since the sunflower was only a few feet from the driveway I pulled the car in, rolled own the window, and took a few shots…
Pentax K-3, Tokina ATX 400mm f5.6. Click on the images for a larger file.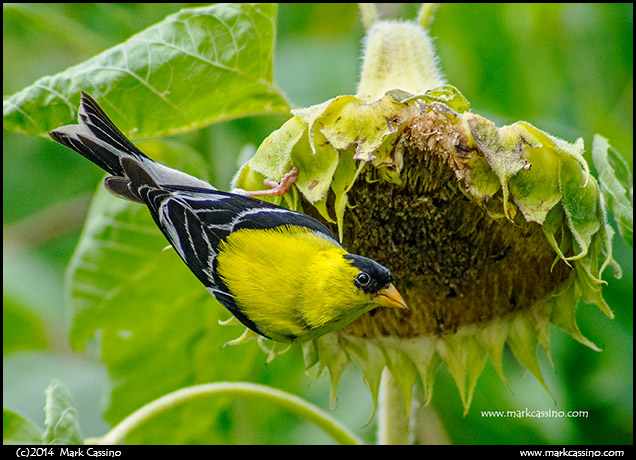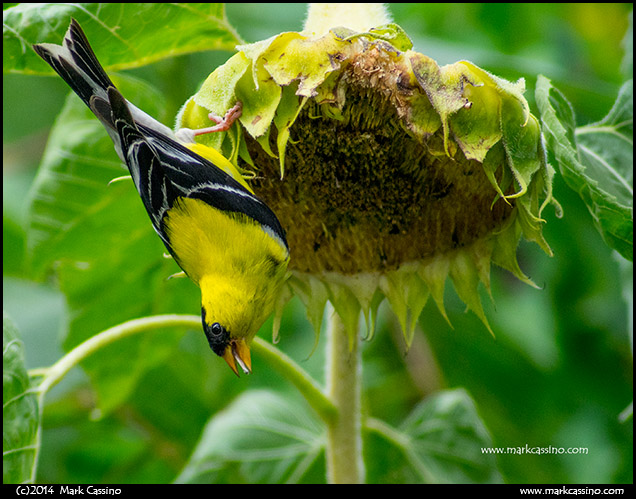 This last one is a rather extreme crop: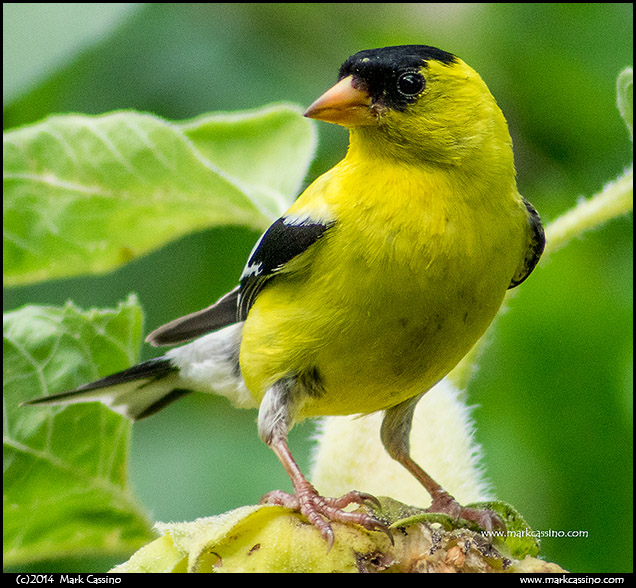 I recently received my Pentax K-3 and have been eager to test its high resolution, 24 megapixel sensor. This morning I had a few spare minutes and mounted a Tokina ATX 400mm f5.6 lens onto the K-3, along with an AF360FGZ flash for fill light. Then it was off to the bird feeder to snap some test photos of house sparrows having their breakfast. Here are some of the results, with actual pixel images below the full frame shots (click on the smaller image for a larger view: )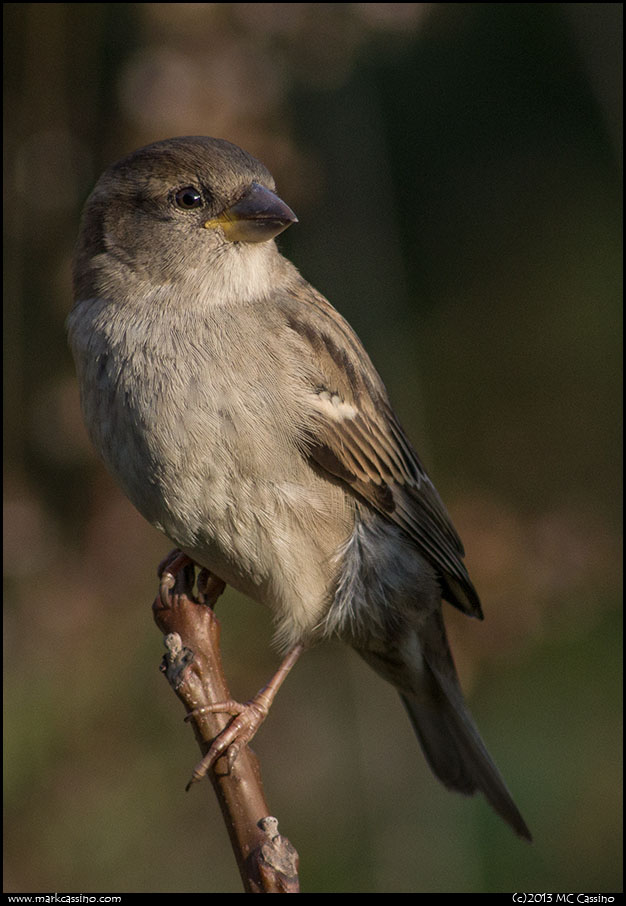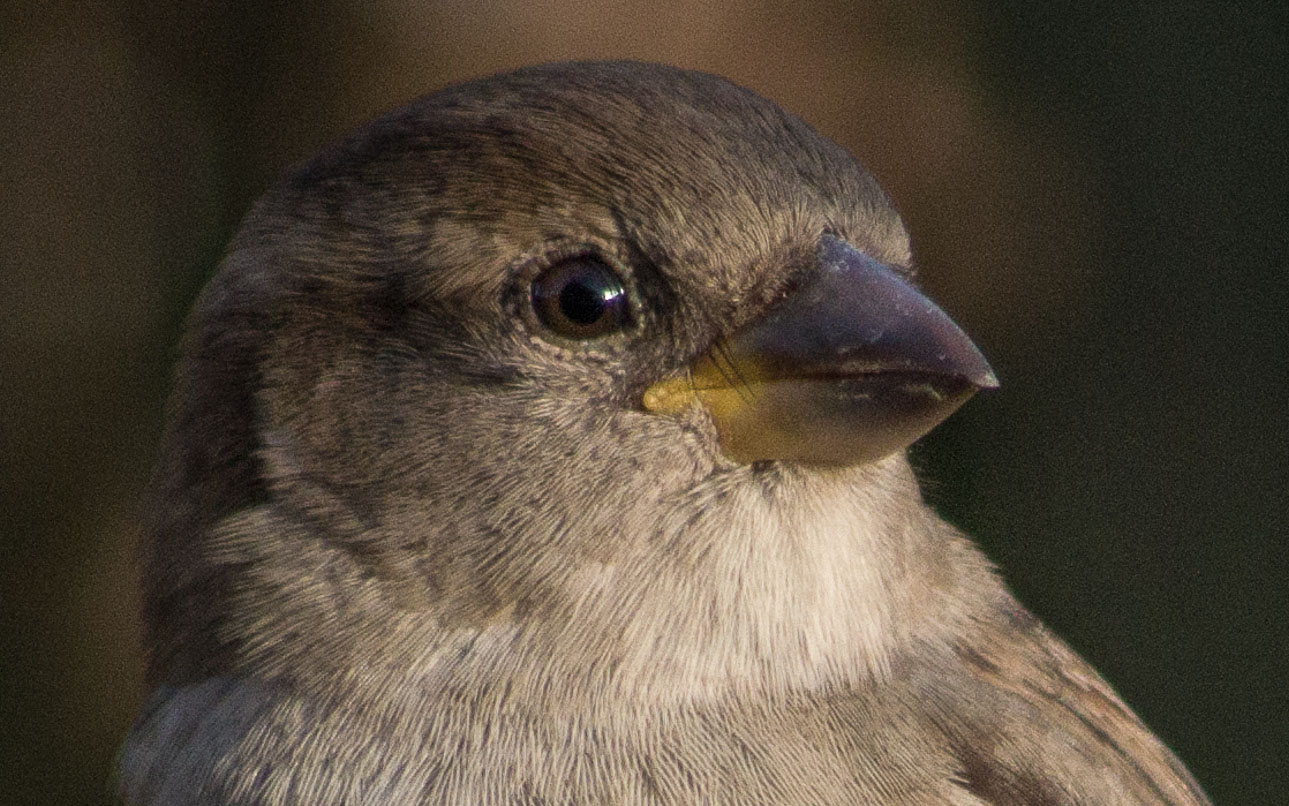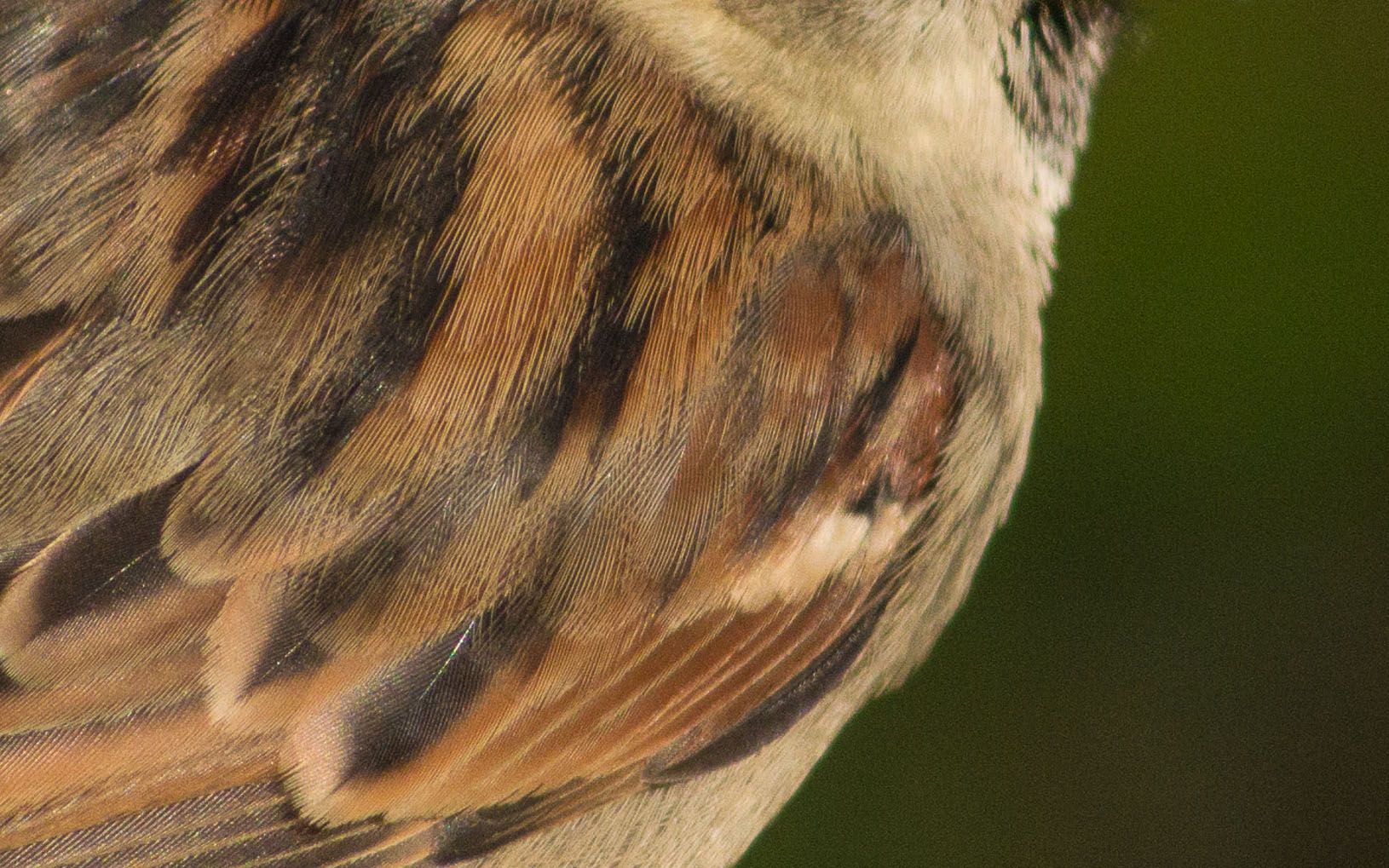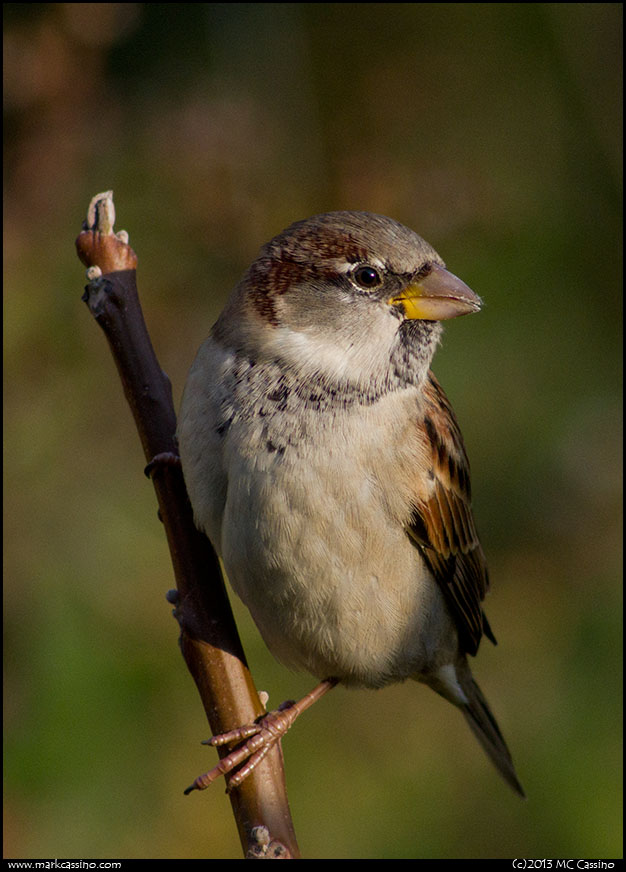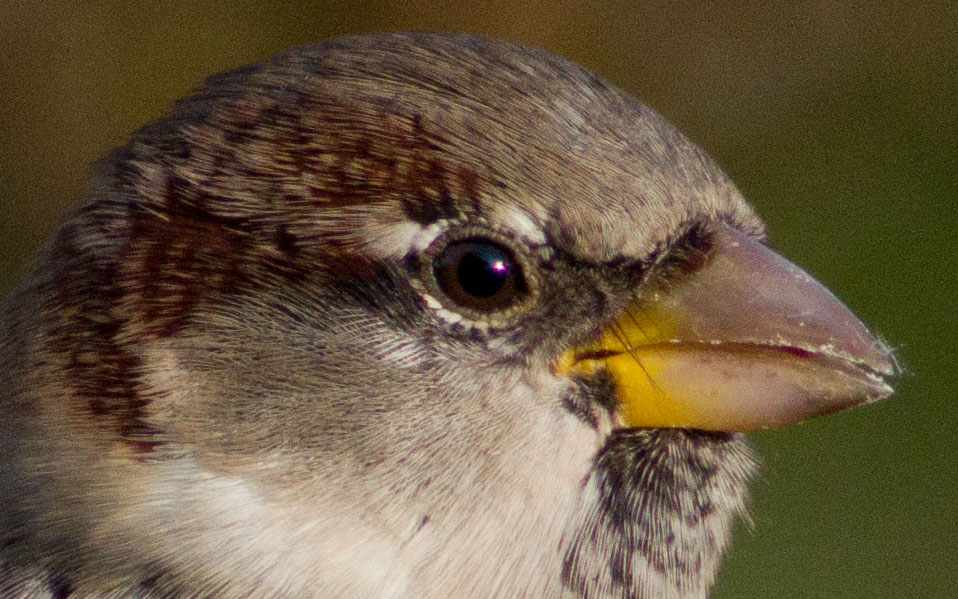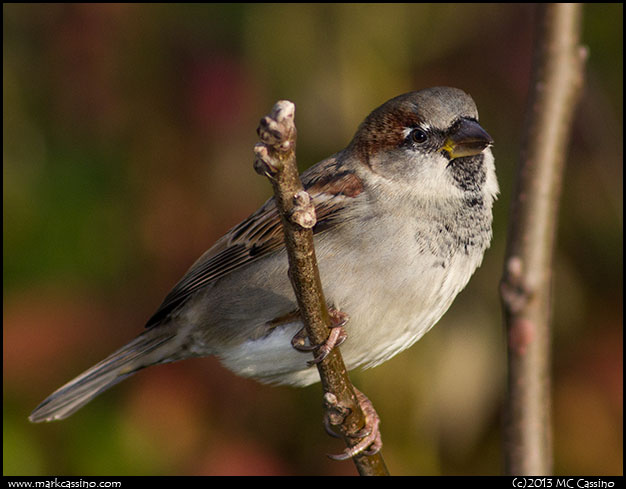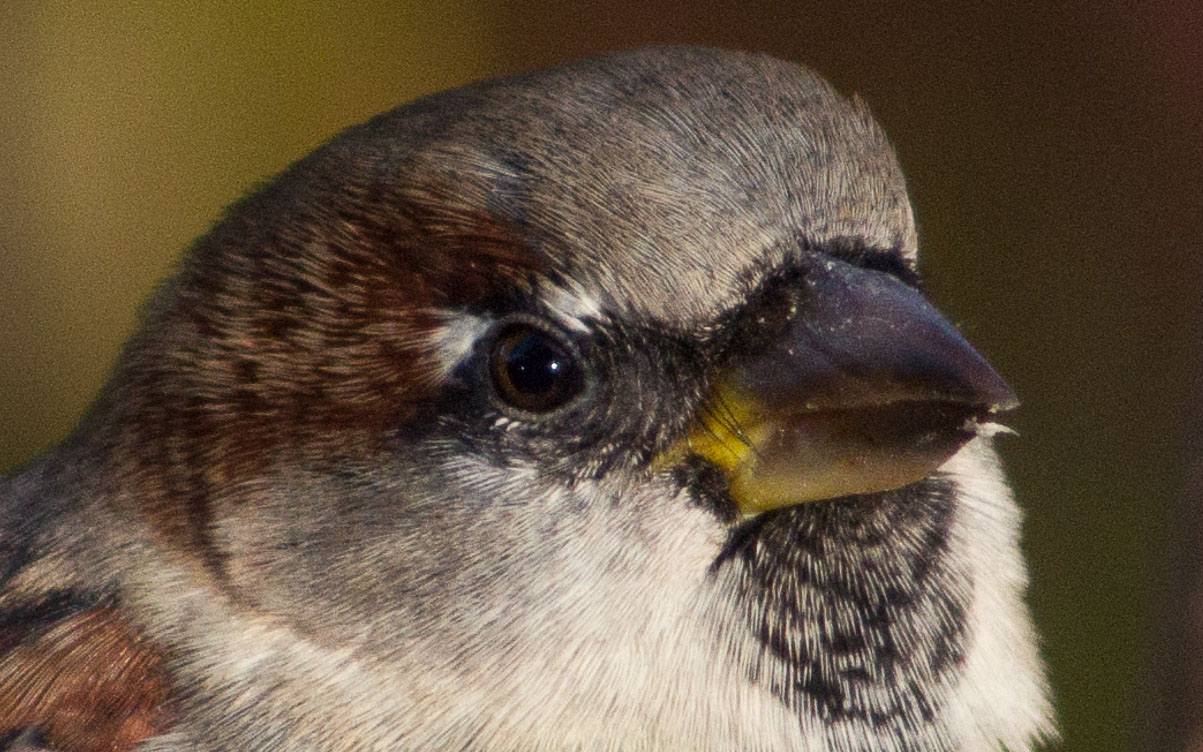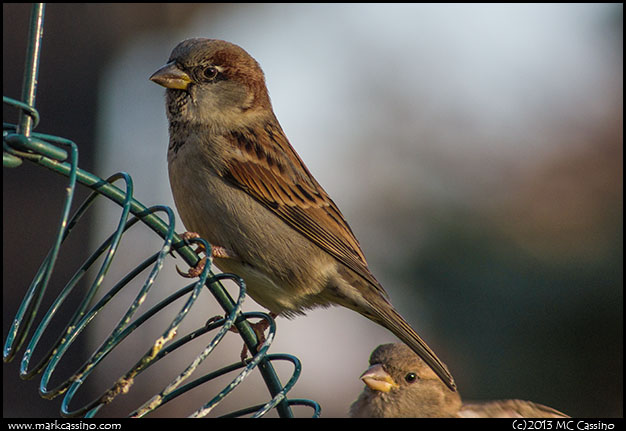 I went into this exercise with several questions in mind. Here is what I learned:

How would the Tokina ATX 400 work on the Pentax K-3? I wondered if this older lens, designed for film cameras, had the resolution and edge sharpness to work well on the K-3s high resolution, 24 megapixel sensor. Judging from the images - detail and sharpness is quite good, IMO. The backlit shot of the bird on the peanut wreath showed a small bit of color fringing, but that was easily corrected in Photoshop.
I should comment that while I have always considered this lens to be very good, it falls short of being truly excellent. Not to bash it - the sample I am using now was purchased used for a few hundred dollars. (My original copy developed a bad case of fungus.) So - I am hopeful that many older lenses from the film era will do just fine on the the K-3. (Good news for those of use with many older lenses from the film era….)
Shake reduction: Seems to have worked exceptionally well. While shutter speeds were in the 1/750 to 1/1000 range, for the equivalent of a 600mm (full frame) lens, the percentage of sharp images in this hand held exercise was quite good.

How would the K-3's auto focus perform? AF was quite fast and accurate. It even tracked the moving birds pretty well, with minimal hunting. Overall, it was quite an improvement over the K-5 and earlier models that I have used – BUT the cam driven AF was as loud as ever.
How well did the camera handle white balance? The camera was set to AWB mode. The morning sun was still quite reddish when I shot these images. In shots where the flash did not fire the white balance looks very good. When the flash did fire the images have a noticeable greenish cast. This was easily corrected but suggests that the AWB adjustment for the flash is a bit off. (No surprise but the AF360 FGZ was underpowered for fill flash use in this case.)
How did the K-3's metering perform? The camera was set to the new evaluative metering process, and performed excellently. Many of the birds were splashed with sun with a background that was in shadow, and the K-3's metering adjusted the exposure to avoid any blown out highlights in the bird. However, some of the birds in the backlit shots were a bit underexposed, though this was easily addressed in post.

And what about image noise? All of these shots were taken at ISO 800. In general, noise is minimal. However, in backlit shots where the exposure was adjusted in ACR, some noise emerges. (See the image of the bird on the green peanut holder above) Probably not as noise-free as the K-5, though a much larger image size.
And lastly – How many files fit on a 32 gig card? I shot 441 images in the 20 minutes or so that I worked on it. Based on how much they filled the card, I would expect to get 760 images on one 32 gig card.
Overall – I'm pretty happy with the results here, given that it was an unplanned test, hand held, with a relatively inexpensive and old lens. When used properly, the K-3 will probably shine even more.
(Since this is tagged as a review I should comment that I am not employed by or paid by Ricoh / Pentax in any manner and bought the camera retail.)
Looking out of my window this evening I thought I saw an unusual sparrow and went outside to check it out. I steeled down in the passenger seat of my car, parked in the driveway, hoping to get a closeup view of the bird - but it apparently departed when it saw me coming out. In a few minutes the house sparrows, grackles and jays came back and started feeding, and then this mourning dove. Here it is, shaking its head after a drink form the bird bath. Click on the image for a larger file.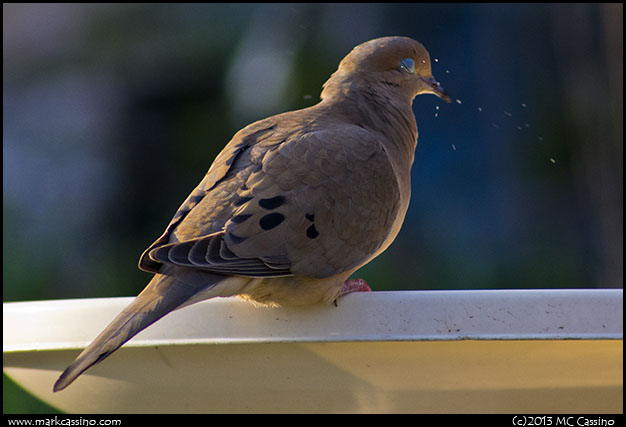 Pentax K-5, Tokina ATX 400 f5.6.
Folks on the PDML have been posting their 12 best shots of 2012 lately… I'm a little late and can't say that these are my best shots, but they are my favorites for the year. To make it a baker's dozen I added an older shot that I finally worked on enough to be happy with in 2012. So here are my 12 for 12 (click on images for a larger file): Snow Crystal (January, 2012):It barely snowed at all here in SW Michigan in 2012, but I managed one nice crystal shot in early January: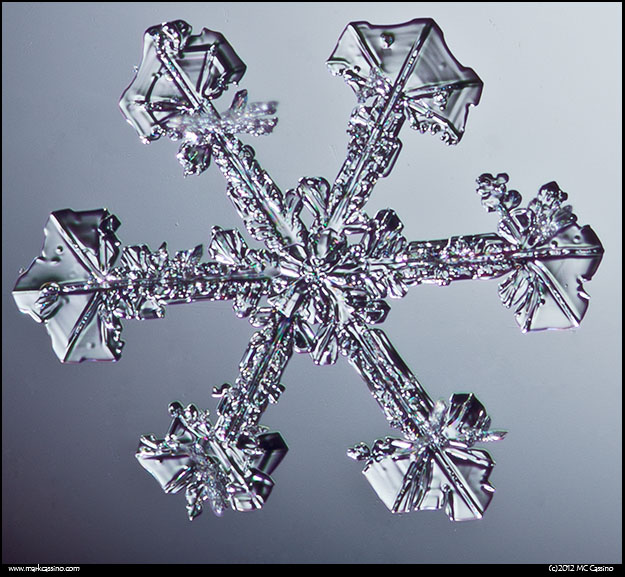 Spring Colors (March, 2012):Why wait for fall for foliage colors? Spring tree blossoms and buds captured on color film wiht the Pentax 6x7: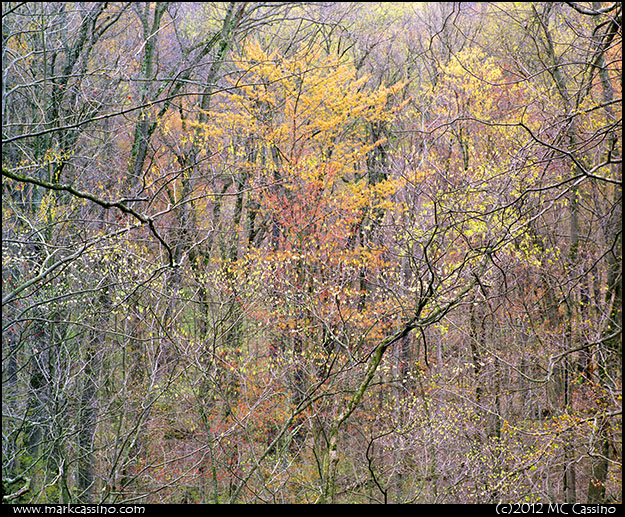 Around the House (April, 2012):My boy Jazz - psycho cat Qu'est-ce que c'est? Made with a Pentax LX and Kiron 105mm f2.8 macro lens on Fuji Neopan 400, rated at 400. Developed in D76 1+1.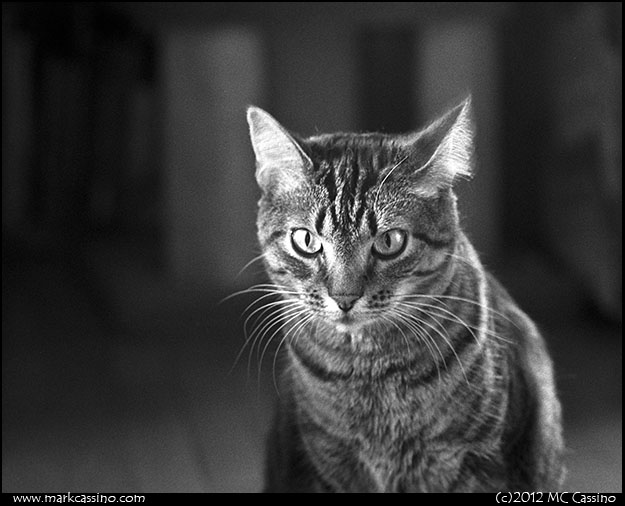 Jumping Spider (May, 2012):Pentax K5 and A* 200mm macro: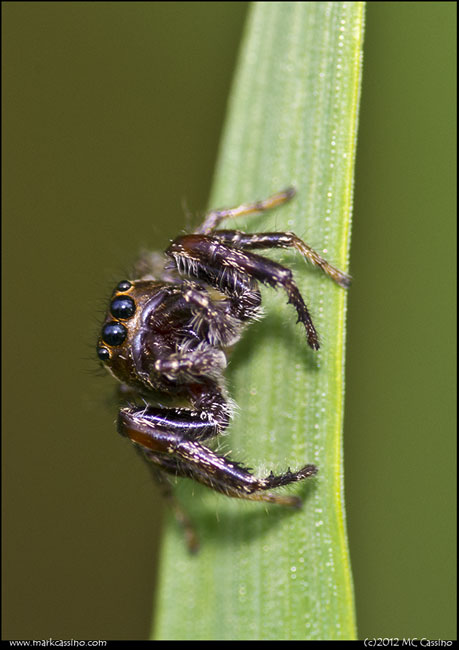 Ebony Jewelwing (May 2012):A common but elusive damselfly. Pentax K5 and A* 200mm macro: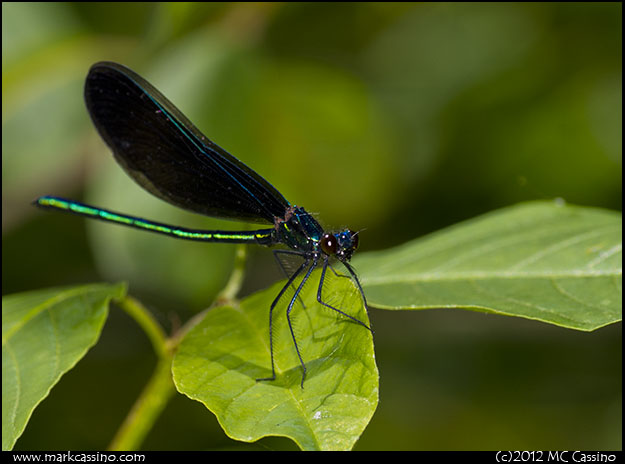 The Jewelbox, St. Louis, Missouri (June, 2012):Sort of a street photo. Infrared converted Pentax K10d: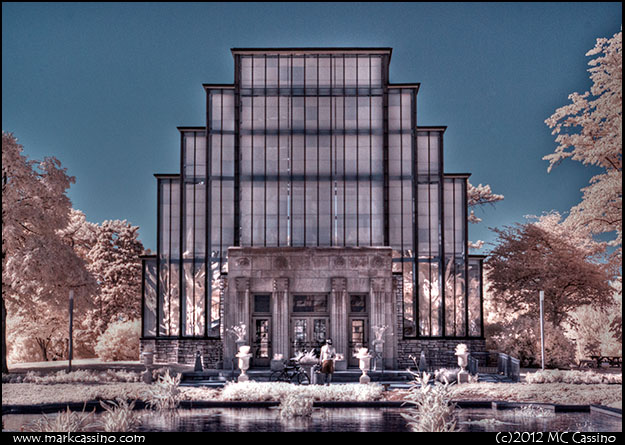 Gateway Arch in Infrared (June, 2012):Speaking of St. Louis… note the troop of Boy Scouts in the lower left corner, best seen in the larger file.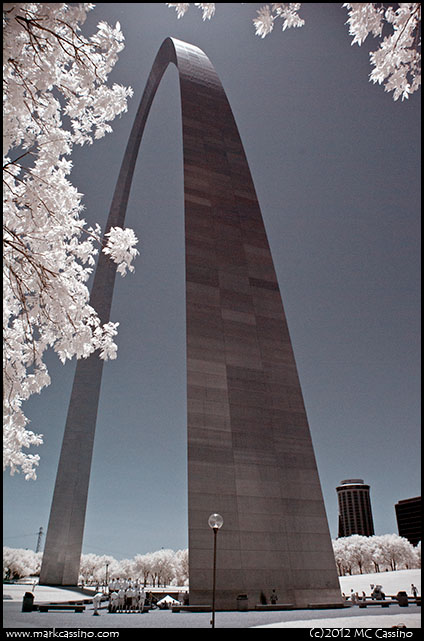 Visitation #1… (April, 2012) If these photos were music they would be pop songs…. nothing wrong with that but sometimes you want to really rock out. So I started the Visitation Project in the spring of 2012. Pentax LX, Kiron 100mm macro, Neopan SS pushed to 200 and souped in D76 1+1:
Dashing Blue Dasher (August, 2012):Ever a favorite Dragonfly - the drought this year really hit the mid and late summer species, so the Blue Dashers hung around for a long time.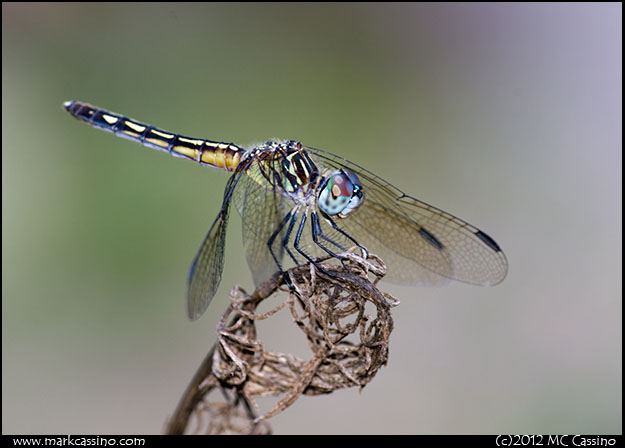 Finches and Thistle (August, 2012):I let a few bull thistles grow in my wildflower garden and the goldfinches loved them. Here's one munching on the seeds. Pentax K5, A*400 f 2.8, SMC 1.7x AF converter: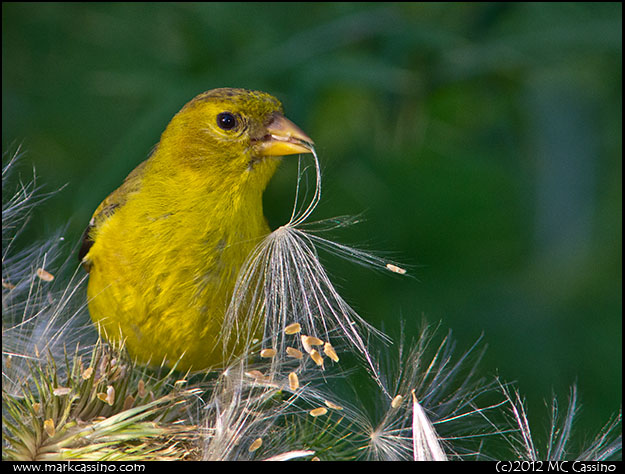 Pastoral Scene (September, 2012):I traveled to central Indiana a lot in the last few months of the year and bought a Pentax Q kit in late August to take on the road with me. Marvelous camera - a shot from my tavels: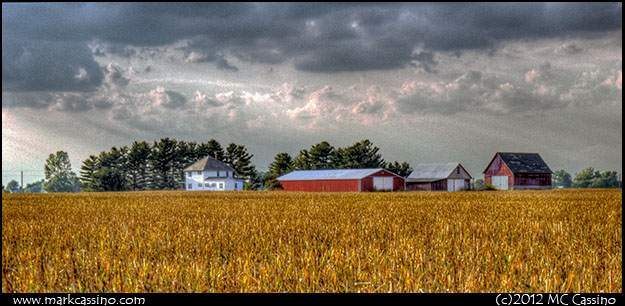 Autumn Colors (October, 2012):2012 brought a beautiful fall to West Michigan and I managed bump into it one October morning. Pentax K5 and DA 16-45 f 4 zoom: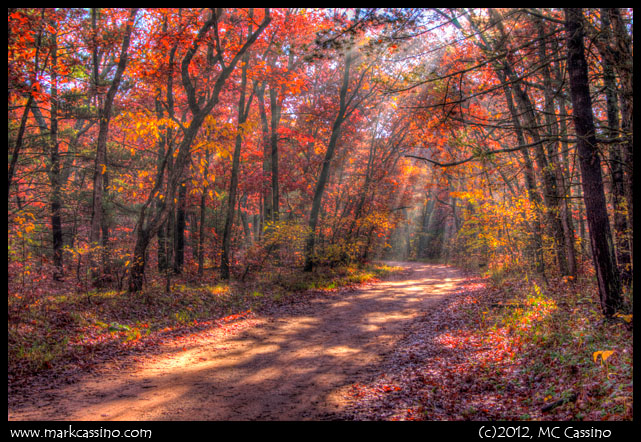 Baker's Dozen: The Shady SpotTaken in 2010 and worked on since then, I finally made a photo from this exposure that I like. I could say that I really like it. Pentax LX, fa 20-35mm F4 AL lens, Rollie 400 IR film, Hoya R72 filter.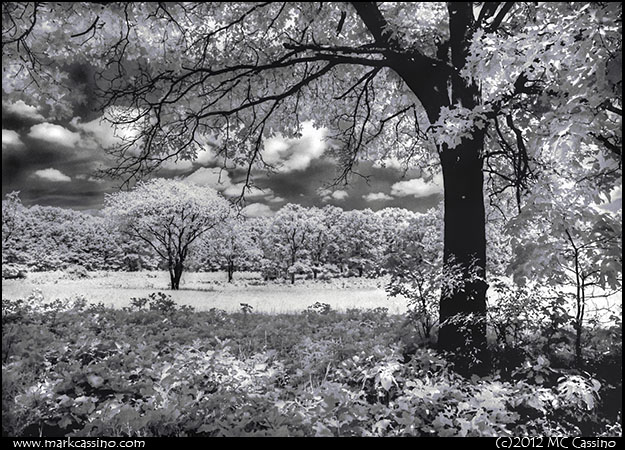 I'm really enjoying my new Pentax Q kit… the dang thing is just so much fun I find myself snapping shots like crazy, but somehow I feel that when I want to take a serious photo, it is there. It is just a joy to use, unlike most compacts that I've tried.
But in one area I have hopes for serious applications - and that would be in the realm of extreme macro photography. I've commented before that the very small sensor size found in compact cameras is a real boon to macro photographers because it allows for excellent DOF at wide apertures. The Pentax Q with a K to Q adapter applies a 5.62x crop factor to the focal length of lenses. So that D-FA 100mm macro turns out to be a 562mm macro… Very cool.
The great thing about the Q and SLR lenses the macro work is that the lenses give tons of working room. You can quite easily shoot a small bug from a yard away (with the 200mm lens) and get frame filling shots.
But, the Q's tiny sensor poses a challenge to any optic. The photo receptors are so small that only the highest resolving lens can take advantage of them. Diffraction takes a toll at fairly open apertures and small amount of color fringing can make an image too soft to use beyond web sized images.
So I've been testing the Q with a variety of lenses. Here are the results so far (I have a lot of testing to do yet.)For each image there is first an un-cropped full image (reduced to web size) followed by an Actual Pixel crop.
All of the shots below were taken with the camera and lens firmly on a tripod, usually using the 2 second self timer to minimize any shake from pressing the exposure button. No flash was used. Had I used flash I think that the apparent detail could have been higher, since proper lighting can accentuate details.
Macro lenses first, in descending focal length order.
Pentax A* 200mm f4 macro:
Well, you'd *expect* a lens like this to deliver, and it does a fine job. Clearly the best I have tried so far.
Here are 3 shots, with actual pixel crops following. I took these on breezy overcast day, so I pused the ISO a bit. The first shot is ISO 640, the second two are ISO 800. The Q can get noisy but keeps the color noise down. Overall, I find ISO 800 workable, which is a surprise.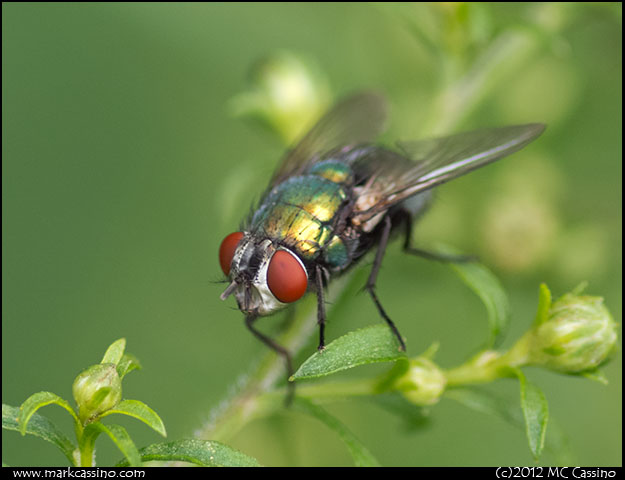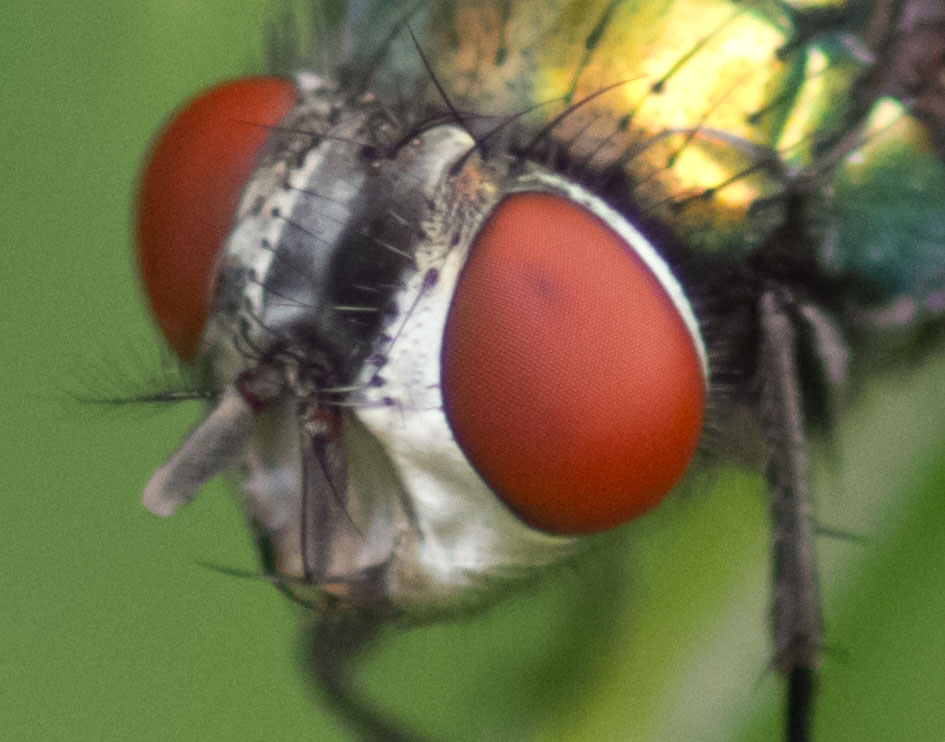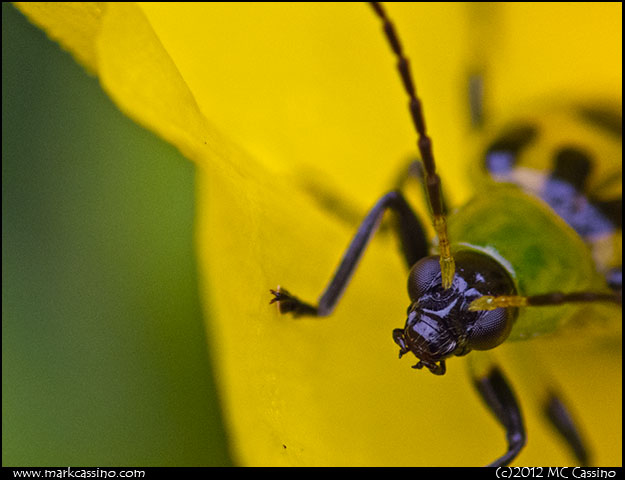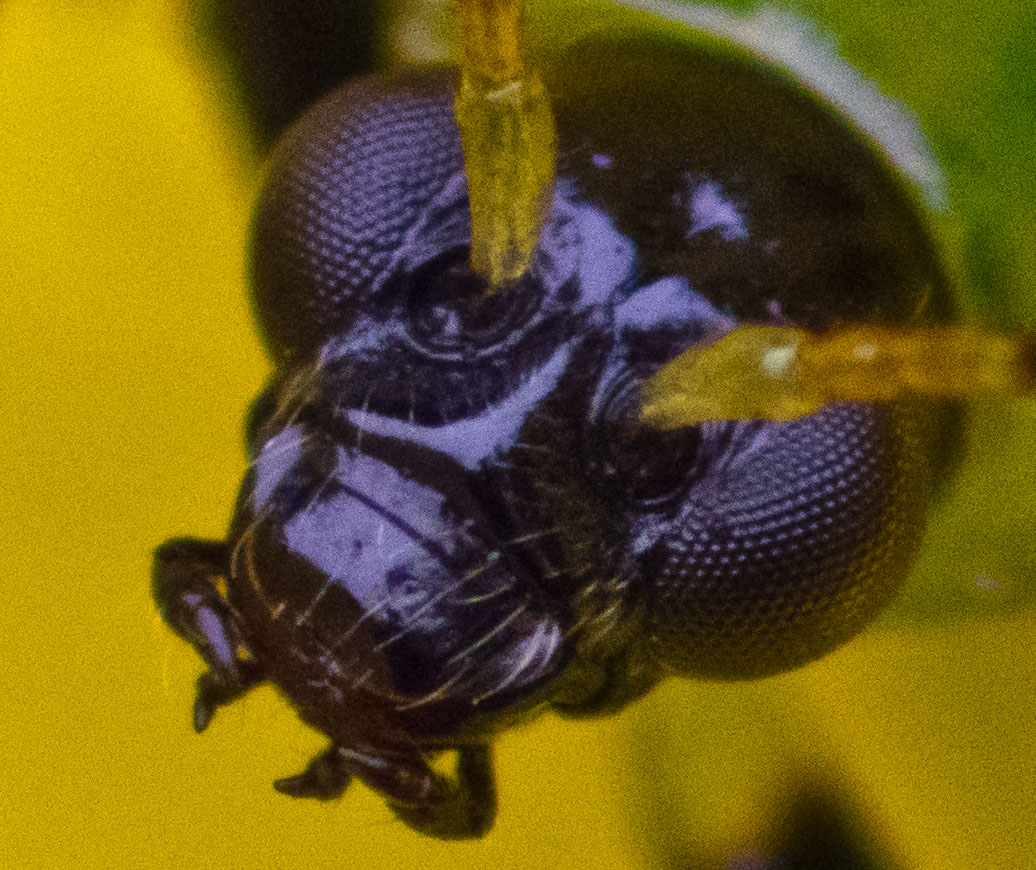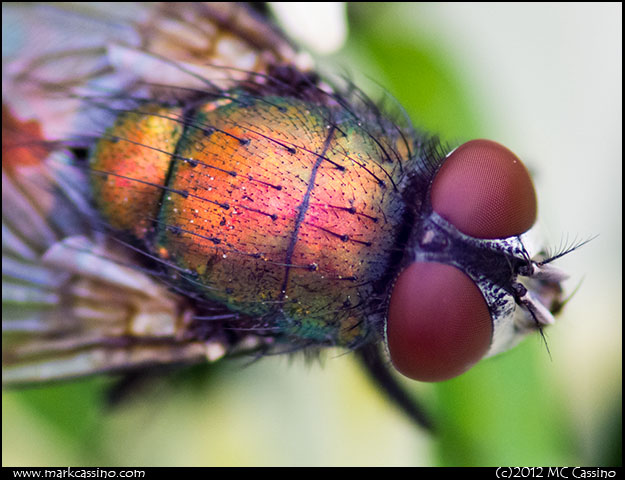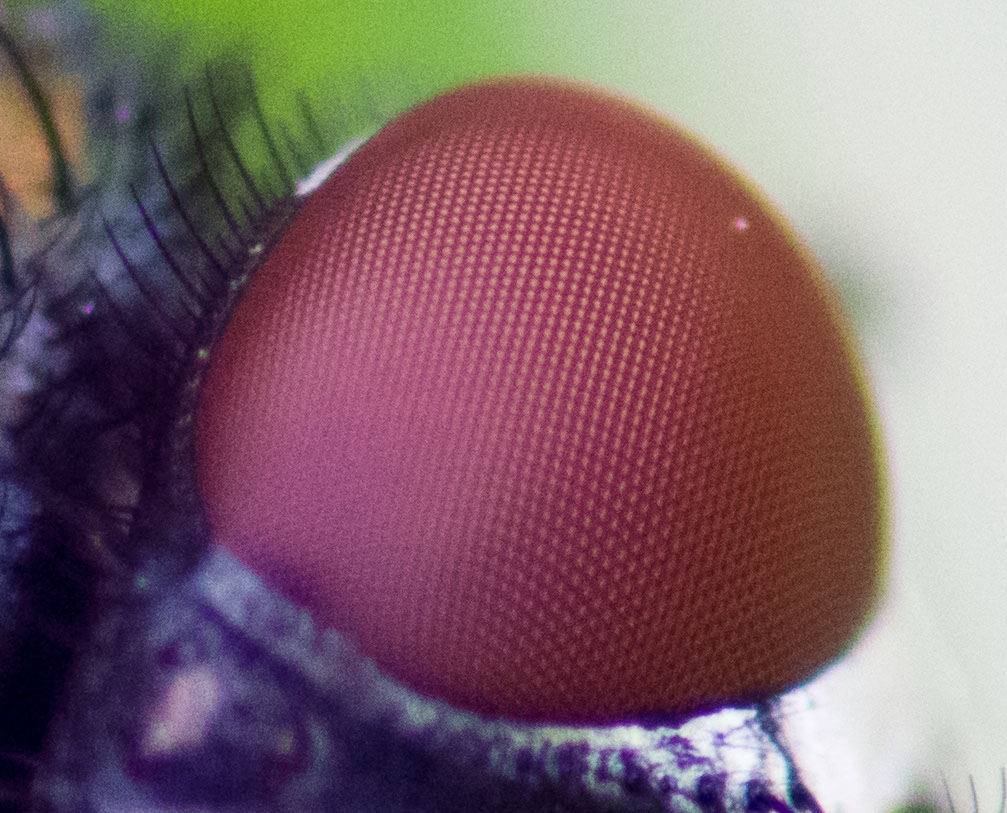 I think the shots above are at f 5.6. I did a series of shots, starting at f4 and stopping down a click with each successive exposure. By f 8 diffraction really impaired the level of detail. F 5.6 seemed to be the best compromise between sharpness and DOF. The last shot is at 1:1 magnification… Depth of field is still pretty tight even with the Q's small sensor.
Pentax D-FA 100 f2.8
This lens fared pretty well, though not up to par with the A* 200. The shots below were taken at f4. The ISO was 250, 125, and 250 respectively.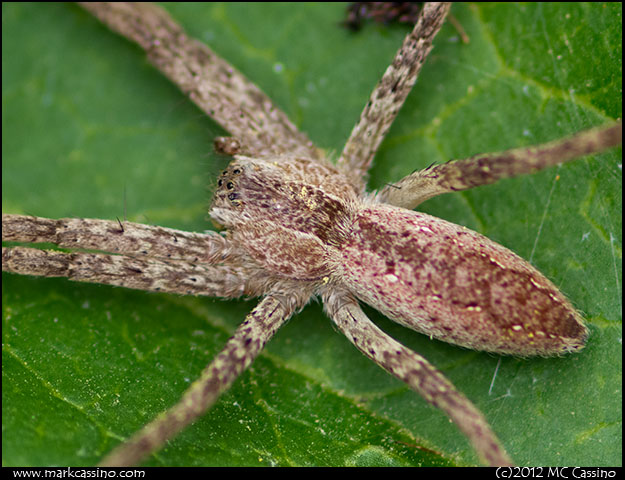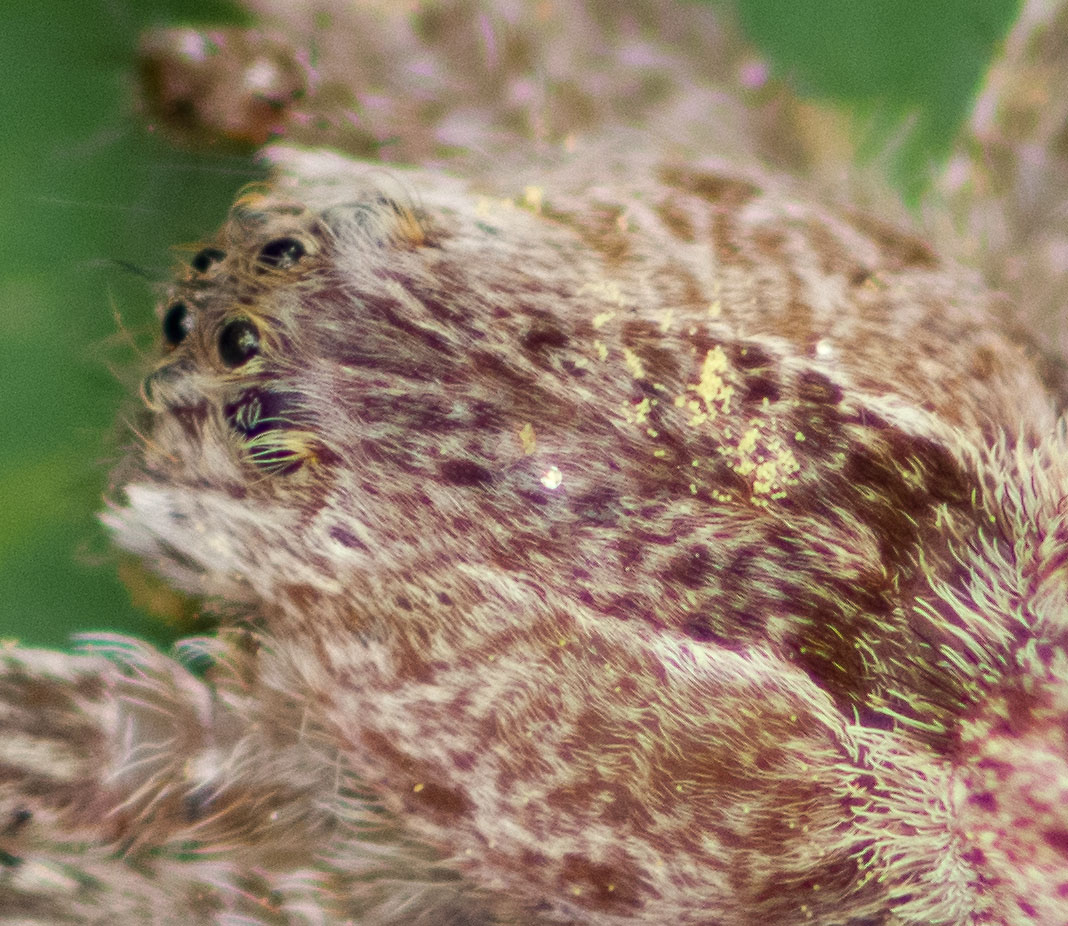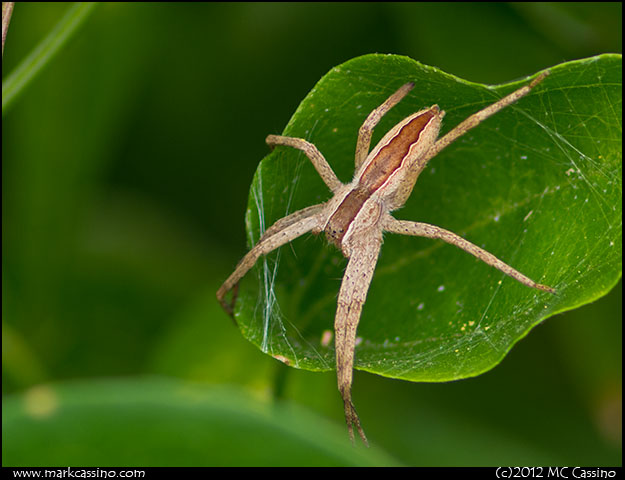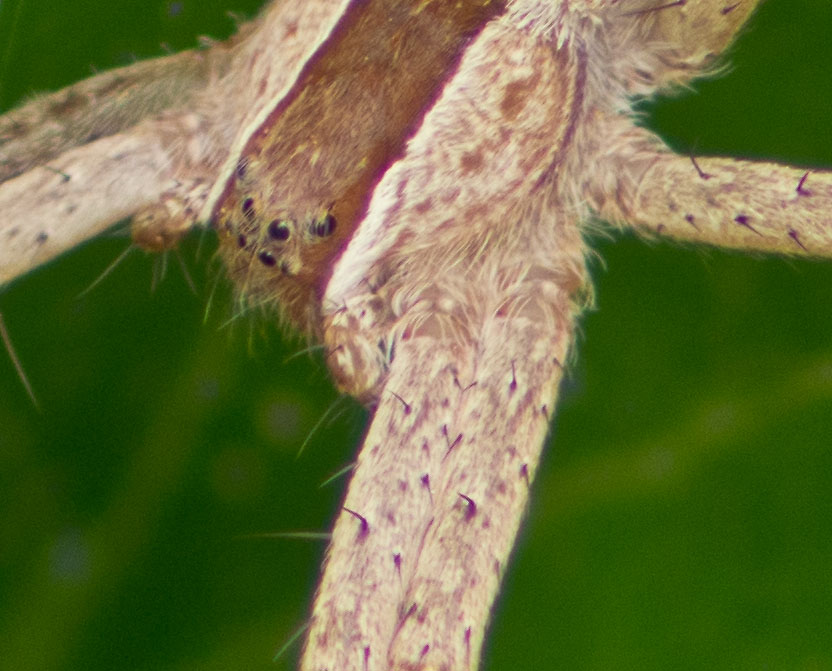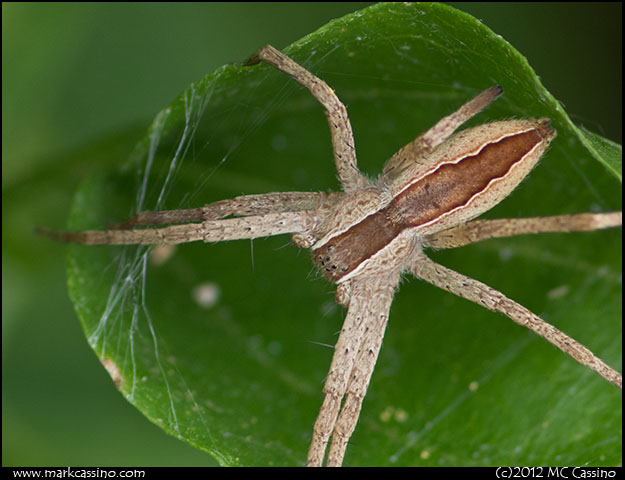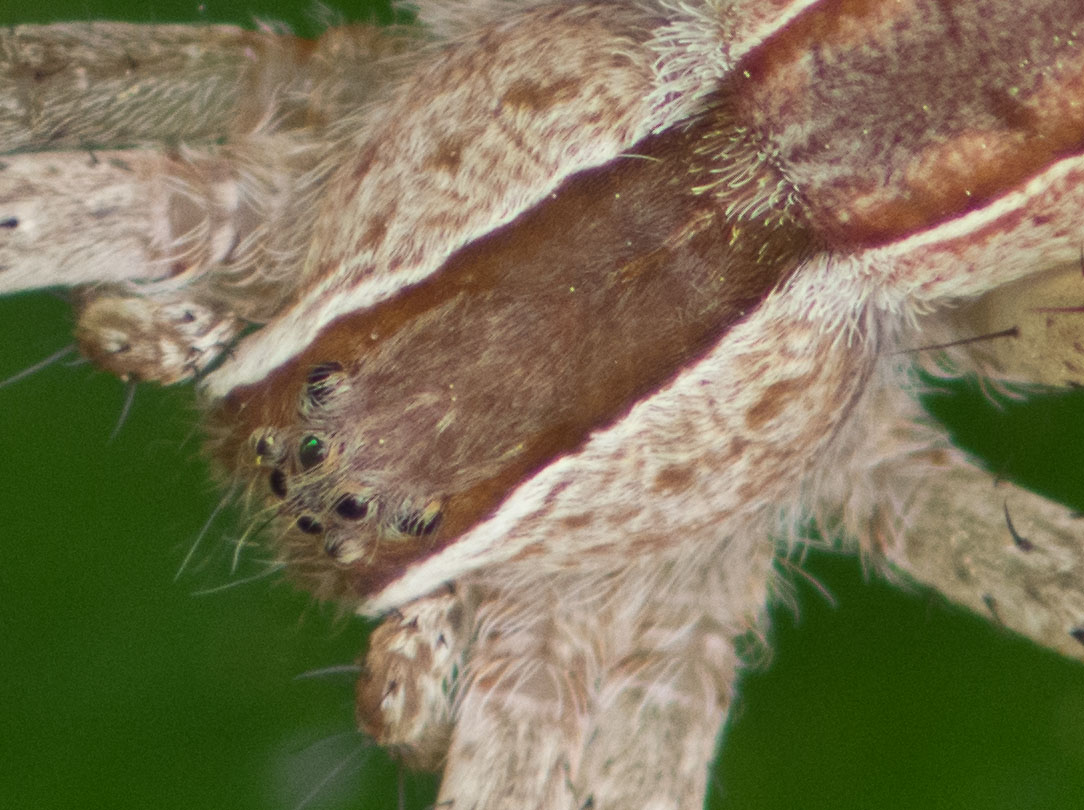 Kiron 105mm f2.8 Macro
A legendary lens from the 80's that back in the days of film was virtually unrivaled. Sadly, it is not up to the demands put to it by the Q. The chromatic aberrations in the fly shot really mess up the details in the eyes. The test shot of the cocklebur is just as bad. I'll keep this for shooting with Tri-X!
These shots are at ISO 125 and 160 respectively - so while the Q is pretty good at higher ISO's, it never gets to truly low noise levels at low ISO's….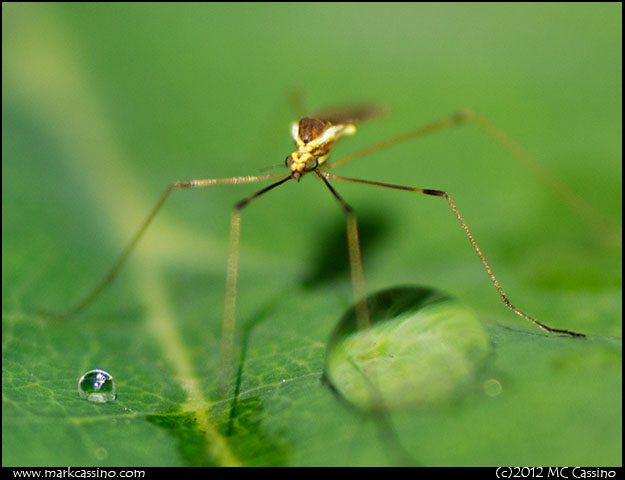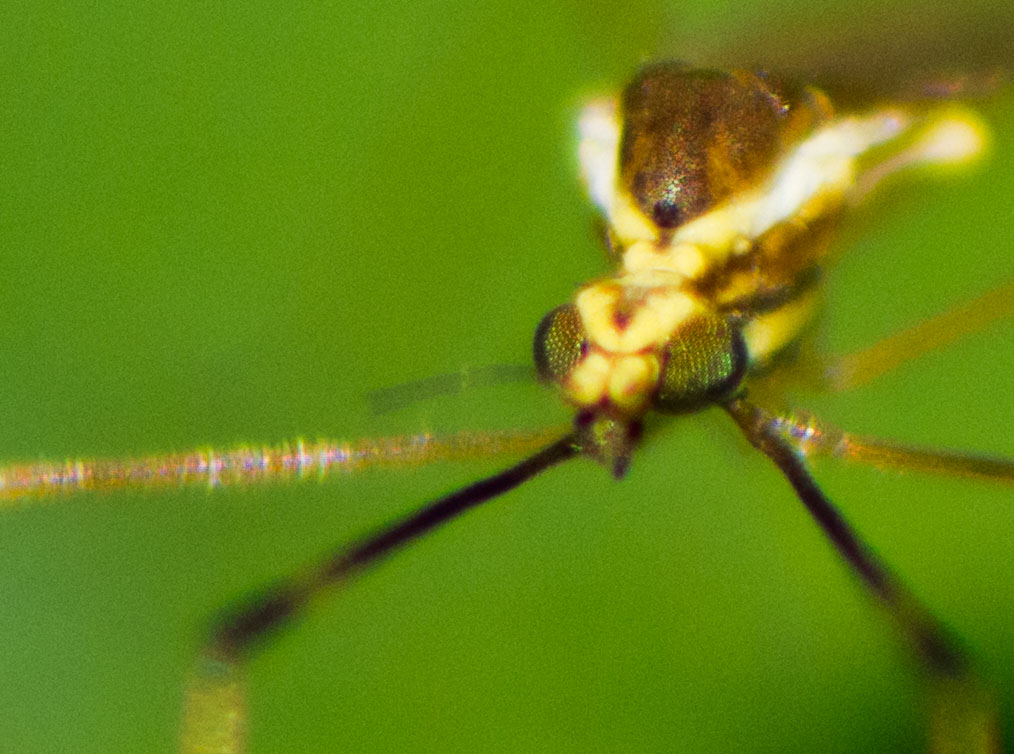 (Drat! That could have been a good shot!)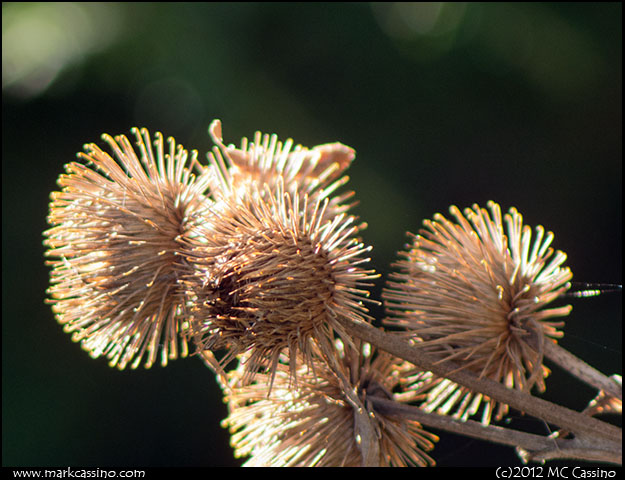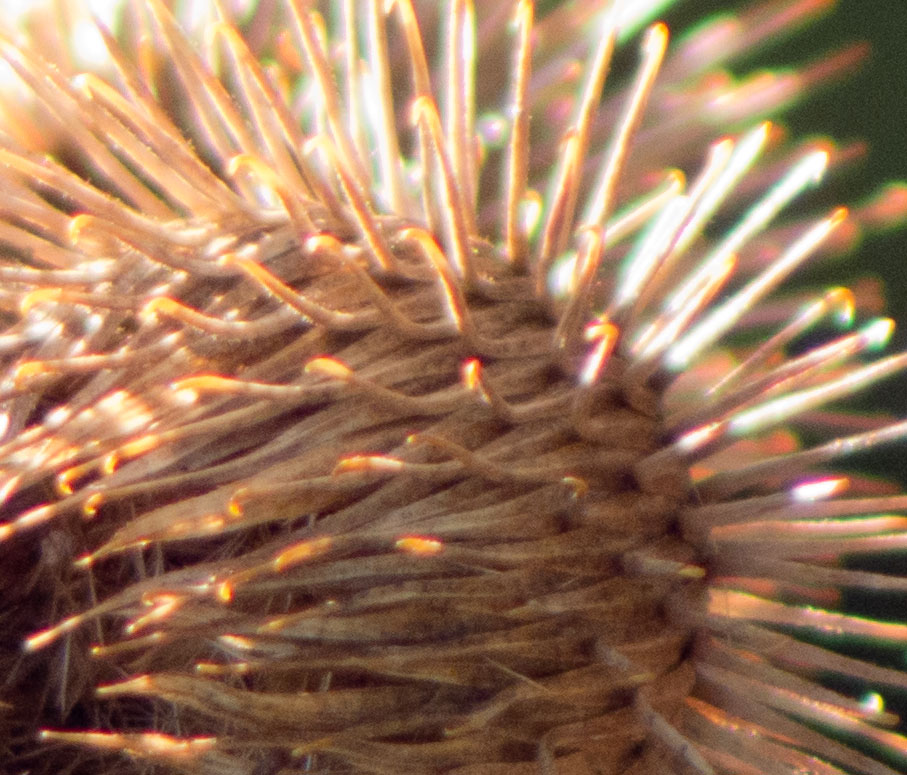 XR Rikenon 50mm f2
Rumors on the Internet persist - is this one of the sharpest lenses ever? Since the Q is pretty demanding, I thought I'd give it a try. I only made a half hearted effort - I put the lens on two 12 mm extension tubes and then back onto one. The sky was clear and the sun was bright, but the wind was gusting like made. I took less than 10 shots and decided to stop wasting by time… but then found this image stuck in the middle of a bunch of motion blurred photos: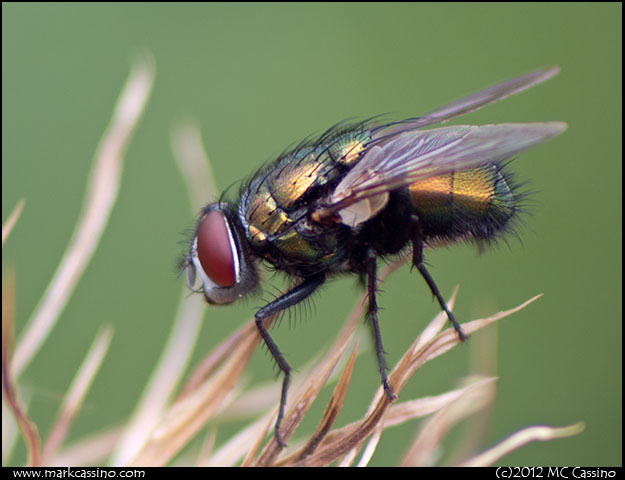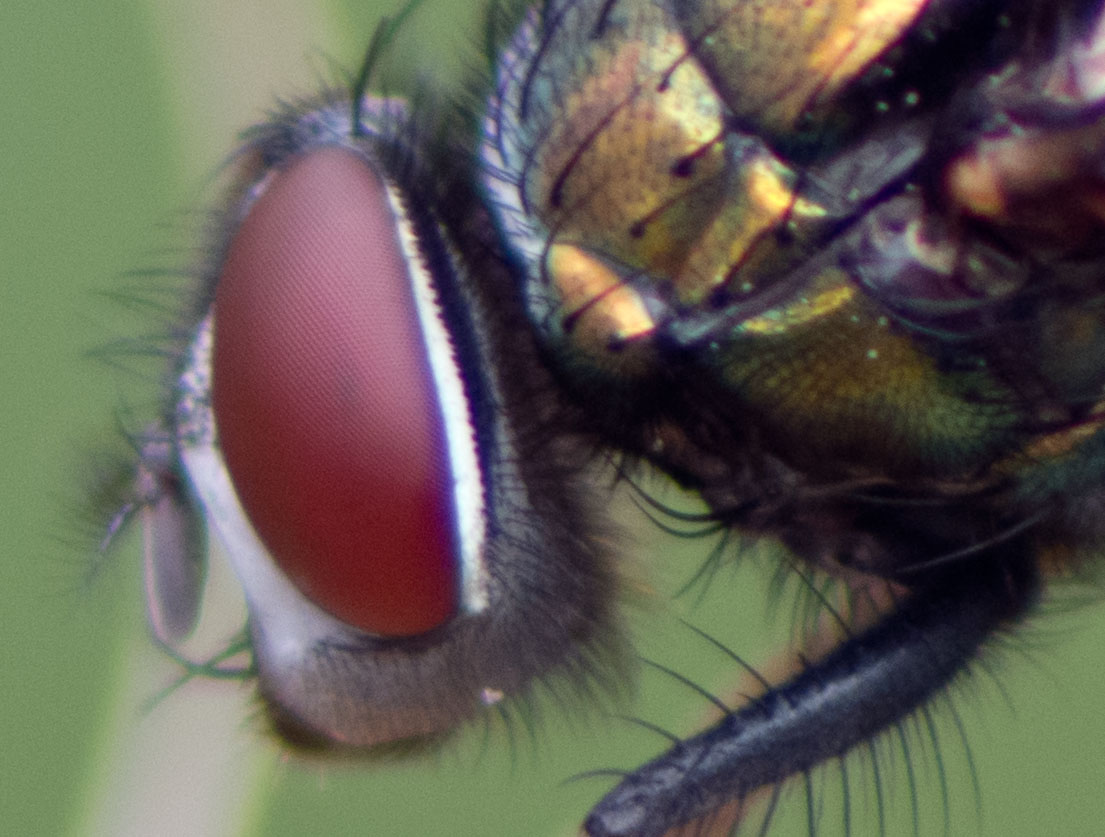 That was at ISO 200. The results are close to the D-FA, and certainly warrant another try with this lens.
A* 300mm f4
OK - aside form macro photos, I was also interested in using the Q as a compact birding camera, so I tested it with an A* 300 f4. On the Q this lens is the equivalent of a 1686mm lens on a 35mm camera. Unfortunately, the A* 300 was not up to the job - a couple test shots, first of a goldfinch and second of a house finch.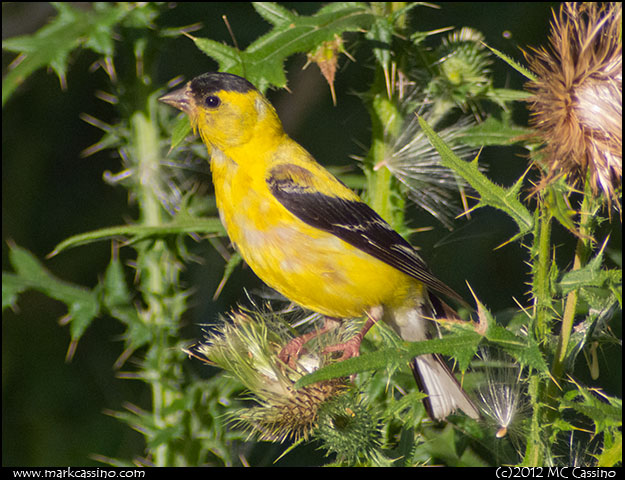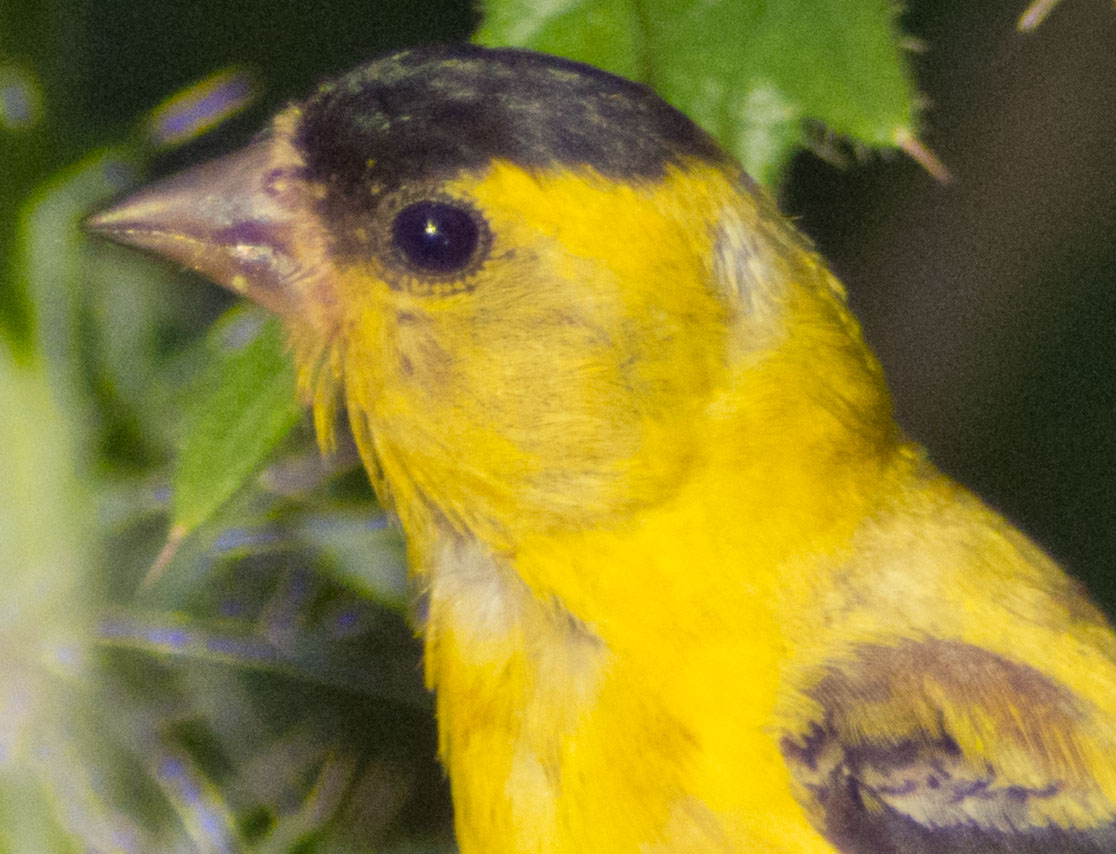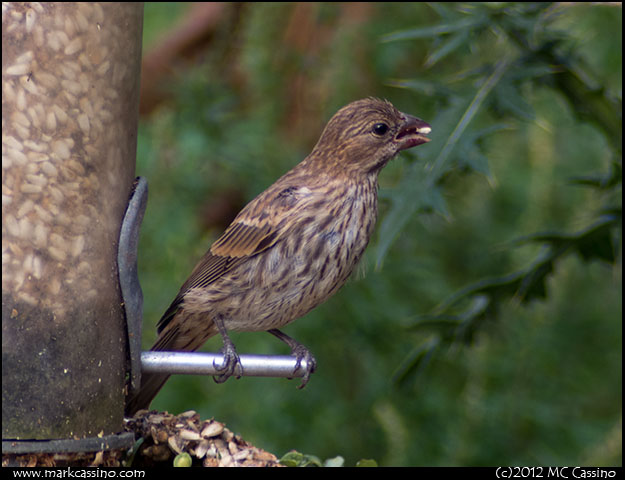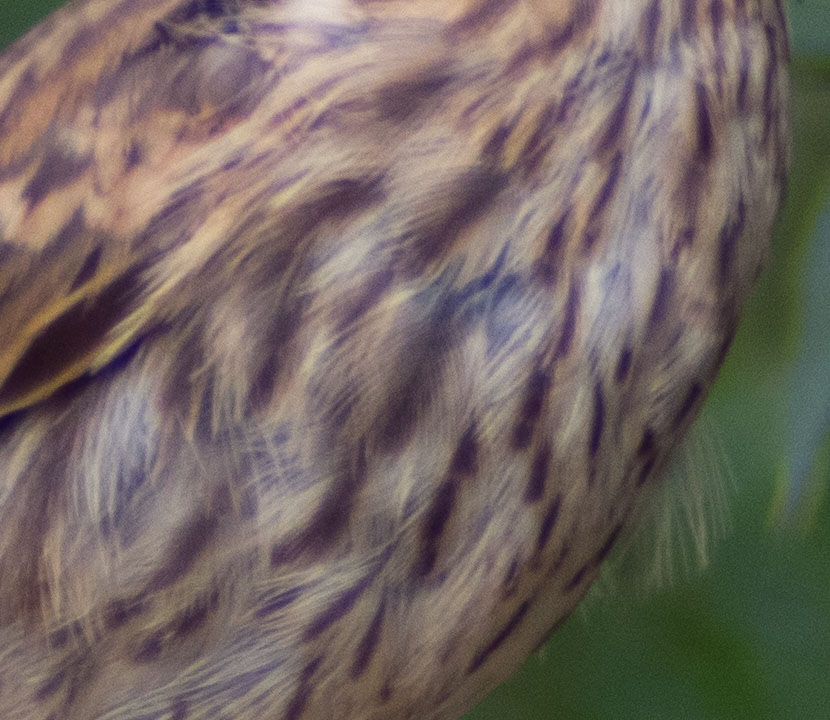 For an example of what I would *like* to see, here is an actual pixel crop of a photo I posted recently, taken with the Pentax K5 APS-C sensor camera and A*400mm lens with AF 1.7x converter (equivalent to 1360mm on a 35mm camera.)This is from a recent post.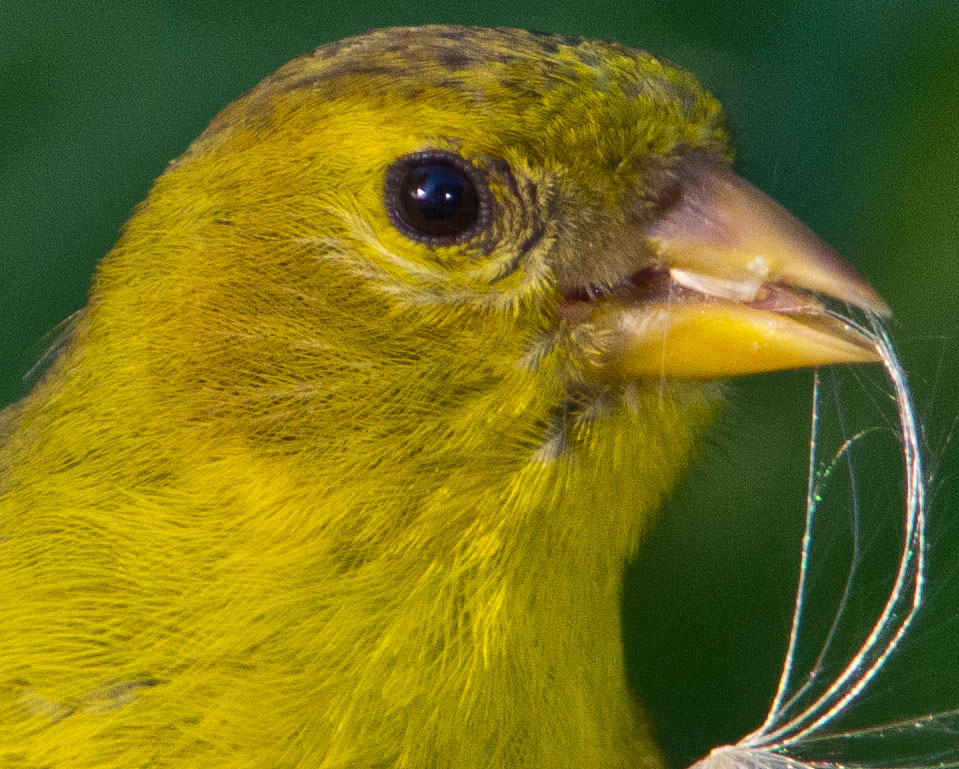 Well - I'm still hoping for clarity like that on the Q. If you are peeking at the noise levels in the bird images - the top goldfinch photo taken with the Q was at ISO 500, the house finch, aslo taken with the Q, was at ISO 200. The K5 goldfinch shot was at ISO 800…
But, to give the birds photos some perspective, here is an old photo (circa 2002)of a Yellow Warbler taken with a Pentax Mz-S and the same A*400 / 1.7x converter setup as used with the K5. It was taken on Kodak E100S and scanned on a Canon Canoscan 4000F. I'd say that the level of detail - which at the time I considered to be quite good - and noise - which also was state of the art back then - is comparable to what the Q is producing with the A* 300. Well, the Q might not be quite as sharp… But, I certainly hope to get useable bird photos from the Q, ultimately.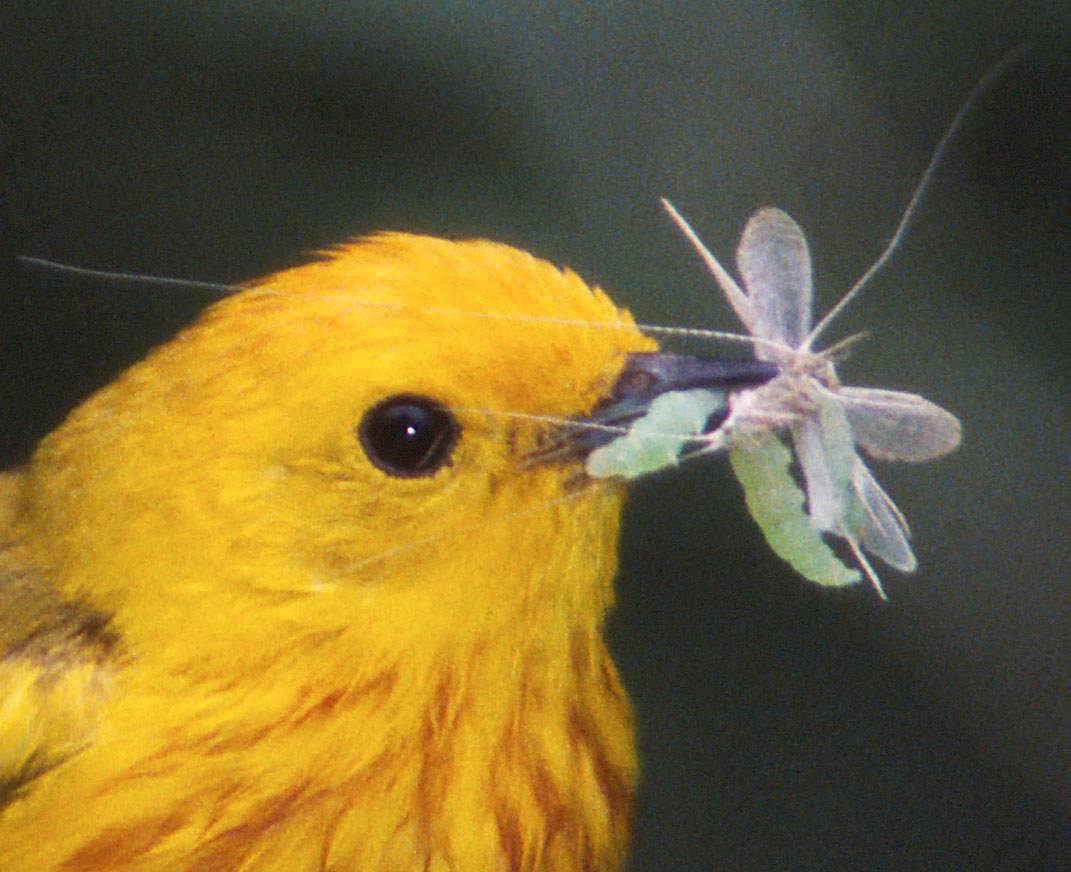 I have a few more 50mm lenses to test yet - most notably I'd like to try the Pentax 50mm f1.7 (I have both an FA and M version on hand), SMC M 50 f4 macro, and Sigma EX 50mm f 2.8 macro.
For birds… I've finally come to regret selling my A* 200 f2.8…
Bull thistles have popped up all over my wildflower garden this summer, and Goldfinches have been watching them closely all season long. The bull thistles started blooming a few weeks ago, and when I look out of my upstairs office windows late in the day I see the finches reveling in the thistle seed. They also gather the down for their nests, and this is the time of year when they lay eggs and raise their young.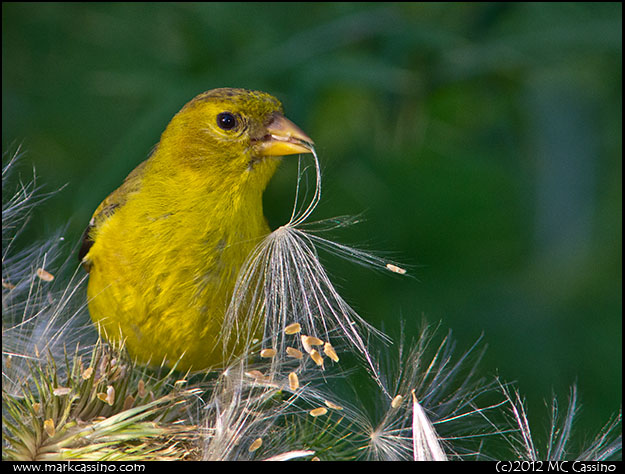 I took a few lazy stabs at photographing these guys in past years and in the last few weeks, but recently decided to get serious. I broke out the Pentax SMC A*400 f2.8 and 1.7x teleconverter / autofocus adapter, and rummaged through my closet for a suitable flash bracket. It's been years since I used this setup!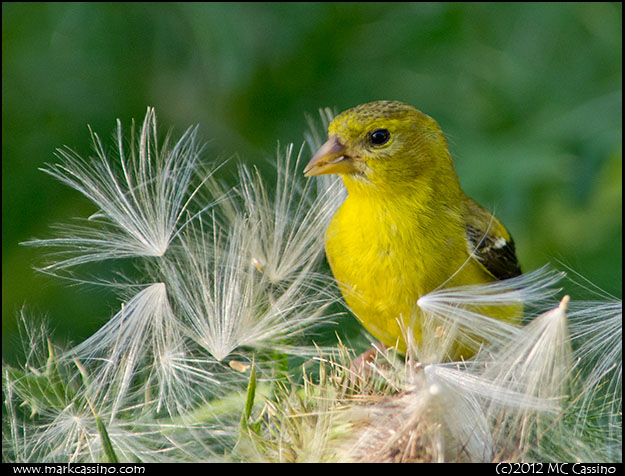 Last weekend I did not have much luck - every time I stepped out the door the finches flew off. So this afternoon I setup the camera and big lens peeking around the corner of my wife's car, grabbed a book and some beer, and sat back to enjoy the afternoon, reading. It took a few hours but eventually the finches came back to the thistles, and when they did they no longer seemed concerned about me or my efforts to photograph them. With a little luck, I'll get a few more shots before the summer is over.
Click on the images for larger files.