A few weeks ago I wrote a few comments about shooting with the wonderful plastic Holga. Here's another Holga shot, this one taken a few weeks ago in a local nature preserve.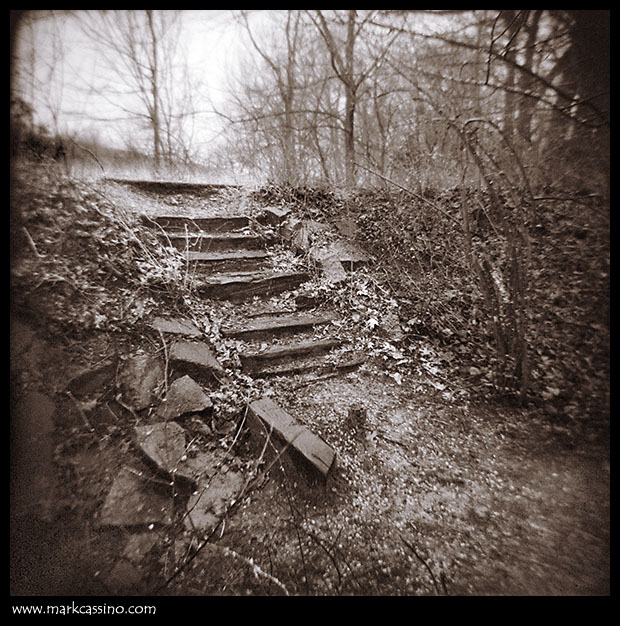 I have an 8x10 of this shot plastered on the bookcase in front of my desk here, and it's been growing on me. I'm still not certain that I like the lower right corner – the flow there just doesn't feel right – so I've been tweaking and playing with it, maybe someday to come up with an improvement. But I still like the overall feel of the photo. This small set of stairs branches off a well traveled path in the woods. Its leads down to a creek, and to a little spit of a trail (maybe just an animal trail) that seems to go nowhere. At least, when I followed it, it seemed to just peter out in the brush after a few hundred yards. This is truly a stairway to nowhere, and you have to wonder who took the time and effort to plant the railroad ties there to make it. Post exposure, I did a fair amount of dodging, burning, and toning in Photoshop – more or less just exaggerating what was already there. But the essence of the shot came from the Holga, and the uncanny way photos taken with it seem to edge off to the other side, just a bit.
This entry was posted by
mcc
and is filed under
Photo Comments
,
Toy Camera
,
Holga
.