Woods and Sun
Like most photographers, I am concerned with the archival qualities of my work. Creating an image that will not fade with time is a major concern.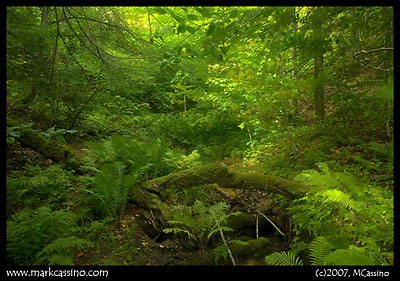 But like most photographers, my efforts in this arena are misdirected. I'm concerned with archival processes – pigment based inks or carefully washed fiber paper. While these processes assure that the image that is printed will last for years, they ignore the most glaring problem with virtually every photograph ever taken – they fade rapidly the instant the shutter fires.
It's a sobering realization, but after years behind the camera I've come to accept it as true. Cameras are incredibly limited in regards to what they can capture. Compared to the eye, mind, and memory – a photograph is a faint shadow cast on a bright wall. They are dull, two dimensional, lifeless.
After studying images for some time now, I realize that there is no recording device on par with the human memory. In fact, our minds take in so much information, that it often takes weeks, months, or even years to fully comprehend it. Invariably, when we look back on a past experience, we realize that the alligator was much larger than we initially remembered, the cars went faster, the sun was brighter, the sky bluer, the flowers more vibrant… And when we consult a photograph that purports to document the event we recall so well, we are confronted with the glaring limitations of this medium.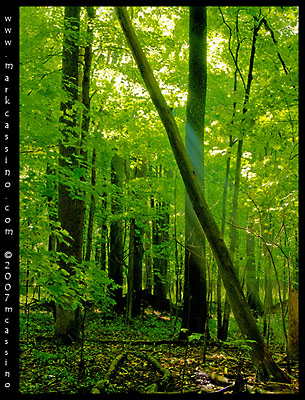 I felt this point most sharply earlier today. Archiving some images from late September, I took a walk through them to relive some of those last, hot, sultry days. I had hiked around in the woods in Cass County, Michigan, enjoying the bright sun spiking through the forest canopy, soaking in the rays shining through the hazy air.
Of course, the photos faded during the drive home. I suspect that RAW files oxidize while they are sitting on the memory cards. In any case – the images disappointed once I got them home, and so I left them.
Looking today, though, I remembered what the scene really looked like. So I fired up Photoshop. I used the same technique that I used a while back, with the photo of the old tree at Mount Carmel Cemetery in Big Rapids, Michigan. It's just a matter of blurring and blending layers, but I managed to recall a bit of what I saw that morning a few months ago. I felt good enough about the results to go back and re-work a shot from the Tahquamenon Falls State Park, in Michigan's Upper Peninsula, in early September. Without the digital enhancements, the image was rather flat and documentary.
So here in the blustery days of early winter, a few summer photos - pictures of trees in the summer sun. These will have to tide us over till the woods are again green.
As always, the full set of images is in the Image Stream.
No feedback yet