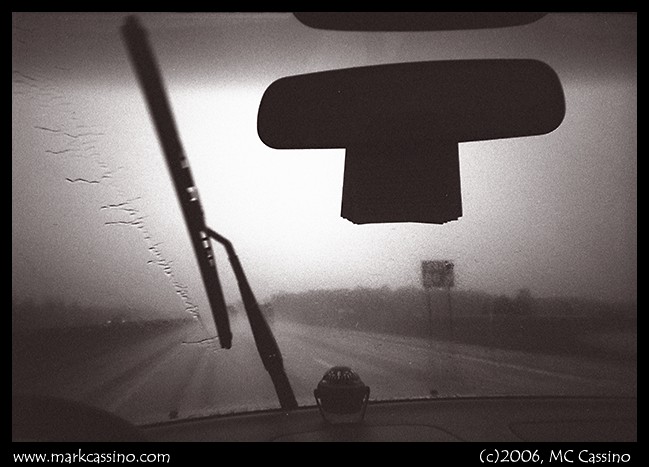 A few weeks ago I posted a preliminary image from a new toy camera, found at the local Dollar Store. Since then I've taken another roll in the Special Moments Focus Free camera, and while most of the shots have been too underexposed to be a much use, I've been happy with a few of the images that have come out this camera. EB I94 is probably my favorite, taken while driving along the freeway during a pouring rainstorm. There's just something about the line of water running off the wiper blade that appeals to me. Trillium field is another favorite from this batch. Obviously, it was taken while out shooting wildlfowers, and stands in a bit of a contrast to the straight forward, in focus, color digital shots from the same session. This camera displays the unusual characteristic of blurring light sources much more than shadows – which I guess makes some sense if you think about had a bad plastic lens would interact with bright light.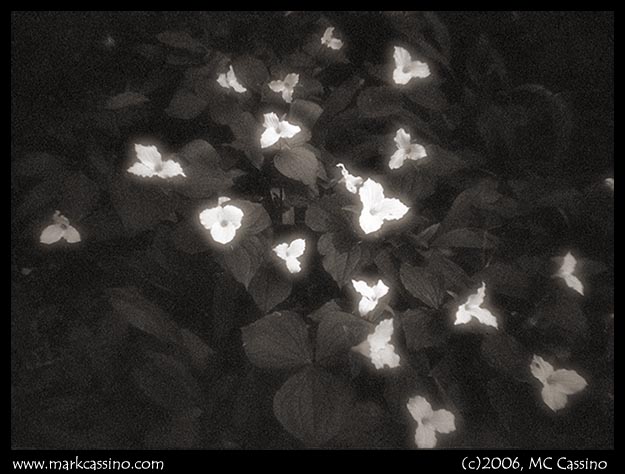 For film I've been using Ilford SFX 200. This is a near-infrared film and was used for its epcial effects. Unfortunately, I bought an old, long expired lot off eBay over a year ago, and testing it out the IR effects seem to be gone. Last summer I used it as an ISO 200 B&W film, and it produce some fine images, though perhaps a bit on the grainy and contrasty side. But of the last several months the remaining rolls in this lot seem to have lost even more sensitivity, despite being stored in the deep freeze. Oddly enough, this old film fixes to be quite clear, and does not exhibit the fogging that you usually see with expired film. As with most toy cameras, it really is impossible to control the exposure. With only one shutter and aperture setting, there's not much that you can do!
Knowing that the film was effectively quite slow, I decided to give it a serious development push, so I developed it in HC110 Dil B for 25minutes at 20 C. This should be enough to produce and effective ISO 800 with SFX, The result was still very thin negatives that required a lot of coaxing and adjusting to bring out any shadow detail (the leaves in Trillium Field are barely visible on the negative.) But with the right processing and adjustment, toy cameras like this one can really sing....