Summer moves along at its appointed pace. A couple weeks without rain the fields begin to ripen and are tinged with brown. The tall grass quickly turns from green to yellow to brown. Wild strawberry goes red and brown, prickly leaves wilting close to the soil. Looking through the finder of my camera I see red dragonflies with brown backgrounds, where just a few short weeks ago I saw gold or blue dragons with a green backdrop.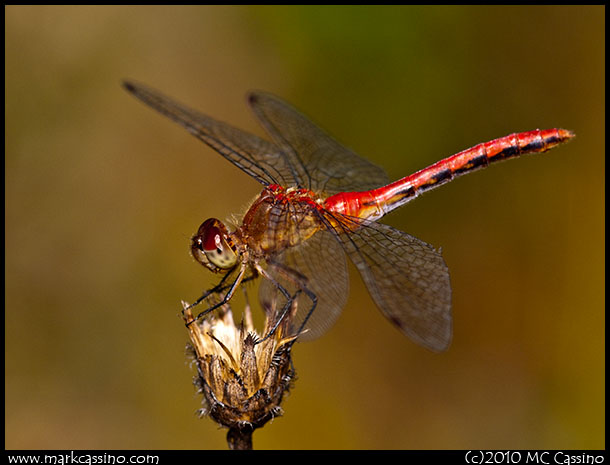 I drove into the Allegan Forest with every intent of visiting the logged fields, but on this morning I decide to take an alternative route, and instead of travelling through Otsego and Allegan, I instead headed through Alamo, Gobles, and d Bloomington, to come upon the game area from the south. This route takes you along the back roads (in an area where all of the roads are more or less back roads). Going north on 48th Street I see a little field that I have visited a few times in the past, and realize that it has more or less escaped being logged.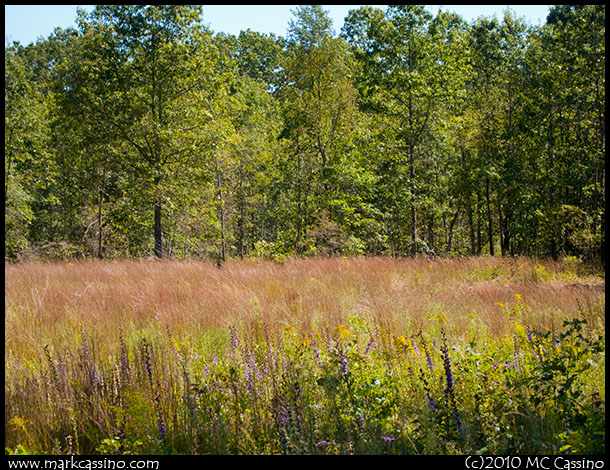 I pulled into the little parking area. Lots of new tree stumps, branches, and piles of wood chips block the parking are off from the rest of the field – new evidence of some logging activity. As I walk into the field I see some deep ruts in the sandy soil, a few bare patches and piles of wood chips, and one rather small pile of branches – maybe about the size of a typical two car garage – that is on top of much older pile of branches left years ago. Overall, the area is still relatively undisturbed.
And so, let's see what dragonflies are here…
The autumn meadowhawks are making themselves known, but the red meadowhawks of high summer are still the most abundant. Here's a red Meadowhawk sitting on a dried knapweed bloom, which seems to be lit up before him: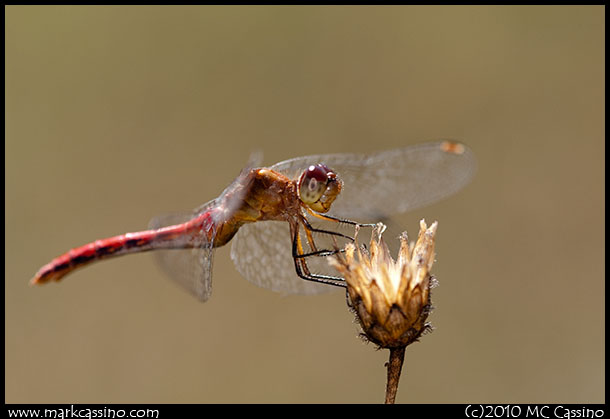 And here is another red Meadowhawk, on another knapweed bloom, with the olive green / brownish fields making a backdrop: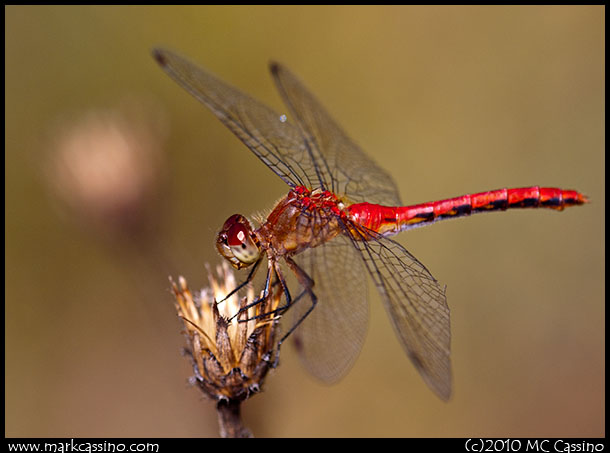 Of course, dragonflies aren't the only insects of in the late summer field. As always, the American Copper Butterflies – tiny things about the size of a dime – are especially abundant. Here's one perched on a dried leaf, guarding its tiny kingdom.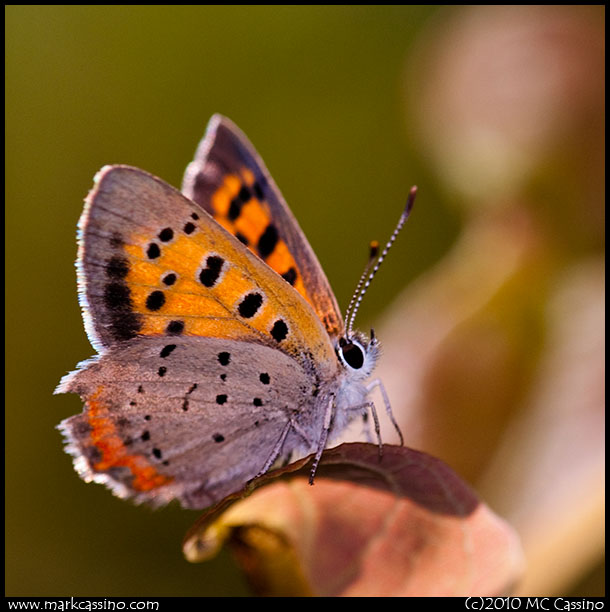 Butterflies are not rare in the game area, but I honestly see few monarchs or giant swallowtails in any one place. From time to time, I'll see spicebush swallowtails in a few numbers, but here in this field this morning I saw many monarchs and quite a few giant swallowtails. The giants managed to elude me, but here are a few shots of the monarchs: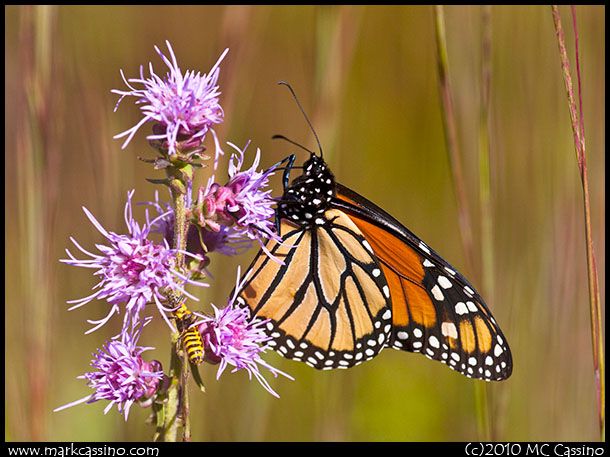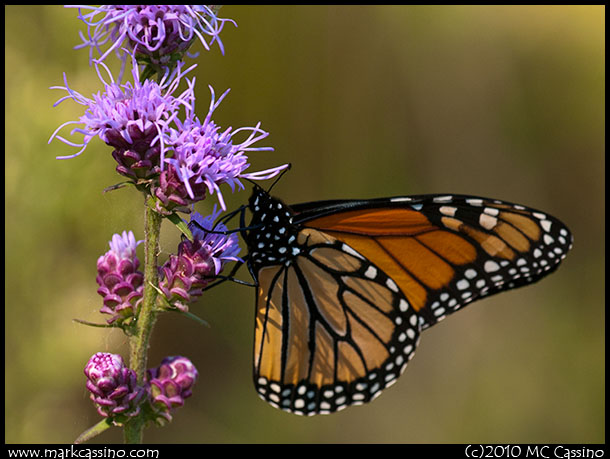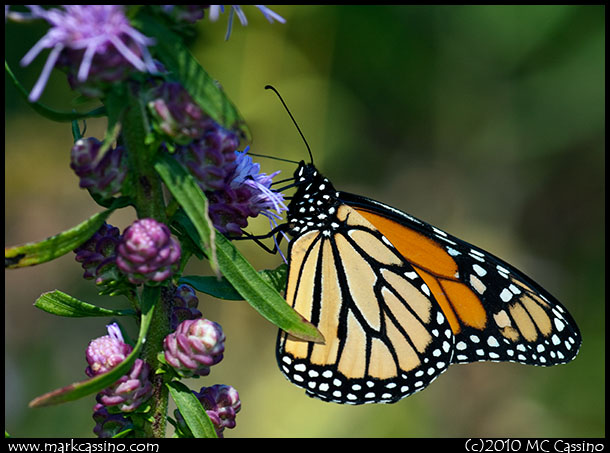 It was a nice Saturday morning in the fields. I never got out of that first field I visited, and never made it to the logged field. I used up my allotted time in this one small field – something I have no complaint about – and drove back south in the early afternoon to retrace my route back home. I thought I had some nice shots of the monarchs and dragons but, meh, a few images that are at best competent is all I found when I downloaded the memory cards. Oh well – it was a nice morning in the wilds.
Here is a parting shot of an autumn Meadowhawk sitting on a pale plant whose name I either do not know or cannot remember, though it is quite popular with the butterflies.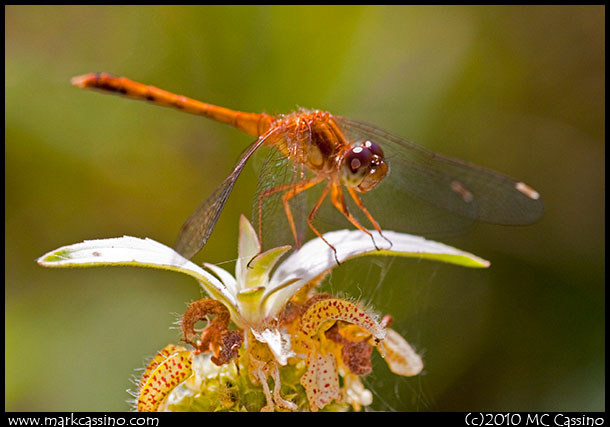 This entry was posted by
Mark C
and filed under
Insect Photography
,
Michigan
,
Allegan State Game Area
,
Allegan Forest
,
Dragonfly Photography
,
Odonata Photography
,
Macro Photography
.