Posted by

mcc

on Jun 10 2009 in Reviews
Nikon Coolpix P6000 - Likes and Dislikes
About a month ago, I added a Nikon CoolPix P6000 to my camera bag. For some time now I've wanted a compact camera that's easier to carry around than a digital SLR, but one that is also capable of producing decent prints. The P6000 isn't without its problems, but does a good job of filling that bill.
Here's a rundown of what I like and don't like, about the camera:
Likes:
1. Size, weight, handling: Like I said, I wanted something small and compact to easily carry around. This camera can easily fit into a jacket pocket, and in a pinch even fits in a shirt pocket. It's light enough that you don't even know you are carrying it. Nonetheless, the all-metal body has a solid feel to it – Nikon really hit the right compromise between diminutive size, lightweight, and rugged construction.
2. Image Quality – this hits on several of the camera's features. The high megapixel count, great optics, image processor, and RAW file support result in excellent image quality. The one caveat is that noise levels above ISO 200 start to become problematic, and at ISO 800 and above they degrade image quality. That does result in slow shutter speeds and so it is hard to freeze action - but between the Vibration Reduction and the incredible depth of filed at all apertures (no need to stop down much) I find I can get good hand held results in many situaitons.
Here's a hand held shot of the Kalamazoo River, taken from a bluff along the north bank: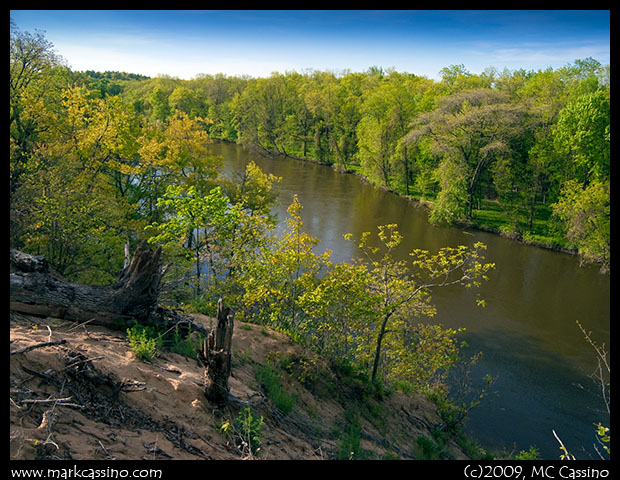 The photo is unremarkable, but I printed it at 11 x 14 and then again at 16 x 22 inches in size. I was amazed at how well the detailed held up. I had hoped that the camera could produce acceptable 11 x 14 inch prints, and it seems to be well able to do that, and more.
3. Infrared Capability: Hey wait? That's not on the spec sheet?!!
Shortly after I got my camera, I bought a filter adapter off eBay, and of course the first filter I tried was an R72 IR filter. Here's a hand held shot of the park in downtown Kalamazoo, one of my first IR test shots.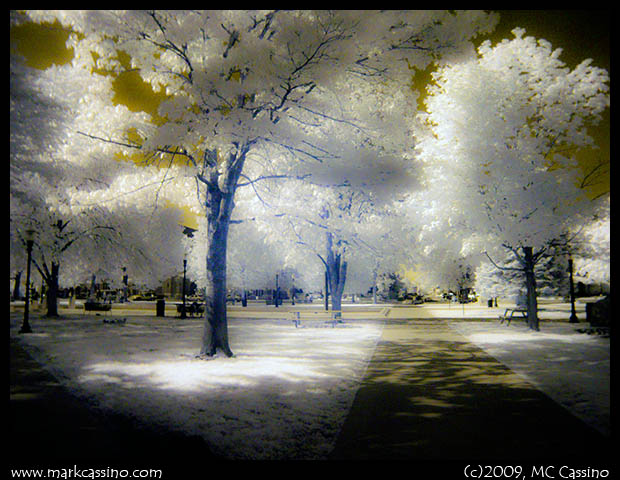 There are issues and work arounds needed to get consistent results with the IR filter – I plan to devote a future post to that topic – but overall, the camera kicks out some great IR images with the R72 filter, at shutter speeds that are fast enough to hand hold. Nikon ought to put that on the spec sheet.
That's what I like – and that covers almost everything I want from the camera - plus a little extra with the IR capability. Here are a few things I don' care for, but tolerate.
Dislikes:
1. Poor close focusing ability: It seems that every compact camera suffers from this. The macro focusing ability is at the wide end of the zoom range, and while you can get close to the subject there is poor magnification, limited ability to control the background, and wide angle perspective distortion in the shot. Here's a shot of a very compliant Common Whitetail that illustrates these problems: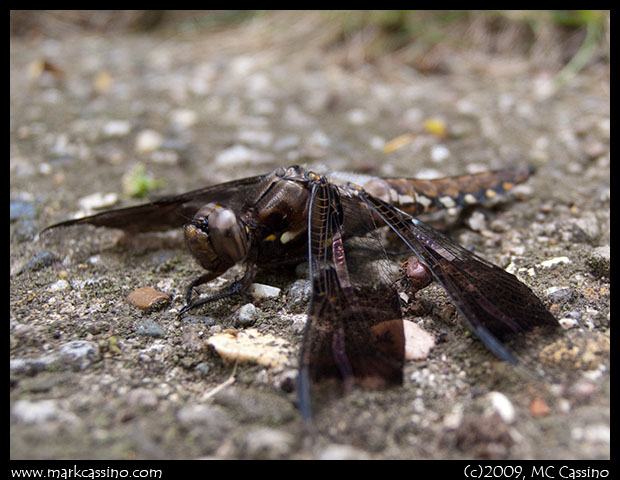 Yes - I was able to get the camera close to the subject, but so what? It's a poor shot. Bottom line – this camera, without modification, is a poor choice for macro work. But, sadly, it seems that every other compact out there suffers form the same problems.
That said – I've had decent luck using close up filters and reversed lenses on the filter adapter. More on that in another post, but here is a better closeup of a much smaller insect taken with a 50mm lens reverse mounted in front of the camera;s built in zoom: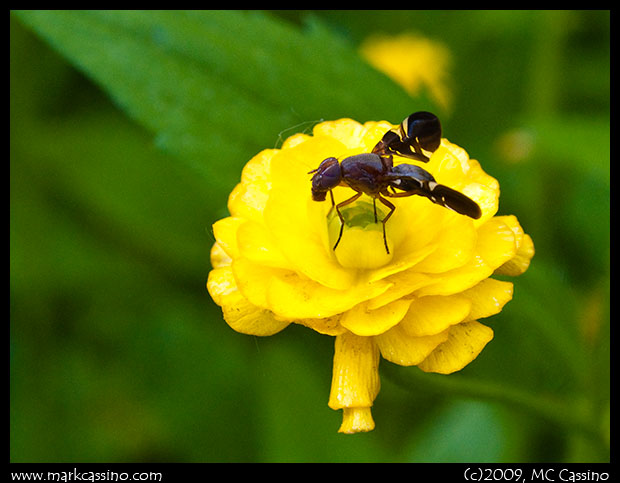 2. Mutually exclusive features: This is a minor nit, since I don't use a lot of the bells and whistles built into the camera, but many of the features of this camera do not work with each other. Shooting RAW mode excludes almost all of the special features – no scenic modes, no digital zoom, no lens distortion correction, no high D-range shooting, etc. In the case of shooting RAW this is understandable – many of these features involve modifying the raw capture, and so are incompatible with RAW mode which aims to present the raw data in an uncorrupted format. But there's no reason why auto bracketing is incompatible with RAW. Same thing with the macro scene mode - which simply restricts the lens to the zoom range when macro focusing is available, and sets the AF to focus on the closest point.
Bottom line – if there are some features you want to use, make sure they all work together.
Other stuff
Here are a few things that I neither like nor dislike:
1. GPS: I'm not sure that I'd want to use this, but it seems to work fine. It is slow to get a fix, though – in a field under blue sky with no trees nearby, it takes 5 to 10 minutes for the GPS to get locked in. By comparison, my rather old Magellan Explorist 200 was able to get a lock within 2 minutes in the same situations. But it does get a fix and it does work.
2. Optical viewfinder: it's nice to have and I use it a fair amount, but the distortion is horrible and it crops so much of the image that it's of very little value for serious composition.
3. Battery life: I read a lot about how the battery doesn't last long, so I decided to test things out. Granted, I had charged my battery several times by the time I tested it, but I managed to get over 500 RAW captures from a single charge. No use of flash. Overall, I can't ask for more.
Overall - I'm happy with the camera. Is it on par with a DSLR? Not quite… Does it produce Medium Format results? Are you kidding??? Is it a great little camera you can stick in your shirt packet and still use to get good 11 x 14 inch prints? You betcha!
This entry was posted by
Mark C
and filed under
Reviews
.