2006 Spring Wild (?) Flowers - First Post Last Entry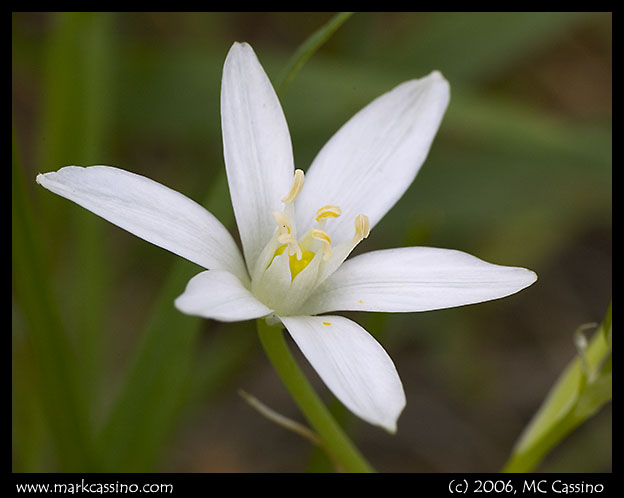 To paraphrase Will Rogers, 'I never met a field guide I didn't like.'
I guess its important to have the latest and the greatest field guide, but in truth nothing changes much from edition to edition. Range maps change – you won't find house finches in the mid west in guides from 30 years ago – but the images and keys to identifying subjects stay the same.
So I'm a fan of picking up what ever field guides I can find. Used bookstores often have older editions at bargain prices, and the way I see it, the more pictures and descriptions you have of a subject, the more likely you are to figure out what it is.
As I've mentioned before, its usually pretty easy to identify mammals and plants from field guides. Unlike insects – where there are literally millions of species and many have different markings based on gender and age (not to mention the larval, nymph, and adult stages of development) – mmamals and plants shoudl be easy.
So why can't I identify this flower?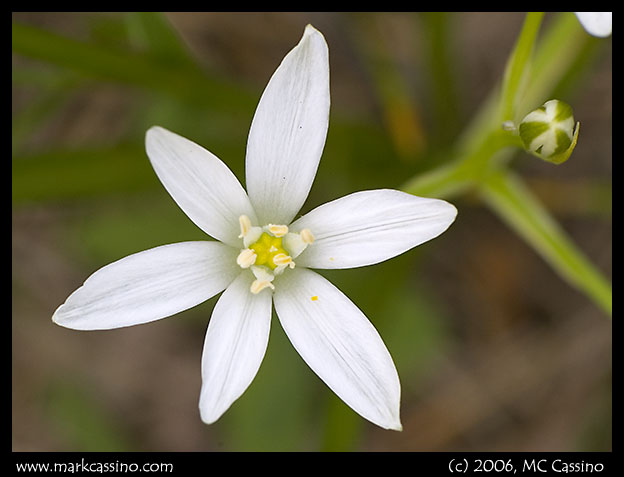 I'm probably looking at a common species, but missing something obvious. For one thing, I don't know if this is a wild flower or cultivated specimen. I found a patch of these in the Allegan Forest, in a location I described last week. In short, this is a place that has all the vestiges of past cultivation of decorative plants – there are patches of prickly pear cactus, iris, palm, European Lily of the Valley, and now wild strawberries. This is one of the few areas in the Allegan Forrest where there is a trace of a building foundation – now over grown (you really need to visit in the winter to find the slight remains of buildings uncluttered with overgrown underbrush.)
So – what is it? Beats me. The flowers were 1 to 2 inches across, and grew on grass like stalks. I'll keep consulting the field guides – but perhaps this is truly the last of the spring wildflowers for 2006.
Technical details: shots taken with Pentax *ist-D and Kiron 105mm f2.8 macro lens.
This entry was posted by
Mark C
and filed under
Wildflowers
.