Tomorrow is the summer solstice, 2010. Just a few notes on dragonflies I've seen recently.
Yesterday I visited McLindon trails just east of Kalamazoo. There were lots of Spangled Skimmers – sorry, no photos. It was late afternoon after the storms had passed.
Today I visited the Allegan Forest – first visit in a few weeks. The cool wet spring has made it as lush as ever. With all the logging activity south of the river – really in the heart of the forest – I've been spending my time more on the edges and peripheries. Mostly the fields and woods north of the river. Here I was pleased to encounter a male Widow Skimmer – these guys are always very skittish and difficult to approach, but this individual was quite accommodating. By the end of the session her was darting off his perches and feasting on the cloud of mosquitoes that was buzzing around me. It was cool to hear the flitter-flap of his wings when he darted near my ears.
Best shot I got of him: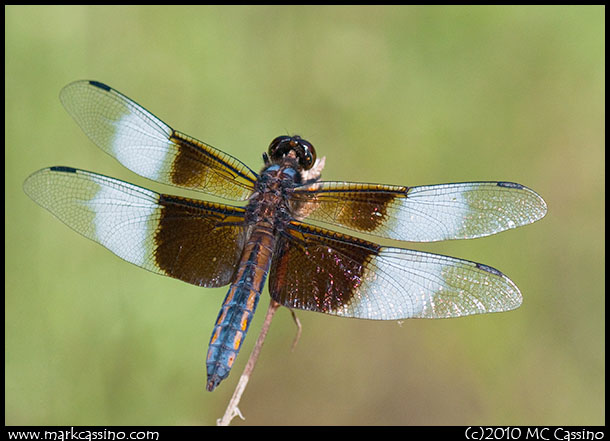 Widow Skimmer, Libellula luctuosa
There was a female Widow there as well, and ultimately they flew off together – let's hope to make many more of their kind for future summers.
After that, I went on to look for Blue Dashers. I saw a fully mature male Blue Dasher a few weeks ago, in Kalamazoo. He had the striking blue and yellow coloration that give make these dragons stand out. But all of the individuals I encountered today were either immature or female. Here's a shot of one of them, all light and airy in its spring field: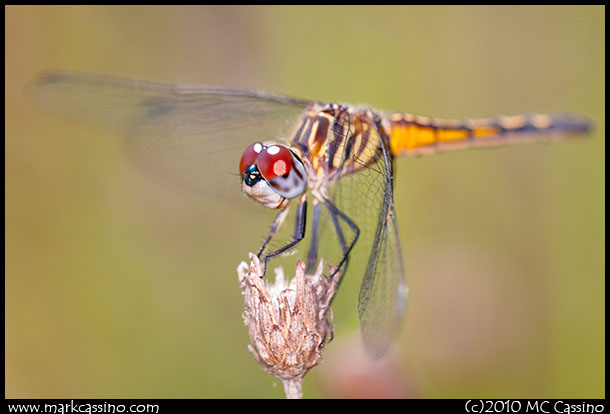 Blue Dasher,Pachydiplax longipennis
Twelve Spotted Skimmers were everywhere: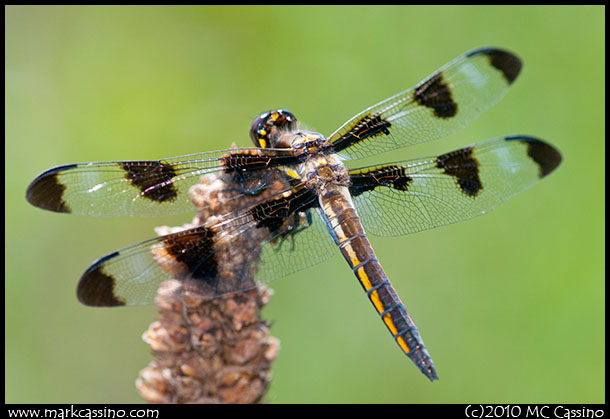 Twelve Spotted Skimmer, Libellula pulchella
I also chased after Damselflies, Clubtails, and many other bugs while out in the woods – here's a shot of a Robber Fly, one of the first of the morning: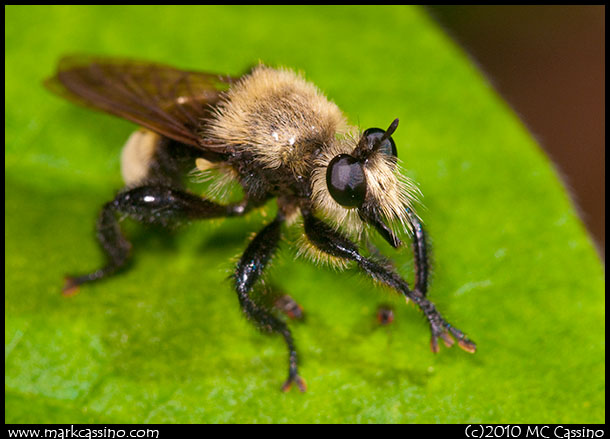 Robber Fly
And so it goes. I drove by the Old Farmstead, and it is still the hub of for a logging operation that is gnawing in the forest for many miles on all sides. I was tempted to hike down to see how the seasonal marsh was faring, but decided it wasn't worth it. Can a place die? Or does it just suffer from ongoing deprivations? Who knows. But I don't see any point to walking back there and seeing the latest. Maybe someday.