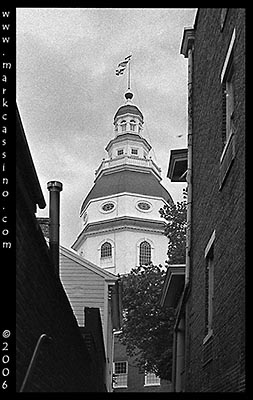 Last week Pam and I headed out to Annapolis, Maryland, to attended the artist's reception for the Maryland Federation of Art American Landscapes 2006 exhibit. I was happy to see that one of my two pieces in the show – Weedy Sassafras – won an honorable mention.
The MFA show was extremely strong, and it was a pleasure to talk with the various artists and visitors on hand for the reception. The show was open to all media, and paintings dominated the selections with a good representation of photography and other media present as well.
Annapolis is a wonderful town, with 18th century houses, narrow streets, and lots of sailors and navy cadets hanging around. We had first visited in 2004 to attend another gallery reception – this one included Abandoned Perch – and in that trip did a lot of walking through the city, exploring the narrow streets and great shops and restaurants.
The historic district bristles with art galleries, and there is always something interesting to see. A few doors down from the MFA gallery, at 14 State Circle, was a retrospective of picture maker Marion E. Warren, a notable photographer of the Chesapeake bay area. The crisp, clean, and clear black and white images were marvelous. This work and the Harry Callahan exhibit in Chicago are the best photography I've seen all year. A sampling of Warren's Photos can be found at he wesbite d of the Annapolis Publishing Collection, and you can read more in two articles from the Bay Weekly - from September 2006 and an earlier 1998 article..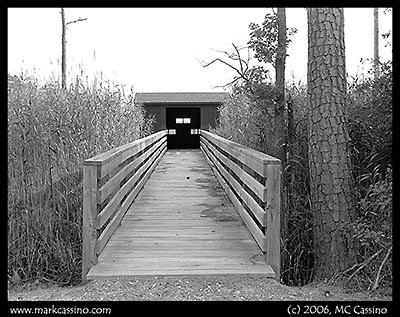 One thing notable in both Harry Callahan and Marion Warren's work is how they really push the contrast in their shots – and are not shy about letting the shadows go to full black. Aesthetically, they don't have a whole lot in common, but they do seem to share a similar approach to printing.
For my part – the trip to Annapolis time round was not very productive in terms of photography. We were only there two days. The first day was spent at Mount Vernon, which was enjoyable, and then at the reception in the evening. The second day was spent exploring Maryland's east coast – an area that has lots of photographic possibilities (reminded me a bit of Allegan, only with better architecture) but the single day's outing under cloudy skies lead to few images.
On the plus side, I wound up pulling out the several rolls of film I shot 2 years ago (cripes – two years ago I didn't even have a digital SLR…) and since I've never scanned, evaluated, or printed any of the shots, it seems like a good project to finally get around to. (One good thing about this blog is it keeps me current on processing images.)
The shot of the Maryland Capital is from the 2004 trip. The last shot here – an Observation Blind from the Blackwater Wildlife Refuge may be the only good shot from the eastern shore trip.