So here it is – the first full day of spring. Every March I hope to glean a shot of a honey bee in one of the handful of crocus flowers that bloom in the yard. This year was no exception, and with the sudden arrival of a warm front, I went out late this evening to see if the bees were buzzing.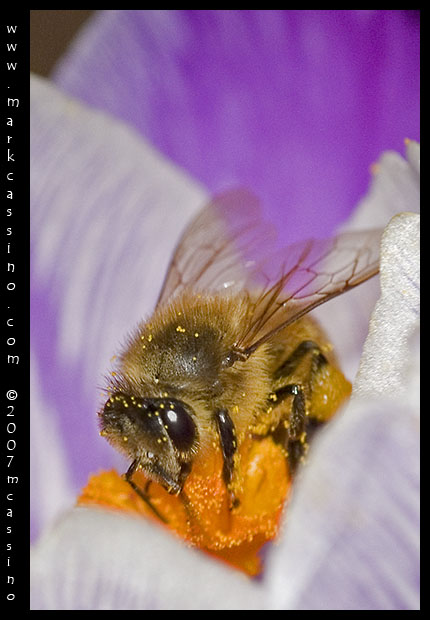 One lone Apis mellifera was out, making her way through the crocus flowers. Last weekend I devised a new flash bracket to work with the Pentax K10D, and I wanted to try it out and also get a preliminary assessment of the K10D's anti-shake feature for macro shots.
The bee didn't hang around for long – was already past 7 pm when I stepped out and the sun was setting into a cloud bank, that is drizzling rain as I type this. I still used the Slik monopod, but the K10D and the flash worked well – a happy harbinger of future insect images to come over the next few months.
Last fall I noted that honey bees are among the first and the last of all insects to appear in spring and fall, and once again they made their arrival right on schedule. And to think that a few weeks ago I doubted that it would be even close to warm enough by now for a bee, or any insect, to appear.
I've been worried about the bees this spring. A new disease is killing off the domestic honey bees, so I wondered if I would see any. But I saw this one, and that makes me glad for now.
As I've noted many times before, you never know when you see the last bug - either the last of the season or the last forever. Its only in hide-sight that you say "Hey, that was the last time..."
This won't be the last time - but I worry that, with the plight of the honey bee, there will be a last time that I see a honey bee, Apis mellifera.
The flash bracket is one of the usual contrivances, made from hardware store L-braces and other bits and bobs. A photo of it, with the K10D and A*200 f4 macro, is shown below.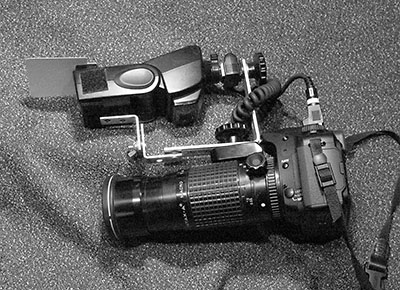 Home made is alright by me.
This little bee stands in stark contrast to the toy camera shots I posted yesterday. If you love subject matter then well gosh, here you got a cute bug and a pretty flower. But I love the bees just as I love the little dots and toy camera shots.
In the end, it's all the same stuff..
This entry was posted by
Mark C
and filed under
Photo Comments
,
Insect Photography
.