American Rubyspot Damselfly
The autumn equinox is just over two days away, that makes this the last weekend of summer 2010. Like recent weekends, it has been cool, cloudy and wet. The trees that were just pale a week ago have leapt forward in bright autumn colors and fallen leaves scurry and scuttle along the sidewalks – swept along by autumnal breezes.
No visit to the Allegan forest this week. Yesterday's drizzle was not inviting. I left to go there this morning but halfway out I realized that I had left the flash and bracket sitting in another camera bag. And so I turned around.
I did get to the Fred McLinden nature trails, located just outside of Kalamazoo. I wasn't there 45 minutes. It was a little slice of time spent wandering the brown and gray fields. It was like a little slice of rhubarb pie – delicious and special.
I didn't see many odonates during this short walk. I think back to an October day a few years ago when I ran into a very late Widow Skimmer, well past its time and season. That recollection fuels hope – maybe a late Blue Dasher, or White Faced Meadowhawk, or other species made exotic by time if not place, will show up.
No luck with that. A few yellow legged meadowhawks flew around, always going high into the honeysuckle when they saw me. But I did see this American Rubyspot Damselfly, show below. I don't recall ever seeing one before, and while its pose is awkward I was glad to capture it in a photograph. That's something to remember, in an otherwise unmemorable weekend.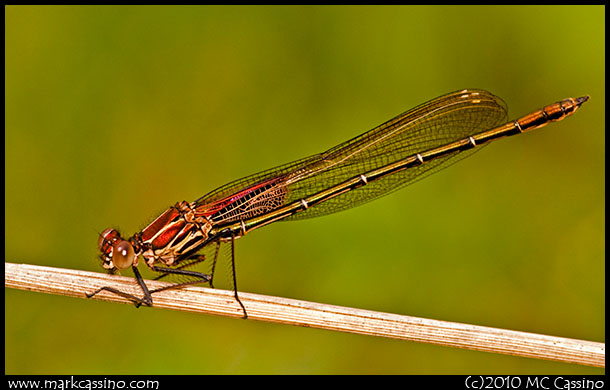 This entry was posted by
Mark C
and filed under
Insect Photography
,
Dragonfly Photography
,
Odonata Photography
,
Macro Photography
.