Autumn In The Allegan Forest
Suddenly, it's autumn.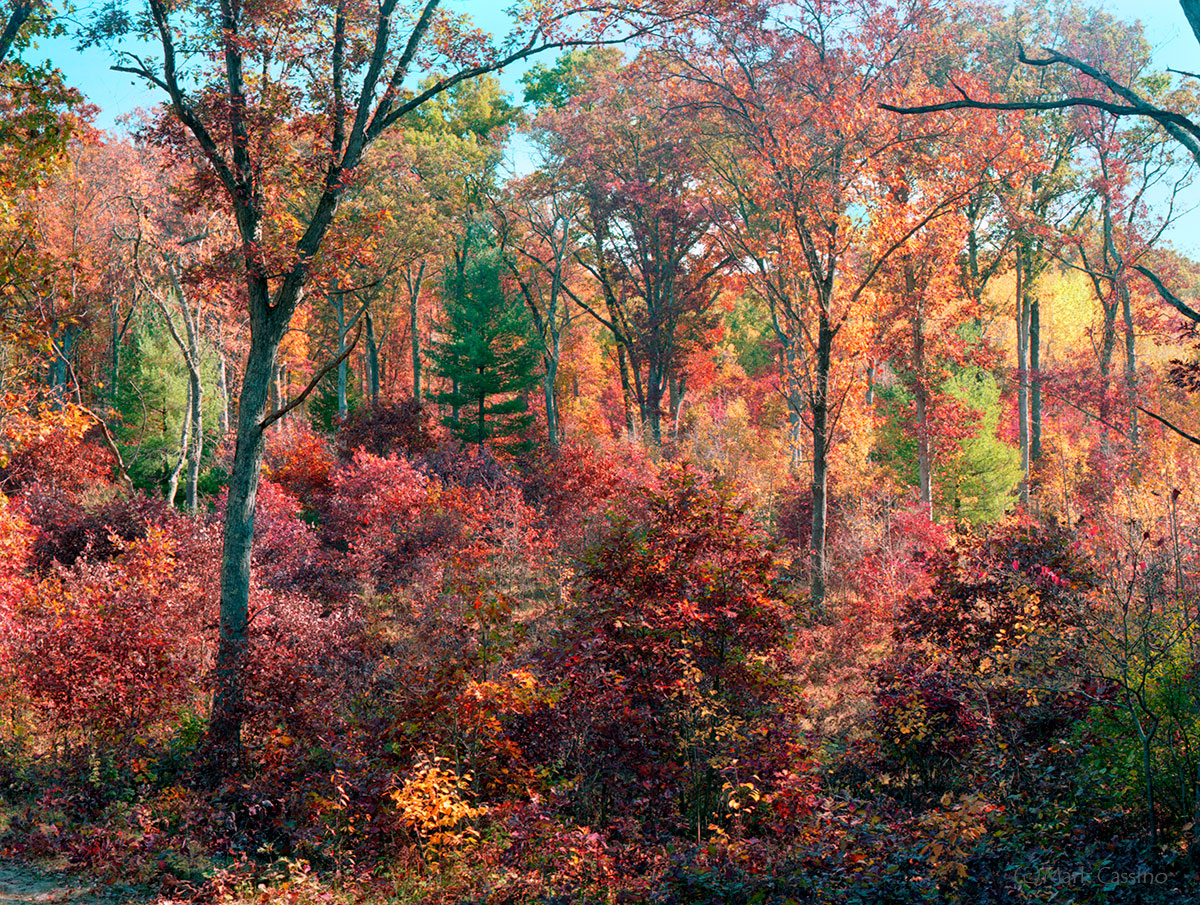 I've been lugging around the Pentax 6x7 medium format camera, taking shots of fall color in the Allegan Forest. Here's the first decent scan from this autumn – more to follow. (Click on the image for a larger version.)
This is a spot looking south from the edge of 115th Avenue, between 46th and 48th streets. I've had my eye on this spot all year – hoping to catch it in some sort of autumn color. The road rises maybe 20 feet or so above the snowmobile / horse trail, and affords a nice view into the thinned out forest to the south.
Working with the 6x7 camera required a bit of a mental adjustment, after using the K10D almost exclusively for the past several months. No built in light meter, no ability to review shots once taken, and all settings purely manual. It certainly is convenient to be able to look into the finder and see the aperture and shutter settings, without having to actually look at the placement of the controls on the top of the camera.
But I find myself enjoying cool mornings with the old camera. I was shooting 220 film – 20 exposures per roll – and it's a busy day when three rolls of film are consumed. By contrast, I often look down at the counter of my digital cameras and am amazed to see that dozens of frames have been fired off – most just duplicates of the one before them.
This shot was taken on Kodak Porta 160 VC – a 120 roll that was part of Kodak's promotion last year – using the 6x7, Takumar 105 f2.4, and a polarizer.
More to come…
This entry was posted by
Mark C
and filed under
Landscape Photography
,
Pictures Of Trees
,
Midwestern Landscapes
,
Allegan State Game Area
,
Allegan Forest
.
2 comments
Comment from:
Mike Kucinich
Visitor
Greetings, Mark.
I enjoy this image. I enjoy exploring the fall colors, and the tree in the left-foreground anchors me. There's good detail in the
shadows, creating a luminous quality. Looks like you had directional light, but perhaps it was softened by some high clouds? I wonder about this because of the good shadow detail. Very pleasing.
Take care.
Mike
Thanks for commenting, Mike. I'm glad you like the image – it was taken looking south / south west, with the morning sun in the south east, with a polarizer on the lens. Fuji NPS does a great job of capturing high contrast scenes – and a little bump to the shadows slider in Photoshop helps as well.
Thanks for looking!
-MCC