Posted by

mark

on Mar 19 1999 in Info
Mark Cassino is a fine art and natural history photographer based out of Kalamazoo, Michigan. His work runs the gamut from micro-photographs of individual snow crystals, to close ups of butterflies and birds, to landscapes depicting Michigan's unique terrain.
Mark uses a variety of techniques to create his unique images. He works with the latest digital technology, but also utilizes medium format film cameras and toy, junk, and antique devices. His creative techniques include extreme close up photography, digital and film based infrared photography, alternative B&W processing techniques, and digital enhancement.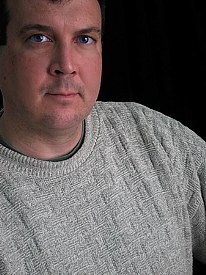 Working from both a scientific and artistic perspective, Mark's works have been exhibited in a diverse variety of venues. 
His scientific photos have been displayed in the gallery of the National Botanical Gardens in Washington, D.C., on several covers of American Entomologist, in Science World, and in numerous textbooks, calendars, and trade publications. His work has appeared on many science oriented websites, including those of the US Department of Agriculture's Systemic Entomology Laboratory, NASA, and the popular radio series Earth and Sky. 
His fine art work has appeared in national and regional juried art shows, including  the 2003, 2004, 2005, 2009 and 2011 West Michigan Area Show, sponsored by the Kalamazoo Institute of Art and the 2004, 2006, 2008 and 2014 American Landscapes national juried show sponsored by the Maryland Federation of Art. His work has also appeared in The "Rural Outdoors" and "Selected Works from the Rural Outdoors" exhibits in New York State, the 2005 All Michigan / All Media exhibit, sponsored by Ferris State University's Rankin Art Gallery and the 2006 Krappy Kamera Contest, a national exhibit of photos taken with toy cameras, hosted by the Soho Photo Gallery in New York City. Two of his photos were accepted into the 2008 Macroworld competition, hosted by the Center for Fine Art Photography in Fort Collins, Colorado. One of his pieces was also accepted into the 2008 Street Photography competition, also hosted by the Center For Fine Art Photography. 
One of Mark's specialties is close up photos of individual snow crystals. His technique utilizes ordinary photographic equipment to capture close up images of the tiny crystals. Mark teamed with physicist Jon Nelson to write The Story of Snow: The Science of Winter's Wonder which was published in October, 2009, by Chronicle books. The book was named an Outstanding Science Trade Book by National Science Teachers Association, received a Blue Ribbon award from the Bulletin of the Center for Children's Books, was a Junior Library Guild Selection and was included in the Chicago Public Library's Best of the Best" list for 2010.  The Story of Snow has been published in Japanese, Korean and Chinese editions. Six years after its original publication The Story of Snow continues to be a popular with kids, parents and educators.
Updated: 3/26/2015

This entry was posted by
Mark
and filed under
Info
.