As May progresses, I lose interest in the woodland wildflowers and find myself drawn to the oak savanna. I don't know why.
This dry and barren place comes to life more slowly than the fertile lowland forests. Maybe it is the sight of the first spring dragonflies on the wing. Maybe it is the fading redbud and the fresh dogwood. Maybe it is the weird creature – coyote? fox? dog? - that charges across my path as I wander into the woods…
But the Allegan forest still calls. Some days I just drive around in my car, listening to the radio, bumping along two tracks till they end with barriers made out of tree stumps, torn out of the ground, roots and all.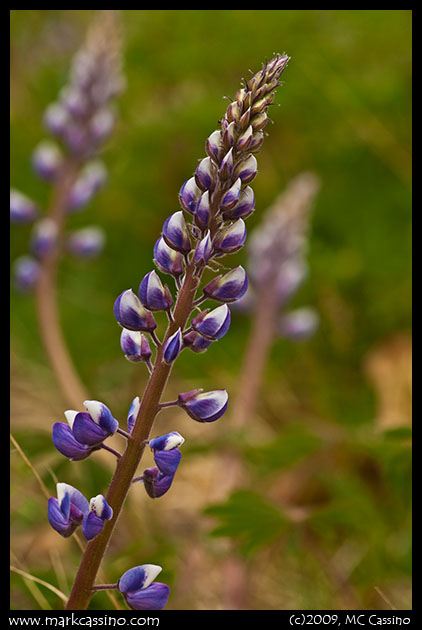 The lupine is blooming now. It started last week, it's probably peaking now, and in a few weeks will pass.
I trudged around the woods today, toting the trusty Pentax LX packed will Rollei IR 400 film, hoping to get the IR effect in a few shots. The weather did not cooperate as a dense bank of clouds rolled in shortly after I started shooting. No matter – I shot the film and then turned my attention to the lupine.
I've shot this wildflower before, and have found the leaves and foliage to be as interesting as the flowers. But I never studied the immature flowers – the nascent buds building up strength, waiting to open. There's always something thing new, waiting to be seen.
The Rollie film is hanging in my shower as I type - drying. Maybe something for a future post…
This entry was posted by
Mark C
and filed under
Wildflowers
,
Wildflower Photography
,
Allegan State Game Area
,
Allegan Forest
,
Nature Notes
. Tags:
wild lupine
.