Saturday morning. Though it is only late August, an autumnal chill has settled in on the land. My replacement K7 camera arrived earlier in the week, and I'm eager to get out.
Driving into the Allegan forest I see what looks like a hazy, light fog ahead. The clouds have thickened as I've headed west, from my house, into the game area. Driving north on 48th street, I look at the cloud of dust spiraling out behind the car and take that as a reassuring sign that while it may be cool, the rain is gone for now.
The car closes in on the mist and suddenly slams into a wall of water – a fine driving rain that splatters down heavily from the clouds above. Well, so much for signs. A mile down the road the rain passes and soon dust is billowing up behind the car again – and then again another micro downpour drenches the landscape.
I make my way a narrow two track to a small clearing, deep in the young forest. Here the grass has gown long and is dotted with patches of lupine and vetch. I spot one of the small toads I've been seeing this year, originally thinking it was a cricket hopping through the grass. But it manages to disappear before I get a shot. Wandering around in the tall grass I still up blue dasher, white faced meadowhawks, and several green darners – but they all settle back into the low grass some distance off, reluctant to fly around an perch in the cool damp day.
And then - another downpour. Here's a snap of the road into the forest, just as the rain is starting to come down: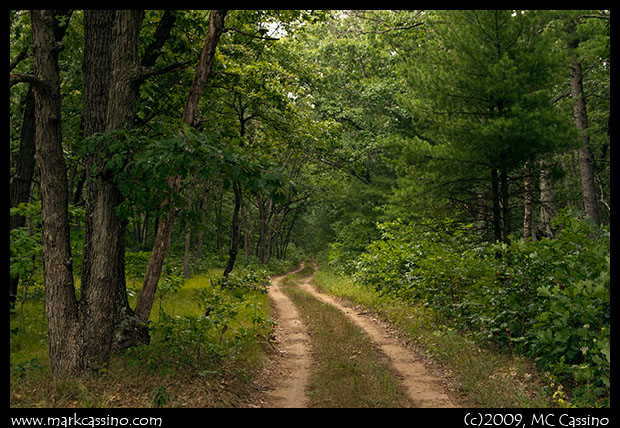 And one shot of an eastern tailed blue, the only decent macro shot of the day: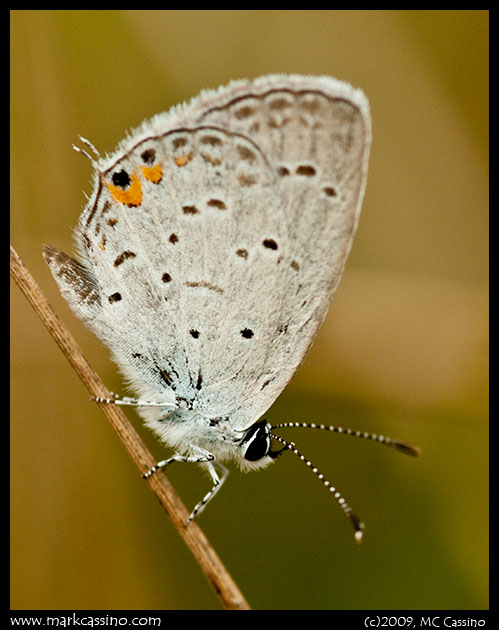 After an hour or so, I decided to call it quits for that day. The rain followed my home, and for the rest of the morning and the afternoon the mini downpours rolled though . Fortunately, Sunday was somewhat a better day for photos – more in my next post.
This entry was posted by
Mark C
and filed under
Announcements
,
Midwestern Landscapes
,
Allegan State Game Area
,
Macro Photography
.