The pair of green darners joined in mid air, lumbered along as a pair for a few seconds, and then descended to the base of a small plant. I was in the north end of the field, almost half a mile from the pond that is the source of so many dragonflies.
The darners were either oblivious to or unconcerned by my presence, so I knelt down and manage to get several shots of the pair.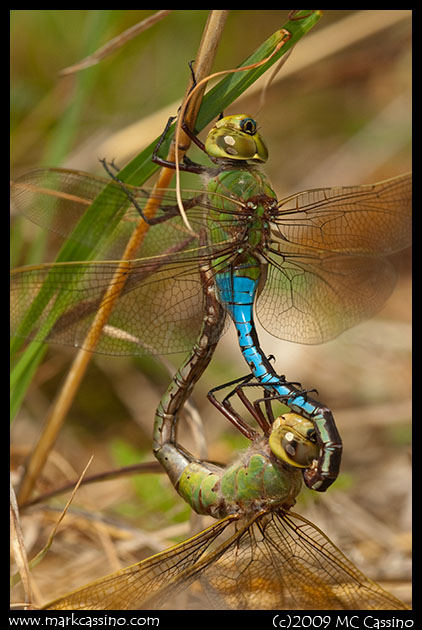 Leaving the darners to their embraces, I scouted the rest of the area. My hope was to find a few new species of dragonflies – new arrivals for this season, that is. I only found a few immature white tails and lots of dot tails, so I decided to head back to the car to try some different fields.
Just as I started the engine, though, a Spangled Skimmer landed on the honeysuckle bush next to the car. This was my first sighting of this species this season, and I grabbed the camera to get a couple of shots.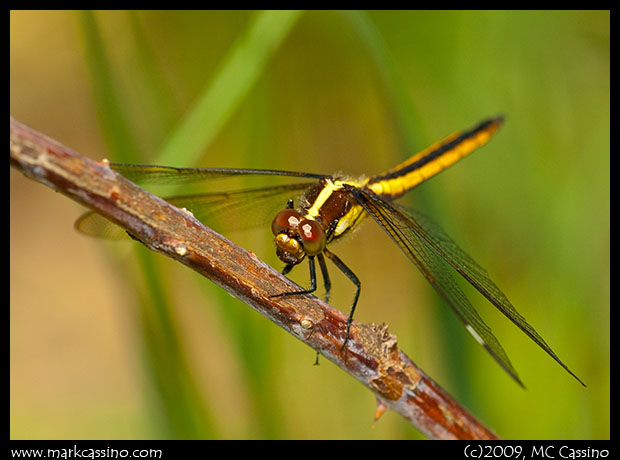 From there I moved on to the fields off 44th street, a few miles away. The lupine is blooming like mad and the coreopsis has started. It looks like this will be a great year for coreopsis. Unfortunately, I saw few dragonflies and so ventured on to the areas north of the river.
Like last spring, the fields here were full of yellow and black clubtails, and they are back again this year. I'm having a heck of a time identifying these – I think they are Rapids Midlnads Clubtails, but the marking are not exactly like the ones I see in reference photos. At any rate – they seemed to love to obelisk on the sandy soil, and this one struck a pose that conveys the clubtail attitude: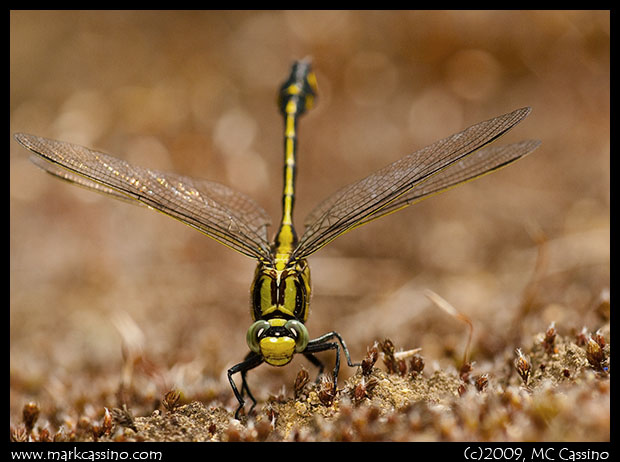 Here's a less interesting composition that shows the marking smore completely:
This entry was posted by
Mark C
and filed under
Insect Photography
,
Allegan State Game Area
,
Allegan Forest
,
Dragonfly Photography
,
Odonata Photography
.