Spring Into the Arts In Downtown Battle Creek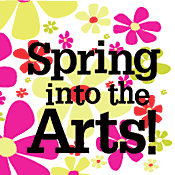 Spring is really at hand – and there is no better way than to celebrate the change in the seasons than by getting out and enjoying some art. This year I'm participating in Battle Creek's Spring Into the Arts art walk. I'll have work hanging at two locations – the Happi Convenience Store and Barista Blues Cafe. Barista Blues is in its new location – right next to Happi's in the ground floor of the 20 story Heritage Tower Building at 25 West Michigan Avenue.
The Art Walk runs from 5 – 9 on Friday, May 16, 2008. I'll be there with lots of prints on the walls, along with bins full or matted prints, photo note cards, and copies of Imperfect Symmetry – the snow crystal book. Plus there are lots of other artists and events in the city that night. (Not to mention a whole lot of great food and drink.)
If you are local – stop on by. For the full scoop on the Art Walk check out the online brochure at http://www.downtownbattlecreek.com/pdfs/SpringintotheArts_08.pdf.
See you there!
This entry was posted by
Mark C
and filed under
Announcements
,
Exhibits
.