Vivitar Panoramic Focus Free
A few weeks ago I headed over to Riets flea market in Lawton, Michigan. This is a big, sprawling market that covers several acres. It's best visited on a hot summer day, when the dust kicks up in little whirl-winds and your judgment about purchases and haggling is clouded by the relentless summer sun.
I've been heading to Riets for over 20 years. My wife hates the place, so I usually go alone. The market has transformed over those years. Back in the 1980's there were a lot more vendors just offering miscellaneous stuff. Many of the 'booths' (they are really just tables out in the sun) were sort of like mobile garage sales – odds and ends, this and that, things like Pogo bubble bath containers, ash trays, and empty collector editions liquor bottles.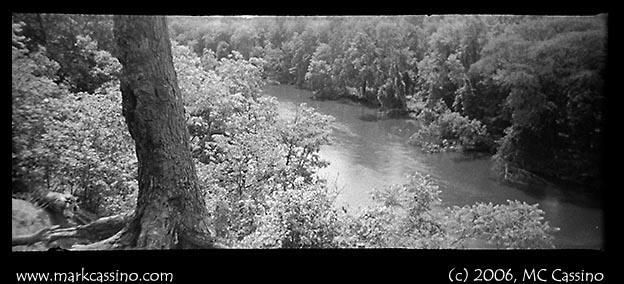 These days you see much more professional displays – maybe sunglasses, T-Shirts, socks (lots of socks!), tools or CD's.
Twenty years ago no one sold food at the flea market – expect perhaps for one or two vendors who sold huge bags an Vandalia onions. These days there are a lot of food vendors, selling the dry boxed goods you find at your local super market. There are also purveyors of nutritional supplements and other consumables.
Personally, I miss the vendors who sell miscellaneous odds and ends. Though there are sill enough of them to make the trip worthwhile, they seem to be a dying breed. And increasingly the odds and ends are rifles, knives, and swords – not the kind of rich home grown stuff you look for are a flea market.
But my recent trip to Riets was productive. I bought several boxes of weather stripping at a fraction of the price I would pay at Walmarts or some other discount chain. I also picked up an 8 mm movie camera, a Keystone Americana. It only has one lens (apparently of three) still attached to it. I bought it in hopes of using the one lens – a 9mm f 1.8 wide angle – for some macro photography projects. But, if that doesn't work I can always just wind up the camera and listen to the clicka-clicka-clicka-clicka of its drive – a most pleasant sound indeed. 
But the real find of the day was a wonderful junk camera – a Vivitar IC 101 Panoramic 35mm camera – complete with plastic focus free lens.
As junk cameras go, the Vivitar is a real Cadillac. Unlike, say, the Special Moments Focus Free camera, the Vivitar is small, compact, and solidly built. It features a frame counter – a tremendous luxury for a camera of this class. It also has a protective lens cover, that locks the exposure button so you can't take accidental shots (maybe not such a great feature). It also has a curved back plate – apparently an attempt to correct for some of the spherical aberrations caused by the focus free lens. I have an old Ansco Ready Flash that also has a curved back. You can only wonder what the results would be if the back were flat, but as it is the images are still plenty distorted.
The really exciting thing about this camera, though, is that it is P-A-N-O-R-A-M-I-C. Well, sort of. Following the fad of a decade or so ago, this camera crops the top and bottom off the 35mm frame, creating a panoramic aspect ratio.
Now, you might wonder why you shouldn't shoot a regular 35mm frame, and do the cropping yourself. It could be just as panoramic, you wouldn't loose any film area, and heck, if you wanted a non-pano shot, you'd have that option.
Beats me why these cameras exist at all (though even my old Pentax Pz-1p sports an optional 'panoramic' mode.) But the real advantage of the Vivitar camera is that the finder also is in pano mode, and the lens is truly a wide angle – based on comparisons with 'real' 35mm cameras, it looks like the Vivitar is in th 28 to 24mm focal length range (along the long axis, of course.)
I purchased the camera for $2. When I got home I loaded it with Adox Chm 400, and over the next couple of days shot away with it.
My first surprise came while loading this initial roll of film onto the developing spool. It started winding on just fine, but after a while the spooling action stopped, and as I felt around I realized that the film was sliced, lengthwise, almost right down the middle. I wound up snipping the film off, and found that the last third of the roll was indeed sliced right down the middle. The second roll (Neopan 400) didn't have this problem, so I ass
At any rate, this is a great camera.ume it was due to my un-gentle rewinding of the first roll of film.
More photos: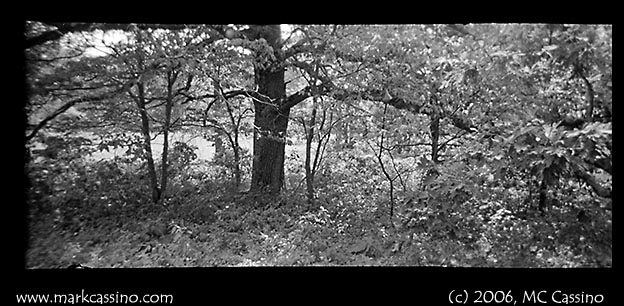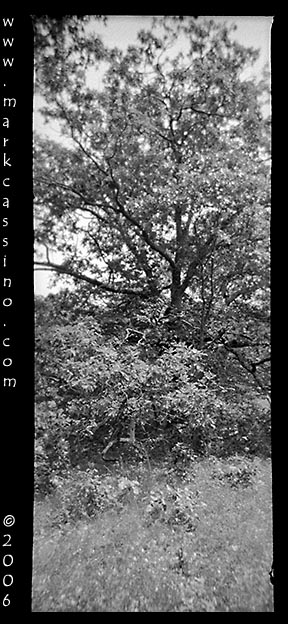 This entry was posted by
Mark C
and filed under
Toy Camera
.
19 comments
I just found one too whare do the batteries go
I just found one too whare do the batteries go
whare do the batteries go if anyone knows please e mail me and let me know
Hi Valerie -
It doesn't use batteries. Just wind the dial to the right and when it stops, hit the shutter button. If you wind too tight the shutter might lock up - just push the dial a bit to the left, you will hear a 'click' - and then you are set - just press the shutter button.
HTH - MCC
The Vivitar lens is, in fact, 28 mm. The camera can be had brand new in the box (and nicely sealed in birthday wrapping paper) on eBay for the hefty sum of $6.46 plus p&p.
Hi Clive -
Thanks for the info, especially the aperture. Do you happen to know what the shutter speed is? As with the Holga I might be able to moderate exposure (by pushing or pulling development) by knowing that.
- MCC
Comment from:
Davide Bruscoli
Visitor
I can't wait to try my new IC101. Aperture and shutter speed could be f/8 and 1/125 like the other Vivitar panoramic toy camera (Vivitar PN2011).
Bye!
brill got one for 20p in church fete havnt used it yet but looks good and cool but how old is it
cool what shutter button and what dail charges the camera to take piks danks l8r babes -_- :):):):):):):):):):):):)
Just pop in th efilm and turn the advance dial - the camera magically takes care of all the settings. (That is - it has no settings :-)
- MCC
I just got one at a thrift store yesterday for $2 as well. I loaded some 200asa film in it for the test run. I had heard that Vivitar Panoramics were decent for point and shoot plastic cams, so I was excited to find one.
Does this quality extend to Vivitars other plastic cams, or is this a special case? I also found a Vivitar Eco 35 which I snapped up as well. What was interesting about this one is that it has a flash shoe, which surprised me being on a simple plastic point and shoot.
A quick follow-up and warning to all. I'm embarassed to say I ruined my IC 101 panorama. Do not use rubbing alcohol to clean the lens, I repeat, do not use rubbing alcohol to clean the lens. I used 70% rubbing alcohol to clean a smudge and I clouded the lens.
I will see what I can do to restore it, but I do not have high hopes. I guess I could see about rubbing it out with a plasic polish, but that may affect the optics due to rubbing out some minute amounts of material. I guess that's better than what I have now. :(
Ouch! Sorry to hear about that, Alexander. If it is any consolation, I did the same thing with the focusing screen on a Pentax Pz-1p a few years ago.
Hopefully you can find another Vivitar!
- MCC
Hi I have a case full of these camera's (Pn2011) and was wondering, is film needed to be in the camera for the shutter to work?
Thanks
You need to advance the film winder to cock the shutter, but I don't think film actually has to be in the camera for that to work.
HTH -
MCC
I recently purchased a vivitar eco35h with the flash hotshoe. Anyway, I can't seem to get the advancing wheel to turn at all. Is it broken or am I missing something?
Thanks

Your review led me to pick up one of these 101 panoramas at a thrift store newish in box for $3.00. Absolutely love it! It was so much fun shooting with it and the pano viewfinder gives a new perspective for framing