Last week I spent a day wandering along the Lake Michigan shore. It was windy and I stopped in South Haven and took a few snapshots of the South Haven lighthouse in the gale. I didn't bring a digital camera, so I shot with the Pentax 6x7 - just two rolls - and then several rolls of 35mm B&W film in the Mz-S. I wanted a grainy look, and I needed fast shutter speeds, so I pushed Fuji Neopan two stops to ISO 1600.
Haven't developed the 120 film yet, but here's one of the better 35mm shots. The Neopan was developed in HC-110, Dilution B, 12 minutes for the 2 stop push. The grain came out real nice - smooth and not clumpy - it was a good combo.
Click on the image for a larger picture.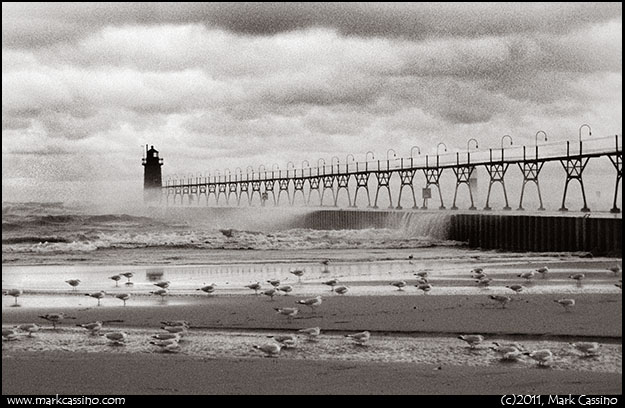 This entry was posted by
Mark C
and filed under
Announcements
,
Lighthouse Photography
,
Michigan
.