A few days ago I tried some systematic (for me, at least) experiments with higher magnification macro photos. In the past few months I've gotten more comfortable with stacking images up to 3.5x to 4x lifesized. I'd like to increment that to the 5x to 6x range.
My most used lens - a 50mm - becomes somewhat unwieldy at those magnifications due to the amount of extension needed. While I have routinely photographed snowflakes at magnifications of 5x to 10x using a reverse mounted 50mm lens, in that case the camera is mounted in a straight vertical position and little stacking is used. For insects and plants, I've been mounting the camera horizontally and combining several dozen sacked images - all of which is difficult with extensive bellows and extension tube setups.
Here's the output from one experiment using an Otamat lens, a 20mm f1.7 on two medium extension tubes. Magnification was about 5.5x (click on the image for a larger view):
This is a 70 image stack. The stack was processed in Zerene Stacker, using both DMap and Pmax processes. The two output files were stacked in Photoshop PS 6. The original 70 exposures were also processed in Photoshop Camera Raw prior to being combined in Zerene Stacker. The image was taken in horizonal orientation and cropped to a square format.
Here are a couple of photos of the setup using the Otamat lens: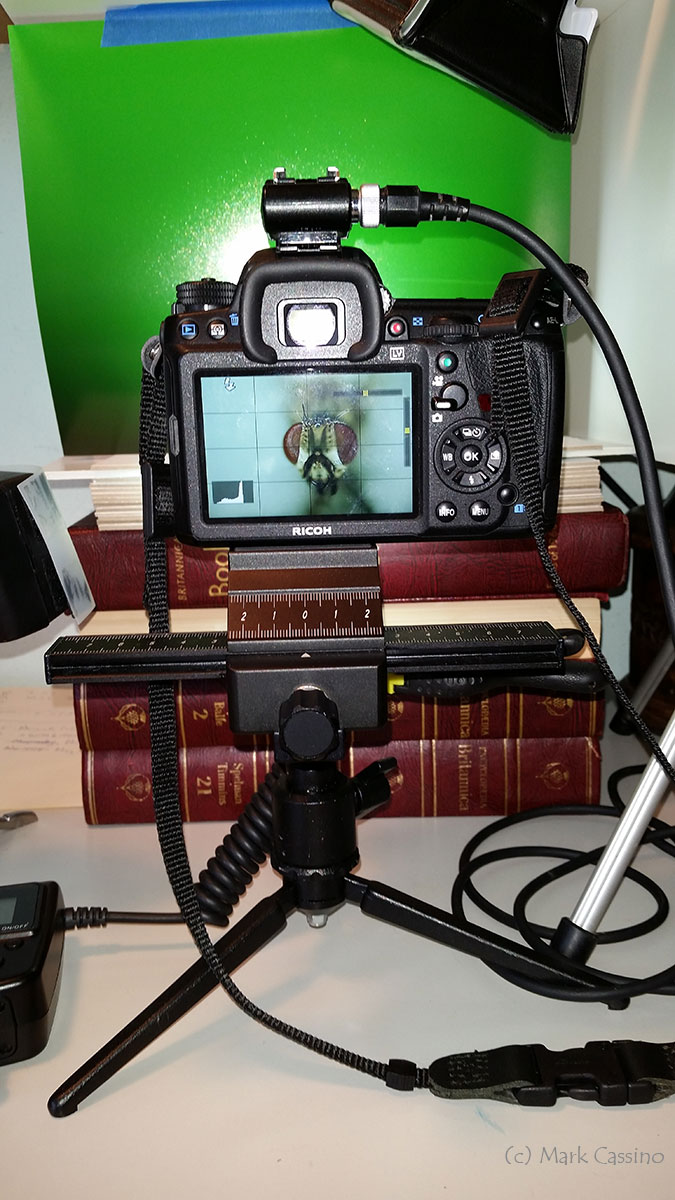 The led ring light is used only as an aid to focus - the amount of light it puts out is inconsequential to the exposure. A pair of flashes is used to obtain accurate exposure.
I have not found the Otamat lenses that I bought a few years ago to be as useful as I had hoped they would, but I am favorably impressed (and somewhat surprised) at its performance in this test. I should note that the images taken with the Otamat were extremely low contrast and I would up making some pretty notable adjustments to the images when preparing the raw files. The system with the Otamat lens was fairly easy to work with, being light and compact.
I plan to continue to experiment with this lens, and also with the Otamat 10mm f1.7 (I bought both of these a year or so ago, but have done little with them since.) A quick summation of the pros and cons of the 20mm lens: Pros - very good detail in a setup that  is much more compact and stable than an SLR lens reverse mounted on extension. Cons - lacking in contrast and color saturaton (though this can be  corrected in post exposure processing.
Since this is tagged as a review: I have no connection to Otamat or whatever company manufactures and distributes these lenses.