2007 Insect Photography Part XVI
Late summer, almost fall. I'm standing in scrubby oak saplings, all 6 to 9 feet tall. After a couple of miles, the trail I was following looped back, and suddenly I found myself walking another, familiar trail. I didn't know that the two paths merged, but I did know that the second trail would just lead me back to the dusty dirt road, and another mile stroll back to the car. I decided instead to just thread my way through the scrubby oak saplings.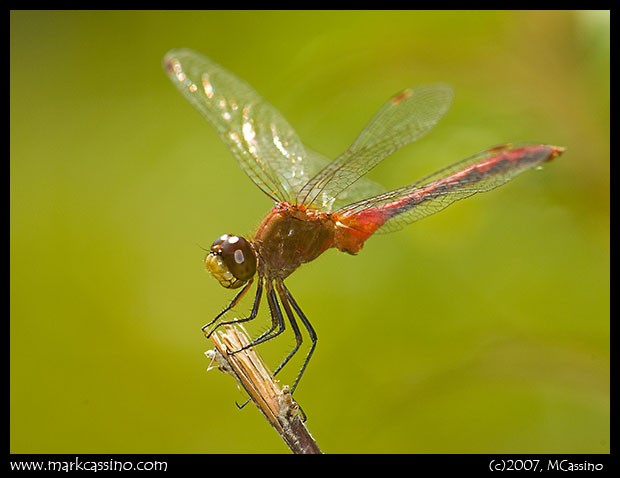 Whitefaced Meadowhawk Dragonfly
This place had been clear cut some time ago. When they clear cut they leave the stumps and all the smaller tree branches behind, so you walk over a crunchy carpet of desiccated, decaying branches. The saplings seem to cluster together to form small thickets with small gaps between them. With a little attention, you can wheedle your way through the groves of young trees with little interference – moving from one small clearing to another.
Some mid sized critter – probably a woodchuck – scurried away noisily. I jagged a bit to the left, and came to a small clearing. There I saw a twelve spotted skimmer, perched on a small twig just a foot or so above the ground.
The season is marching on, and as it does various dragonflies fall to the wayside and others emerge. The twelve spotted skimmers are common in mid summer, but have been growing more rare these last several weeks. I realized that this might be the last sighting of this season.
Thud! The twelve spotted skimmers slammed into my chest, flying straight at me. She landed deftly back on her perch. I took that as an invitation to take her photo. She turned out to be a most cooperative subject – and as I said – may turn out to be the last twelve spotted skimmer I see before next spring.
From there I went on to some areas that I knew would be productive with late season dragonflies. Numbers are down from a few weeks ago, but the white faced and ruby meadowhawks are still out, and the females were more common than they were a few weeks ago.
My trips to the Allegan Forest will be winding down in the next few weeks. The foliage has already begun to change. Dragonflies and other insects disappear rapidly in late September and early October – but then it's time to change over to shooting fall scenics anyhow…
More photos:
This entry was posted by
Mark C
and filed under
Insect Photography
,
Allegan State Game Area
,
Allegan Forest
,
Dragonfly Photography
,
Odonata Photography
.