Posted by

mcc

on Jan 13 2008 in Exhibits
2008 Regional Juried Arts Competition at the Carnegie Center, Three Rivers, Michigan
Yesterday I learned that two pieces I had submitted to the Carnegie Center for the Arts 2008 Regional Juried Arts Competition were accepted by the jurors. Based out of Three Rivers, Michigan, the Carnegie Center sponsors this competition for artists living in Southwest Michigan and Northern Indiana. It's open to works in all media, and when I stopped by last Saturday to drop off my entries, the Center was full of artists carting in work for consideration.
These folks really work fast, and the pieces will be hung for the show opening next week – the Opening Reception is January 20, 2008, from 2 – 4 p.m. Just two weeks from the initial drop off time to hanging the show!
The two pieces of mine the were accepted are "Forest Impressions" and "Yellow Legged Meadowhawk," shown here. The latter was prepared as half of a diptych, setting an immature blue dasher from early spring against the late season Autumn Meadowhawk (the new name for these guys.) It stands alone well – for this print I added the scientific name, date the photo was shot, and also made some digital enhancements inspired by 19th century natural history lithographs.
The exhibit runs from January 20 – March 4, 2008. More info can be found at the Carnegie Center's website at www.trcarnegie.com .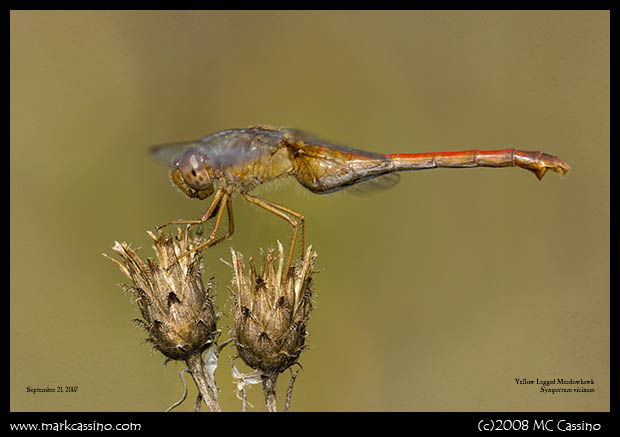 This entry was posted by
Mark C
and filed under
Exhibits
.
6 comments
Thanks Doug! Hope to see you this summer at GFM.
- MCC
Congrats, Mark. Splendid photo! Certainly hope you get back to Grandfather Mountain this June.
Is this Carnegie Center related to the Pittsburgh Carnegies? Funny it should be in "Three Rivers", Michigan…
Hi Mark - Not sure if it has any current connection to the Pittsburgh Carnegies. The art center is housed in a old Carnegie Library, which is a simply fabulous building. I think that is the origin of the art center's name…
- MCC
Your photos are magnificent and wonderful. Thank you