First Snow Crystal Photo - 2008/2009
Peering into the camera's eyepiece, I spy the snow crystal. One the first of this season – it greets with twelve arms held out in an icy and ridge embrace. Personification of the cold indifference of the universe, and yet a welcome sight after all these months.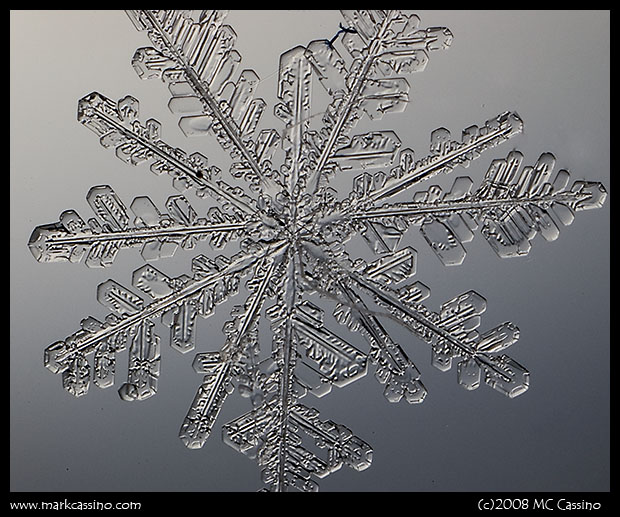 Yes – it been cold here in south west Michigan. For the last week or two a dusting of snow has stubbornly clung to the ground. It's hard to believe that just three weeks ago I walked in shirtsleeves in summer-ish fields. Now I don my old black parka before venturing out of doors. Summertime's flip-flops sit unused in the mudroom, as I step into leather shoes before treading into the slushy mush outdoors.
Yah – it's winter. It came up fast.
For a few days now I've dodged the inevitable. It's cold. It's snowing. I need to get out and shoot some snow crystals. I never got around to dismantling last season's setup, so tonight I went back into the garage to get things going again. The table-top tripod, 50mm macro less, extension tubes and bellows were all as I had left them. I had snapped lens caps in place when I last used them, so every ting was still pretty clean. I wash the glass plates that catch the snow crystals, wipe off of the table, hook up the camera and flash, and everything is ready for another year.
Well, everything except the temperature… The first snow crystals I collected melted into tiny droplets of water when I brought them into the garage. I pulled the thermometer off it's bracket outside of the dining room window. There it read 20 F, but inside the garage it soared to a balmy 34 F.
Looking around me, I realized that the garage was warmer simply because it trapped warmer air. I found a box fan – normally used in hot summer months – and set it up to blow cold air from the garage floor up into the rafters. I probably introduced more stress into the lives of the mice who live up there, but within an hour the temperature in the garage had dropped from 34 down to the mid 20's - which was good enough to get going with a few snow crystal shots…
By then the snow was thinning out, and shortly after I got started working in the now cool garage the snow stopped altogether. But, it was enough to get me back into gear and I'm ready for the next storm – which, according to the weather forecasters – should be coming along any time now.
So here is the first snow crystal shot of 2008/2009 – a twelve armed crystal. Hopefully, more will be coming.
This entry was posted by
Mark C
and filed under
Snow Crystal Photography
,
Snowflake Photography
.