Posted by

mcc

on Dec 09 2008 in Reviews
Printing With The Epson 3800
Last week I hit a milestone of sorts – I finally replaced an ink cartridge on my new-ish Epson 3800. I purchased the printer last August when the Epson 2200 that I had been using died from a massive paper jam. Here are a few subjective observations about the Epson 3800:
Print Quality:Obviously the most important characteristic of any printer. As you'd expect, the print quality from the Epson 3800 is outstanding. I'm hard pressed to say that I actually notice much difference in color prints – they look great – the real improvement is in mono / B&W prints. Metamerism – which seemed to be the bane of B&W prints done on earlier printers – is finally at bay, though it not completely gone. As with any of Epson's high-end printers, though, the 3800 produces fine results.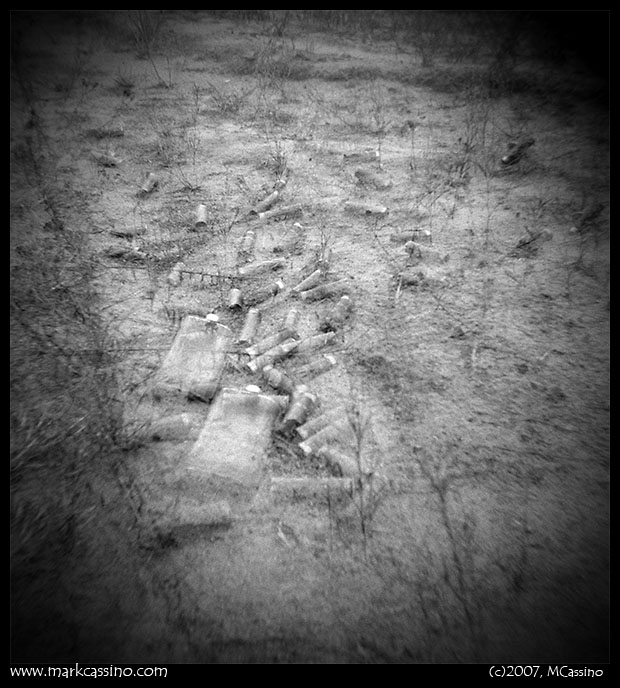 Spent
The Advanced B&W (ABW) print mode usually produces great results, but it can be pretty fickle. So far I've found that I have to print at the 'darker' or 'darkest' setting to get the kind of contrast and deep blacks that I'd like – which is kind of odd since I don't do a lot with heavy blacks in most of my B&W shots. In a few cases, ABW mode has produced some seriously 'off' results – choppy gradients, poor tonality. "Spent" - shown above - is one image that simply refuses to print well in ABW mode. In those cases I just prep the image in Photoshop and print with profiles, as I would with a color print. That usually does the trick, and doesn't leave me reliant on the print driver to get the results I want. But for quick and easy mono printing, ABW can work fine.
Printer Size: I initially planned to get another printer with 13 x 19 inch maximum output. While a larger print size is desirable, I've been pretty happy just sending the larger prints to a lab for output on a Chromira. Space is also a consideration since my office / studio does not have room for a really big printer. I was pleasantly surprised to see that the footprint of the Epson 3800 is only a few inches bigger than that of the Epson 2200 it replaced. It fit nicely on the stand that I used for the old printer. The printer is also light enough for one person to carry.
Build Quality: This is the one area that disappoints. I guess I can't complain too vigorously, since I just said that one of the things I liked about this printer is that it is compact and lightweight. However, the plastic in the unit feels pretty lightweight. Both the input and output paper trays feel flimsy, and one good whack (or cat jump) would probably do them in. One particular annoyance is that the small metal plate that holds the front paper tray closed by attaching to a magnet on the unit fell off on day one. I've tried to glue it on a few times, but it doesn't reliably hold. It's annoying.
Paper Sizes:The Epson 3800 only handles cut sheet paper. At first, I didn't think this would be a major limitation. In the past I have only used roll paper for mass producing small prints, or for the very occasional panoramic image. What I didn't realize is that sheet paper selection is pretty limited at larger sizes. While there is a good selection of papers at 17 x 22 inch size, that reflects only a 1:1.25 aspect ratio – i.e. a 16 x 20 inch print. If, like me, you shoot at 1:1.5 or greater aspect ratios, paper selection become problematic. Some papers are available in 17 x 24 inch size, but even that is not a complete solution. One of the first larger prints I pulled on the 3800 is the Skegemog Swamp, shown here. It's pretty much un-cropped, and the image prints to 16 x 24 inches. That calls for a 17 x 26 inch slice of paper – something I've been unable to locate.
My solution was to purchase roll paper and cut it into sheets the size I needed. So far I've printed several larger images on Epson Ultra Smooth Fine Art Paper, and Enhanced Matte Paper. It's not an ideal solution because the papers have to be pressed flat before being used – something that took a few days under a very heavy pile of mat board to achieve. (The Ultra Smooth Fine Art Paper never did get fully flat.) I also picked up a roll of 16.5 inch wide Epson Premium Lustre Paper. I haven't tried it yet but I've done a lot of printing on sheets cut from 10 inch wide rolls of this paper. The Lustre paper seems to flatten out pretty readily, so I expect it will work well. Call me fussy, but I wish it was 17 inches wide, as opposed to 16.5… So far, the largest prints I have made have been 16 x 24 inch images on 17 x 26 inch paper. Both Epson Enhanced Matte Paper and Ultra Smooth Fine Art Paper have worked well at this size. The printer driver lets you set up a custom paper size up to 37 inches, so a print of 17 x 36 seems to be possible, even though that is outside the stated specifications of the printer. If you are going to try to cut sheets form roll paper, be sure to use a good trimmer to get a clean, straight edge to feed into the printer. In my case I rolled the paper out on a work table, made an initial cut with a razor blade and straight edge, and then trimmed the final edge in a rotary trimmer. I also took car to not touch the coated surface of the paper and to blow any dust particles off the surface before printing.
Paper Handling: This seems to be one area where the 3800 gets some criticism, but so far I have had no complaints. I haven't done anything extreme, but I did manage to produced a few hundred photo note cards on 9 x 5.8 inch Museo Artist Card paper. I just dropped the sheets into the sheet feeder, fudge the driver setting by telling it I was printing on Enhanced Matte Paper, and printed using the Museo profile. The result were great and the paper just chugged through the sheet feeder with no problems. While feeding sheets cut from roll paper has been a bit of a challenge at times, the rear paper feeder has worked very well for this. Cost Effectiveness: The larger 80ml ink cartridges means that ink costs with the Epson 3800 are much more reasonable than with the much smaller cartridges used in smaller printers. But then, the 3800's 80ml cartridges are only a few dollars less expensive than the 4880's 110ml cartridges. So while the 3800 is a huge leap forward in terms of ink costs, the real savings are to be had with the printers that use even larger cartridges. Many other sites have noted that, when the cost of ink is taken into account, the 3800 actually costs less than the smaller Epson 2880.
Driver: I'm using the 64bit driver on Win XP x64. Disregard my rant from last night - this morning I realized that I should install the latest version of the driver before critiquing. Guess what? All the main options are on the first page! Nice job, Epson. What can I say? It's no worse that most pieces of software. If you are setting up a print that does not conform to your saved settings, you'll have to click through a few screens to set things up. Paper type and basic print mode selection is on the main screen, but you have to drill into the 'advanced' table to fine tune color, dpi, and other settings. Paper size and paper feed options are on another tab. So, in general, you have to click on three separate tabs in the driver to set up basic print settings. It's crazy that the most commonly used setting can't be put on just on tab. Overall, I'm really happy with the Epson 3800. The larger print sizes, better ink prices, and improved B&W printing make it worthwhile – and I didn't have to re-arrange the furniture to make room for it. However, if I were in the market for a new printer now, as opposed to a few months ago, I'd take a serious look at the new Epson 4880.
This entry was posted by
Mark C
and filed under
Reviews
.
11 comments
Does the ink purge issue when switching blacks on the 4880 concern you? I've read everything from a cost of $75 per switch to work arounds that are supposed to be much less or just sticking to one black. I have no concept of how often or if I'd want to switch blacks. The 4880 currently has quite a rebate on it that brings it close in cost to the 3800 so it is tempting considering rolls can be used (and suction is used to hold down the paper).
If you had the time, it would be great if you could give the reading public a little tutorial on using profiles when printing your work. This is something that I haven't figured out yet, but I do not have a quality printer yet to try it on…maybe soon I will invest in one.
Thanks for your interesting and information filled writing.
Hi Cymen -
I haven't done much research on the 4880, since I have this new 3800 here :-), but I would certainly look hard at the ink consumption when changing between papers. With the 3800, I've switched between matte black and photo black only a couple of times. It does not consume much ink. These days almost all of my printing is on matte finished papers, but there have been times in the past when I did a lot of swapping on the 2200, and wasted a lot of ink.
- MCC
Comment from:
Steve Washburn
Visitor
Mark,
Very nice review! Red River has 17x25 sheets and a lot of other sizes. I have been using their paper and cards for a few years and they are very nice. They also have good profiles for most Epson printers.
Steve
Thanks, Steve - that's a great tip regarding Red River. I used their paper some time ago and thought well of it. I'll certainly be ordering some samples and seeing how the 17 x 25 inch sheets work out!
- MCC
Regarding the little metal plate holding the tray: I had the same annoyance, and was thinking it should be illegal to charge this much money for something so improperly done… It's in the details, as always, that the true value lies, isn't it? ;-)
Anyway: Find some super glue, you know, the kind that'll glue a freight train to your ceiling with one drop (provided your ceiling holds), clean the plate and the plastic carefully with some alcohol or similar dissolvant, and then glue it. Mine's been holding up for eight months now, so I think it should work for you, too.
Thanks, Martin. You are right about attention to detail - it's silly to have a problem like this on a printer of this caliber.
I'll give the superglue a try - I tried a Zots (little gummy tab of adhesive) but it doesn't stick well to the metal. For now I just leave a pile of books in front of the printer to hold the door shut - grrr!
- MCC
I like Epson printers a lot. I agree that print quality is indeed good. Thanks for sharing.
This awesome blog has helped me a lot in my research. Thank you for the tips and information.
You have nice shots. As for my experience it was much worse.
Comment from:
storkcraft glider
Visitor
what a nice shot…very good quality…