Pam and I have been on the road these last couple of days, working our way down to the northwest corner of North Carolina, for the Grandfather Mountain Nature Photography workshop. I'll be presenting on field techniques for macro photography, and am looking forward to meeting in person some of the folks from the Pentax Discussions Mail List.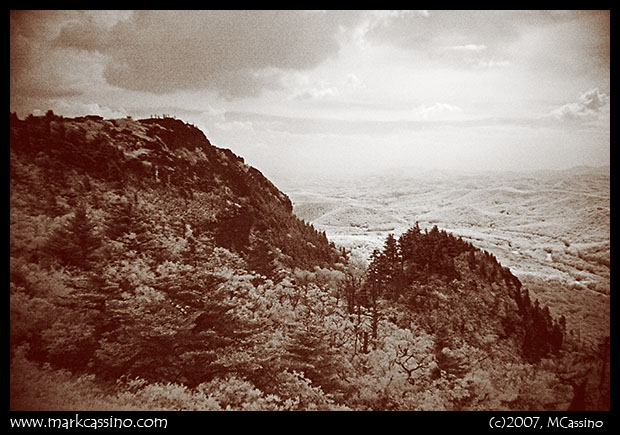 I was in North Carolina last year, really just by happenstance. Then I stomped around in the DuPont forest, shot a lot of waterfalls, and also explored the Blue Ridge Parkway. The scenery is a far cry from the Midwestern woods I usually shoot, but it's something to awaken my slack and sleeping senses.
After a few nights in Knoxville we made it to Grandfather Mountain today – a much longer drive than I anticipated. Aside from some a few minor puzzlers presented by the MapQuest directions ("Does 19E North really run due South?") things went smoothly. After checking into our lodgings – the Smoke Tree Lodge, a most excellent accommodation – we found the mountain without event.
There we had a chance to make some acquaintances and learn about the planned events for the next couple of days. After that it was up to the top of the mountain, and I promptly picked up shooting where I left off last year – digital infrared landscapes of the smokey mountains.
Well, there really was no choice choice - the haze coving the mountains and the filtered but direct June sun, just screamed for the IR treatment.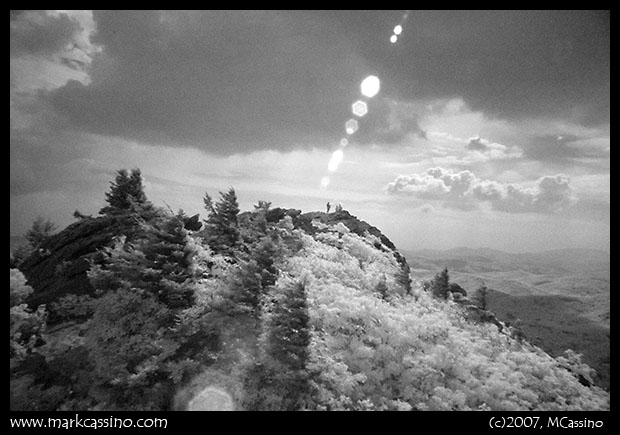 That of course meant shooting with the *ist-D (as noted in earlier posts – the K10D IR filters really do block most of the IR light.) The great advantage this year was having a true wide angle lens (I used the DA 18-55, since my Hoya RM 90 IR filter is too small for the DA 16-45.) Having a tripod was also real handy – no more resting the camera on a crumpled hat on fence or sign post, like last year.
I only shot 25 exposures – really just a handful of framed up shots (it pays to bracket with those digital IR shots). Then we left the mountain, took a wrong turn, and found ourselves back at the Smoketree some time later.
Fiddling with the images in Photoshop on the laptop has been interesting. Aspirin popping interesting, and ultimately I'm not sure what the heck they look like – this monitor makes me marvel at the heretofore unseen details of some of my older shots, and cringing and some of the newer shots that seem way out of synch.
Well, calibration will be a home project. Don't know if there will be any other updates from the road, but certainly something once I'm back home.
This entry was posted by
Mark C
and filed under
Landscape Photography
,
Infrared
.