Hepatica in the Allegan Forest
Woodland wildflowers have carved out a tenuous environmental niche for themselves. They spend most of their time dormant, or nearly dormant, under the forest floor. For a few short and cool weeks in early spring, before the forest canopy leafs out, they soak up the rays of the sun and gather most of the energy that they'll use for the remainder of the year.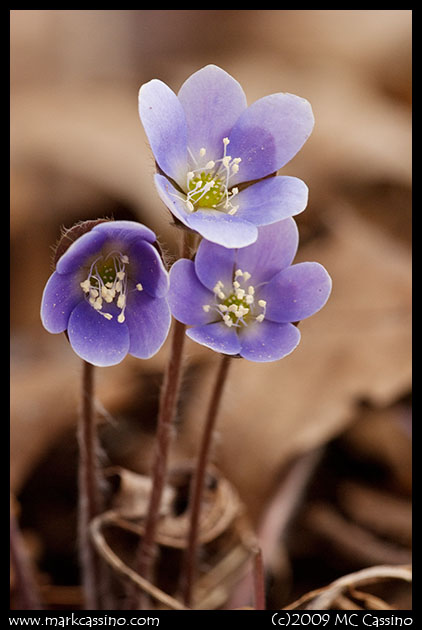 Someone once told me that trout Lilies send up a few leafs every spring for several years, and only then have stored away enough energy to send forth a flower. Nonetheless, an undisturbed forest can be literally carpeted with spring wildflowers during those few short weeks – a testament to the success that these plants can enjoy.
It's logical to assume that if the land is disturbed, these wildflowers will be eradicated form the area, or at least severely compromised. Places like the Dowagiac Woods, which is one of the very few areas in Michigan to have never been logged, are rich in these spring wildflowers. On the other hand, the vast wooded areas of the Allegan Forest, which were originally clear-cut to provide wood to rebuild Chicago after the great fire, and then were devoted to farming in many areas, have few spring flowers.
Nonetheless, there are a few places in Allegan where hepatica not only bloom, but are really quite abundant. One is off 125th Ave. near the river, where there is a steep, south facing bluff which sprouts lots of Blue Hepatica in the spring.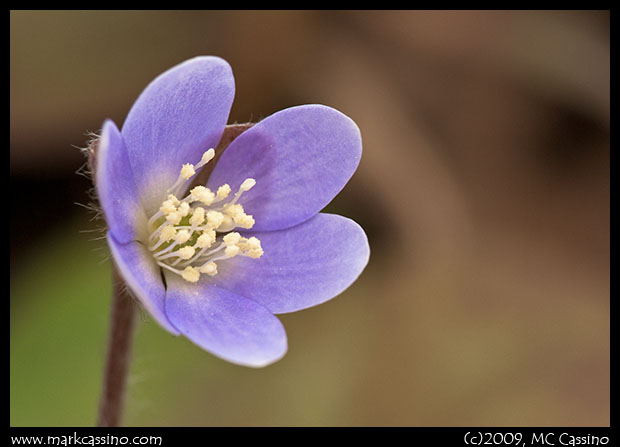 It's a nice site and there's a blocked off roadway cut into the side of the hill, which makes for easy access. You can wander along the roadway and slowly descend from the top of the bluff to the banks of the Kalamazoo River. Hepatica is abundant above, below, and even on the roadway. But as soon as the river takes a bend to the north, and the side of the bluff faces west, hepatica is hard to find.
Maybe the favorable micro-climate on the south side of the hill promotes the growth of these flowers. But in this one spot, at least, the hepatica abound.
This entry was posted by
Mark C
and filed under
Wildflowers
,
Wildflower Photography
,
Allegan State Game Area
,
Allegan Forest
,
Nature Notes
. Tags:
allegan forest
,
hepatica
.