Here in Michigan, Harbinger of Spring - Erigenia bulbosa – is one of the first spring wildflowers to appear. While Skunk Cabbage is usually credited with being the very first spring flower, the red leafy flower is not particularly, um…, floral in appearance. But Harbinger of Spring is close behind and its "salt and pepper" flowers presage the wonderful spring wildflowers that will come in the weeks that follow its arrival.
For all that, I'm not sure that I ever bothered to photograph this diminutive flower. This year and in years past I've run straight past the lowly Harbinger of Spring and into the arms of hepatica. From there it's on to the spring beauty, anemone,trout lilies, trillium, and more. For me, Harbinger of Spring is as ephemeral as expectations always are – like a cloud of breath on a cold spring morning that fades away as quickly as it appears, and is forgotten as the day warms.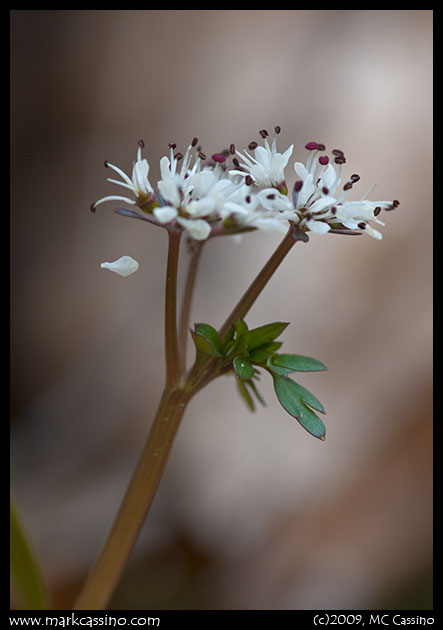 So this year I laid down in the early spring mud and took a few photos of Harbinger of Spring. The best is shown here. The cluster of flowers is scarcely an inch across, and depth of field is always a challenge at high magnifications like this. The plant rises just a couple inches from the ground, and the background of the photo is made up of the pale brown leaves that cover the forest floor.
On this flower, one petal remained suspended by some sort of invisible thread. I expected to see the thread in the high resolution images, but it remained as invisible to the camera as it was to mine own eye. I should probably photoshop that suspended petal out of the image – it is, after all, a distraction from the main subject of the photo, the flower itself.
But then all expectations are distractions from what is, and so I rather like that sole petal, hanging out there, the essence of Harbinger of Spring.
This entry was posted by
Mark C
and filed under
Wildflowers
,
Wildflower Photography
,
Nature Notes
. Tags:
harbinger of spring
,
wildflowers
.
3 comments
nonsense that hanging petal makes the picture in my opinion.
good work
Josh
For a second there I thought you had caught a petal in the act of falling from the flower. Very nice shot.
I tried adding a little Potoshop motion blur to the petal to create the impression that it was falling - but that looked really cheesy.
But as the image settles into my mind - I do like that suspended petal.
- MCC