I have to admit it – I'm starting to get tired of shooting dragonflies. It seemed like this day would never come, but suddenly I'm feeling sated and looking for new stuff to do.
So… On to some new experiments with digital infrared…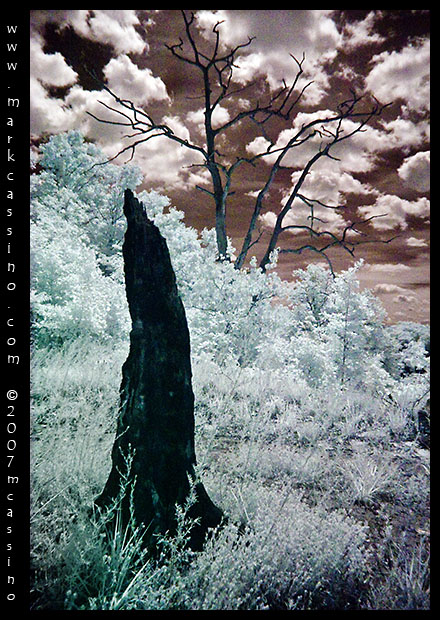 Color digital IR has always impressed me, ever since I first encountered it in posts Marty Getz made on PhotoBlink, back in the day when I participated there. (By the way – Marty's "Aliens Above" series is a must visit page for Digital IR fans…)
A few days ago David Brooks on the PDML posted this link to a discussion about digital IR. So far, with my digital IR work, I've just de-saturated the image and then worked with it as a mono shot. That usually means toning the image in Photoshop using the duotone or tritone tools. But the discussions about workflow got me thinking about working with color, so tried out a few of the ideas presented.
First, I tried taking a custom white balance off some green vegetation. This, of course, would turn green tones white since I'm calibrating the camera to do just that. I set the custom white balance without the IR filter (Hoya RM90) and proceeded to shoot, using the Pentax *ist-D (the K10D is just too good at filtering out IR.)
This was a good start, and eliminated the lavender monochrome that all digital IR shots come out in when white balance is set to daylight or auto. But I didn't see the logic behind setting the white balance to green. Instead, I just set the white balance using a white (well – my light grey shirt) light source _with_ the IR filter in place.
Voila – suddenly I was seeing the subtle shades of color in the digital images!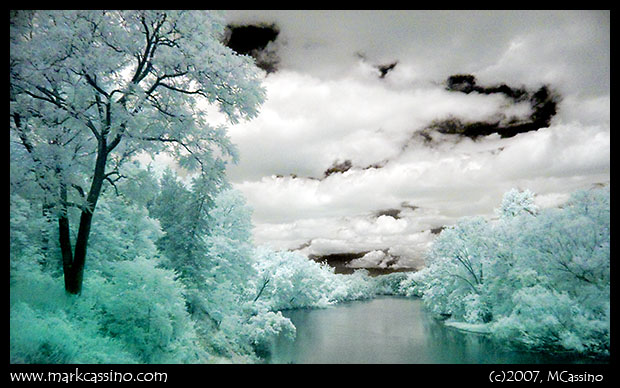 I wondered why I hadn't thought about adjusting the white balance before this – but the answer is obvious. Since I was shooting RAW, I assumed white balance was irrelevant. Afterall, I could select what ever white balance I wanted to, right?
And that is exactly the case. The only thing is, all the standard white balances expressed the IR shots as different shade of monotone. I never delved into really customizing the WB to get some more interesting effects. And all it really takes is just a tap of the eyedropper in Adobe Camera Raw on the white highlights of a cloud or something like that.
Well – now I know. And in the future I can go back an possibly re-work some of my older IR shots – though I may come to find that the simplicity of B&W is what serves these images best.
But – at least there's another trick in the bag of tricks!
As always - full sized images can be found in the Image Stream, or by clicking on the images here.
This entry was posted by
Mark C
and filed under
Photo Techniques
,
Landscape Photography
,
Pictures Of Trees
,
Midwestern Landscapes
,
Infrared
,
Digital Infrared
.