Nothing in the world
is as soft and yielding as water.
Yet for dissolving the hard and inflexible,
nothing can surpass it.

The soft overcomes the hard;
the gentle overcomes the rigid.

– Tao Te Ching
Saturday, December 19, 2009. In the small hours of the morning snow falls gently to the ground. I wake up, watch, doze back off. The shiny black streets and sidewalks tell me that it's too warm for snow crystal photos. Maybe later, maybe in the morning, maybe in dreamland.
In the morning a thin layer of crusty snow and ice rests atop automobiles and cold garage roofs. The gentle snow persists – why not try, just a few photos…
Here's the best of a very brief excursion – and I like it. I think it is one of the best photos I've made all year, and I say that in December. And I like it because it is unlike anything I have ever seen before, or done before. It is a one drop oasis in the vast desert of sameness – and yep, my photos – so many of them – are right out there in the badlands. Sometime a drop of water is more refreshing than you expect.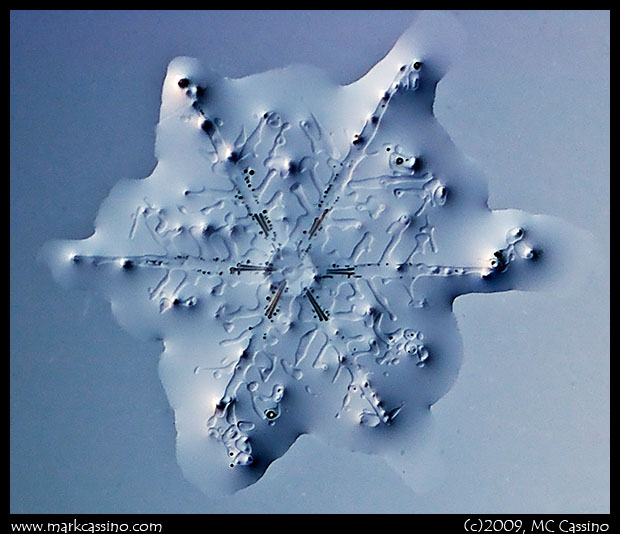 A lightly different take on the photo can be found at the Story of Snow blog.
This entry was posted by
Mark C
and filed under
Photo Comments
,
Snow Crystal Photography
,
Snowflake Photography
,
Macro Photography
.