Where to go on a hot July afternoon? Find a shady spot, of course. That was my logic last Thursday, when I found myself back in a clearing in the Allegan Forest - off of a barricaded two track, off of some seasonal road, off of 122nd avenue, off of M89. It was a place I've never been to before – I need to find more spots like that.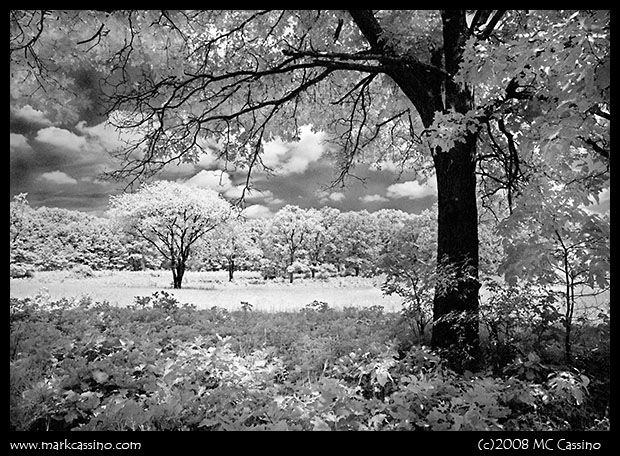 The Shadey Spot
You wouldn't expect that I'd get tired of shooting dragonflies – it seems to take longer every season, but this week I finally lost the dragonfly vibe. Though the fields were teeming with blue dashers and more than a few skimmers of various sorts, I left the digital camera and the macro rig behind. I wandered back into the clearing with a trusty Pentax LX loaded with Rollei IR 400 film, a couple of zoom lenses, and an R72 filter.
I shot two rolls of the Rollei film – 72 frames, but with bracketing only about 20 different compositions. Digital has really spoiled me – I feel like I've wasted an afternoon if I don't take 200 shots. That is one of the great perils of digital photography - you become your own army of monkeys, pounding at the shutter button. Accidental successes seem to be triumphs, but it's hard to figure out how you got there and recreate the work. Not to mention that accidnets have no concept behind them.
Well - back to the fields and forest. I found a pearl in the sandy soil, often the case there.
This was my third session with the Rollei film. It was shot with the R72 filter, metered though the lens with the ISO set at 200 (thanks, Ray!) Film was developed in HC110, Dil H (1:66) at 20C for 24 minutes, with very low agitation (gentle agitation every 3 minutes for the first 12, then every 60 seconds.) I like it, but I don't see it as a replacement for HEI. It's much too slow with the R72 filter, and I really like using a plain red filter and being able to check and tweak the composition as I'm hitting the shutter button.
Rollei IR 400, with an R72 filter, is also a pretty high contrast film. Despite my attempt at using HC110 as a compensating developer, the film is a tough beast to tame with shadow areas virtually clear on the negative. But, when it comes to B&W shots, contrast is your friend. Not a friend I've really come to terms with, but working with this film has been a big boost in helping me understand and work with higher contrast mono shots.
This entry was posted by
Mark C
and filed under
Landscape Photography
,
Film Processing
,
Pictures Of Trees
,
Midwestern Landscapes
,
Infrared
,
Michigan
,
Allegan State Game Area
,
Allegan Forest
.
5 comments
Comment from:
Mike Kucinich
Visitor
A very stunning image, Mark.
Is the R72 filter not normally used w/IR
film?
How is it different from the K25,I believe
(deep red)filter?
I think it's the K-25, if my memory serves
me right.
Anyway, it's a very stunning image, and
illustrates that you CAN take successful
landscape images in the middle of the day.
Hi Mike -
Thanks! Glad you like the image. The R72 is indeed an IR filter - it blocks all visible light so it's completely opaque.
I'd like to try a K25 filter (thanks for that info - I didn't know it's correct name.) It would be great to be able to compose and shoot without screwing the filter on and off. I also suspect that the K25 would help to tame the contrast a bit. I don't know if you saw my ealier post, but a plain R25 red fitler didn't bring out much IR effect with the Rollei film.
- MCC
Hi Mark,
I have so far only shot one roll of Rollei IR 400 film and I ready to develop. I followed all your tips on the shooting process as I do intend to do when developing. I do have one question though:
When you talk about -"Film was developed in HC110, Dil H (1:66) at 20C for 24 minutes, with very low agitation (gentle agitation every 3 minutes for the first 12, then every 60 seconds.)"- how long are you agitating the film? You have only told me hpw often to agitate it but not how long each agitation should be.
Again, I am very greatful for all your tips and I intend on shooting more Infrared in the future.
Ben Divito
Hi Ben -
Thanks for your comment. During the first stage of the development, when agitating once every 3 minutes, I slowly inverted the tank 4 or 5 times – maybe 10 seconds . In the second stage, when agitating every 60 seconds, I inverted the tank 3 times each minute – maybe 5 seconds of agitation.
Note that I'm using a tank that can be fully inverted. I'm also using a 2 roll tank, and process a single roll in it. That results in the developer almost completely draining off the film when the tank is inverted. Each inversion really mixes up the developer solution, and pretty much assures that every part of the film is exposed to fresh solution. I'd agitate a little more if I was using a single roll tank, or a double roll tank with two rolls loaded in it - simply because with the fuller tank, the developer sloshes around less with each inversion, making the agitation less effective.
I also pre-soak for a couple of minutes and agitate continuously for the first 30 seconds (which is part of my standard procedure for all development).
FWIW - In The Negative Ansel Adams discusses using very dilute HC110 (Dil G, or 1:119 from syrup). He recommends 15 seconds of agitation every 3 to 4 minutes. Since Dil H is about twice as concentrated, I'd expect to agitate less. You can find his comments in Chapter 10 of that book – in the section called "Highly Dilute Developers."
Good luck - let me know how your roll comes out!
- MCC
First of all I want to say I'm glad you wrote about infrared film. I wanted to use the digital infrared but I never had this chance. Tomorrow I'll order a Efke 820c or Rollei IR 400, from Maco, but I only got a Nikon R60 red filter. Developing I will do in HC110 revelator, although I have not used this one so far. Only Rodinal, oneshot, R09.
Could you suggesting me to buy between this two models of film - Rollei 400 or Efke 820c, in combination with this filter, R60?
Thanks.
Mircea