Bird Photography With The Pentax K10D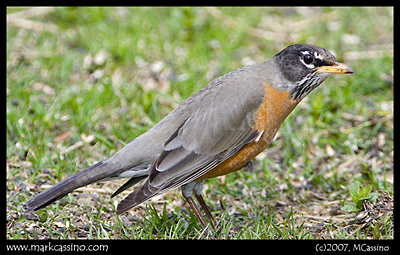 Back in 1997, when I first got into photography, birds were one of my first passions. I first started shooting them with a 200mm zoom, then a 300mm zoom, then a fast 200mm and 2x teleconverter, and next a 400mm f4.6 prime lens. This progression ended with a Pentax A* 400mm f 2.8 EDIF lens, combined with 1.4x, 1.7x, and 2x teleconverters.
The 400mm f2.8 was probably a mistake. A 600mm f4 cost about the same, but I figured that the 400mm and teleconverter combo would give me more flexibility, be a little lighter, and focus a little closer. But the 400mm is a mnaul focus lens, and sometimes gets a downright ugly bokeh.
So here it is, spring 2007, birds are out and it's time to see how the K10D and teleconverter combination works with the new digital body. My standard birding setup is the A* 400 f2.8, combined with the AF adapter 1.7x. This is an unusual teleconverter – 1.7x magnification of the image, plus the elements in the converter couple with the camera's autofocus system, allowing for some very limited autofocus capability – just enough to snap a pre-focused image into sharpness. (In all fairness to it – the 1.7x AF adpater works quite well on fast normal to short telephoto lenses.)
So yesterday I set up the birding rig and tried for a few test shots of the robins and sparrows in the backyard. Since small little jpegs, like the one above, don't tell a thing about image quality. So here is an actual pixels crop of the Robin's head: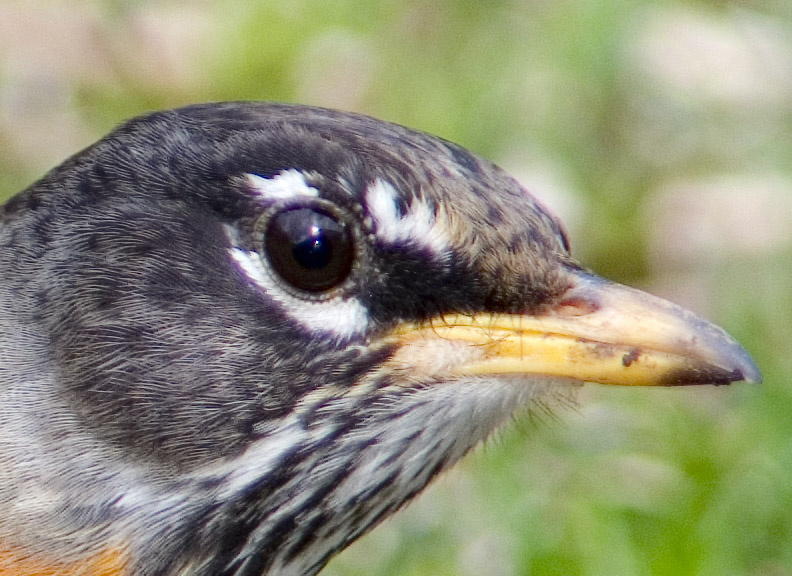 And here is an actual pixel crop of the bird's shoulder:
This shot was taken at an effective aperture of f8 (lens set to f 4.6, with the teleconverter multiplying the aperture to f 8). This shot was taken as a RAW DNG file, opened with Adobe Camera Raw. Aside from tweaking the color temperature a bit, the detail (sharpness) was dialed up to 60. ISO for both shots was 400. The image was opened without any up-sampling.
Overall, the A* 400 f2.8, AF 1.7x converter, and K10D produces excellent sharpness and detail. AN AF360 FGZ, set to –5 flash compensation, was used for fill. The camera was, of course, mounted on a tripod. The heavy duty ball head was left to rotate and swivel freely, allowing the camera to be quickly positioned. This was my standard setup for birds with film in the past, and works well with the digital setup.
One disappointment with the K10D was that the slow flash synch setting does not work with older, manual focus lenses. I don't know why that design feature is there – but it's documented in the manual. Since fill flash is essential for many birding situations, a slow synch setting on the camera is a real boon. My older Pentax film SLR's didn't provide for this – so I would shoot birds in manual mode, manually selecting the shutter speed. I found that I had to resort to that again shooting with the A* 400 setup on the K10D.
(I'll be testing the slow synch setting on some autofocus lenses, where it should work.)
I was also hoping to test the K10D anti-shake function while birding – but here human error crept in. With a manual focus lens you have to input the focal length when using the anti-shake feature. I don't know what I was thinking, but for some reason I kept inputting 550mm, instead of the 700mm I should of put in. (The 1.7x teleconverter and 400mm lens are and effective 680 mm.) So – I can confirm that anti-shake really does need accurate focal length input. Whether or not it would work well with a lens loosely mounted on a tripod has yet to be seen.
I plan to continue birding tests, and hope to report more in the future.
This entry was posted by
Mark C
and filed under
Pentax K10D
,
Bird Photography
.