The winter of 2008/09 will indeed be a memorable one for us in west Michigan. I can say that now, though it is only January 18. Thus far, over 80 inches of snow has fallen, and it snows now, as I sit here and type.
I love driving on slippery streets and shoveling snow off the sidewalk and driveway, but the dusty bits of broken crystals have been frustration. SO far, there's been nothing to photograph. Instead of a heavy snow full of crystals or even snowflakes (clumps of crystals stuck together) we've just seen weeks of steady, windblown, ice-dust. Bits of pieces of snow crystals – shattered plates and severed dendrite arms – drift through the air. Sometimes it is windblown and blizzard like. Other times it hovers in the air almost like a fog, and settles into every nook and cranny and every screened in porch that usually blocks the snow.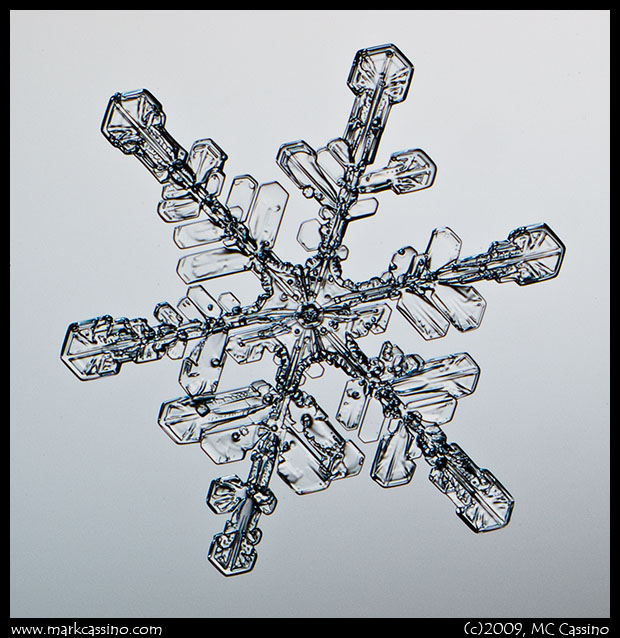 Snowflake Photograph
Anyhow, the tide turned today. The temperatures rose to a balmy 20F (7C), a real respite from the daytime highs of 4 or 5 F (-16C) that we experience in the last week or so. And along with the warmer weather comes snow falling in whole crystals. Small crystals, puffy effervescent crystals that a not great to photograph, but crystals still.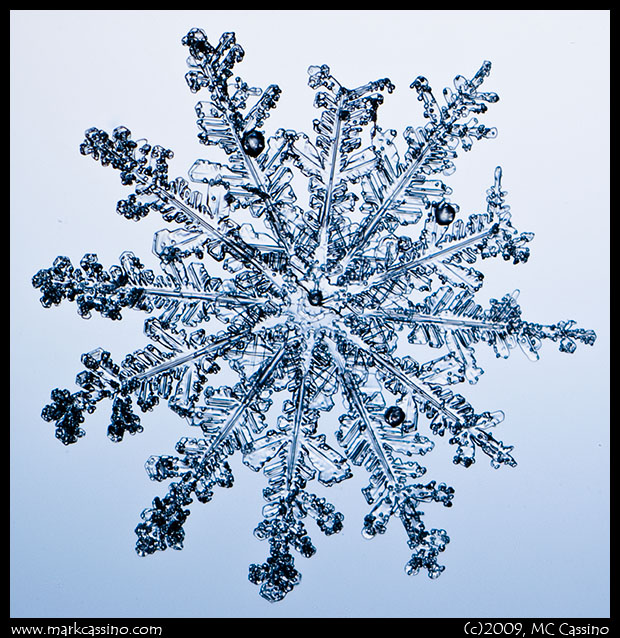 One shot that stands out from the handful of keepers from this session is this 12 armed crystal. I've been pondering the mystery of the 12 armed crystal. Are they the result of two crystals that meld together and grow symmetrically, or do they arise from a single ice crystal, that just happens to grow 12 arms instead of six?
Looking closely at the center of this one, I feel certain that it arose from a single crystal. And maybe someday I can find an 18 armed crystal.
This entry was posted by
Mark C
and filed under
Snow Crystal Photography
,
Snowflake Photography
.