Work On What Has Been Spoiled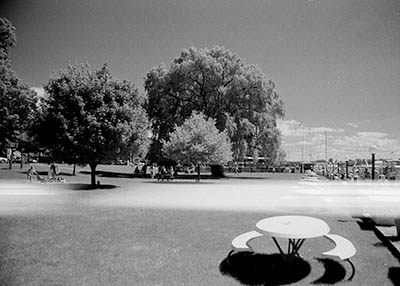 I made a grisly discovery a few days ago while cleaning out my car. There, among the crumpled roll film wrappers, empty film canisters, and discarded AA batteries I found my last roll of Ilford SFX. Not only was this my last roll of infrared film on hand, but probably the last roll of SFX I'll ever shoot. The grisly part: it had sat in the hot car for at least a month, baking in the summer sun.
And it gets worse from there. I popped the roll into a film camera that gets less use than it should, and set out to see if it perhaps survived the month of baking. Maybe, I dared to hope, it had even developed some cool, unique, far out effect that no one had ever stumbled onto before.
Last Sunday was a clear and sunny day, perfect for IR shooting. I loaded up the camera and wandered around Saugatuck, Michigan, snapping away.
Once I got home I developed the film and saw that it was indeed ruined. A large, over exposed band ran the length of the roll, slashing every frame (and even the space between frames) about one third of the way up.
The more I looked at it, the more I began to wonder just how heat had done this, and then realized that the problem was most likely a sticky shutter blade. To confirm this I pulled a partial roll of macro Chm 400 out of another camera, and shot out the balance on the camera that had displayed the problem.
Sure enough – the shutter is sticking, and that roll showed the same problem in the portion shot on the defective camera.
So – one roll of SFX down the tubes, one camera heading off for repair, and oh yeah – the photos at the start of the roll of Chm 400 were finally developed. What the heck were those anyhow?
This entry was posted by
Mark C
and filed under
Commentary
,
Photo Comments
,
Landscape Photography
.
2 comments
mark, i found your site in a search for bug pics, and that was the major draw for return visits. but now you've got me looking longer at trees, (tried a few little sketches too)and now i've even made some attempt to do the urban landscape/street thing, though k'zoo isn't all that urban and not much of interest seems to happen on the street.
i suppose that means i've closed my eye and need to do this thing.
i keep meaning to ask if you've read larry clark on film developing. i think it was in a book on portrait fotograffers. don't recall the detail of it now but it seemed really strong at the time.
so what do you do w ruined negs? trash, or back of the book in case you figure out a worthy use for them later?
Thanks, Kim - looking forward to seeing your diddles or even sketches of trees. You are right about Kalamazoo not offering a lot for the street thing - I hope to hit Chicago again soon (they got lots more streets there…)
I haven't seen the Larry Clark book - googling him I see he has a lot. Have to keep my eyes open for it. My main reference has been the Morgan and Morgan Darkroom Handbook, though I consult Ansel Adams' The Negative from time to time.
About the negs - if they are are salvagable I hang onto them. You never know when you'll go back and think of something useful to do with them. That's part of the influence on the title of this post (of course copied from the I Ching).