A few weeks ago I headed over to Riets flea market in Lawton, Michigan. This is a big, sprawling market that covers several acres. It's best visited on a hot summer day, when the dust kicks up in little whirl-winds and your judgment about purchases and haggling is clouded by the relentless summer sun.
I've been heading to Riets for over 20 years. My wife hates the place, so I usually go alone. The market has transformed over those years. Back in the 1980's there were a lot more vendors just offering miscellaneous stuff. Many of the 'booths' (they are really just tables out in the sun) were sort of like mobile garage sales – odds and ends, this and that, things like Pogo bubble bath containers, ash trays, and empty collector editions liquor bottles.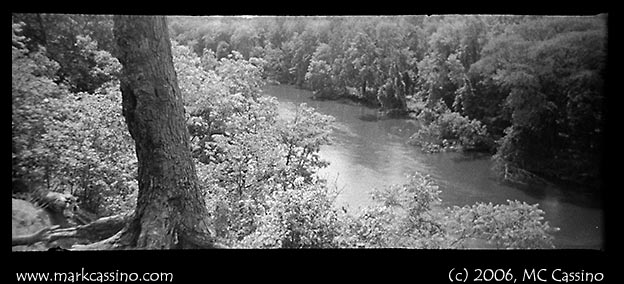 These days you see much more professional displays – maybe sunglasses, T-Shirts, socks (lots of socks!), tools or CD's.
Twenty years ago no one sold food at the flea market – expect perhaps for one or two vendors who sold huge bags an Vandalia onions. These days there are a lot of food vendors, selling the dry boxed goods you find at your local super market. There are also purveyors of nutritional supplements and other consumables.
Personally, I miss the vendors who sell miscellaneous odds and ends. Though there are sill enough of them to make the trip worthwhile, they seem to be a dying breed. And increasingly the odds and ends are rifles, knives, and swords – not the kind of rich home grown stuff you look for are a flea market.
But my recent trip to Riets was productive. I bought several boxes of weather stripping at a fraction of the price I would pay at Walmarts or some other discount chain. I also picked up an 8 mm movie camera, a Keystone Americana. It only has one lens (apparently of three) still attached to it. I bought it in hopes of using the one lens – a 9mm f 1.8 wide angle – for some macro photography projects. But, if that doesn't work I can always just wind up the camera and listen to the clicka-clicka-clicka-clicka of its drive – a most pleasant sound indeed. 
But the real find of the day was a wonderful junk camera – a Vivitar IC 101 Panoramic 35mm camera – complete with plastic focus free lens.
As junk cameras go, the Vivitar is a real Cadillac. Unlike, say, the Special Moments Focus Free camera, the Vivitar is small, compact, and solidly built. It features a frame counter – a tremendous luxury for a camera of this class. It also has a protective lens cover, that locks the exposure button so you can't take accidental shots (maybe not such a great feature). It also has a curved back plate – apparently an attempt to correct for some of the spherical aberrations caused by the focus free lens. I have an old Ansco Ready Flash that also has a curved back. You can only wonder what the results would be if the back were flat, but as it is the images are still plenty distorted.
The really exciting thing about this camera, though, is that it is P-A-N-O-R-A-M-I-C. Well, sort of. Following the fad of a decade or so ago, this camera crops the top and bottom off the 35mm frame, creating a panoramic aspect ratio.
Now, you might wonder why you shouldn't shoot a regular 35mm frame, and do the cropping yourself. It could be just as panoramic, you wouldn't loose any film area, and heck, if you wanted a non-pano shot, you'd have that option.
Beats me why these cameras exist at all (though even my old Pentax Pz-1p sports an optional 'panoramic' mode.) But the real advantage of the Vivitar camera is that the finder also is in pano mode, and the lens is truly a wide angle – based on comparisons with 'real' 35mm cameras, it looks like the Vivitar is in th 28 to 24mm focal length range (along the long axis, of course.)
I purchased the camera for $2. When I got home I loaded it with Adox Chm 400, and over the next couple of days shot away with it.
My first surprise came while loading this initial roll of film onto the developing spool. It started winding on just fine, but after a while the spooling action stopped, and as I felt around I realized that the film was sliced, lengthwise, almost right down the middle. I wound up snipping the film off, and found that the last third of the roll was indeed sliced right down the middle. The second roll (Neopan 400) didn't have this problem, so I ass
At any rate, this is a great camera.ume it was due to my un-gentle rewinding of the first roll of film.
More photos: