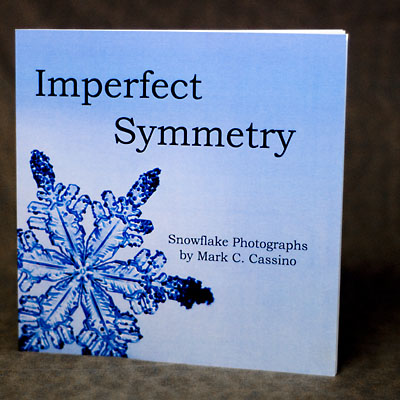 The snowflake photograph collections on this site enjoy a constant stream of visitors. A collection of 55 hand pulled prints of these marvels has also been displayed locally here in west Michigan in several venues.
The next logical step – a Book!
I once read a book, and it was great. I think it was about a little white footed mouse who drove off in a car. I don't remember the details. But there's something nice about having a book in your hands – who likes to curl up with their laptop by the fire place or in bed at night?
So this summer I finally pulled it together and prepared a collection of snowflake photographs to be presented in book form and called Imperfect Symmetry.
I received the first proof copies form lulu.com last week, and they looked pretty good. I never expected to get everything "just so" on the first try - snowflake photography is a delicate subject, and the images can be really difficult to get to print properly. But to my surprise only 3 of the 35 images needed to be reworked, and so within a few hours of having received the proof a revised copy was prepped and on its way back to lulu for publication.
Assuming all is well with this revision, Imperfect Symmetry will be available on lulu.com within the week – two at most if further re-do's are needed. Aside from 35 specially selected snow crystal photographs, a few comments and observations from your humble narrator are also included.
Stay tuned for the publication announcement!
UPDATE: The book is now available at www.lulu.com/cassino. Click here to order a copy.