One of these days I'll go on an insect safari, and will spend hour after hour photographing every kind of bug imaginable. It will be like swimming in a sea of champagne, and when I'm old and gray I'll talk about it, like the Old Man who talked about seeing the lions on the beach in Africa.
But till then, I'll have to settle on stealing an hour here and there. Like a shoplifter dropping trinkets into his pockets, I resign myself to small portions, tidbits taken now and then.
Today I managed to squeeze out about 45 minutes of shooting time. In part, it's my own fault – I spent too much time in front of the computer screen, much of it tending to this website. Just fix a few broken links, correct the spelling here, upload this, download that, whack the router and try to coax the network back to life...
But some things are beyond my control. Today I visited the municipal park where I shot the Eastern Hog Nose Snake last week. Its a good site – about 800 acres, lots of wetlands, and path entwined around well fields and pumping stations. I got to the park late – about 4 p.m. – hoping the recent warm spell would finally release dragonflies and other interesting insects. Unfortunately, as soon as I arrived the skies turned dark, thunder rumbled, and the winds picked up.
When it comes to rain, I always experience a sense of certainty about when and where it will hit. I always know how long to wait, how far to hike out before turning back, and how to time my return to shelter. As a result of this certainty, I get drenched a lot. When I'm out photographing I always carry a plastic bag for my camera – protection against the inevitable dousing.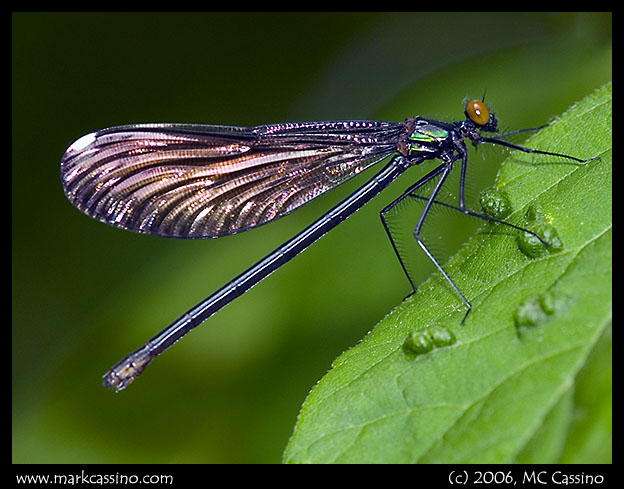 Today I was luckier than average. The sky was dark and the weather was heavy, thundered rumbled non-stop, but there was little rain. I wandered a half mile or so down the trail before a brief drizzle set in. I settled into a patch of heavy woods, and was fortunate to get a few shots of a black damselfly – an Ebony Jewelwing . This is one of the most difficult of damselflies to photograph, and I while I'm happy with today's result, I'm not sure I really captured the subject. One of the great characteristics of this damselfly is that it combines a dark black – green color, with a tremendous iridescence. When flying in direct sunlight, these insects look like tiny bolts of green lighting. The shots I got today show the reflectivity in the wings – thanks to the flash - which creates a somewhat distorted perspective, since the wings are black except in direct light.
In my experience, these insects are difficult to stalk and shoot. They are wary, and fly off once you get within a few feet. The also tend to drift upwards, and while a promising subject may not stray far from its territory, it will continue to rise up to higher perches as you pursue it. Once the insects is above 5 feet up, its hard to get a decent shot.
Today things worked out pretty well. Although the heavy clouds resulted in increasingly dark lighting exposures, I managed to get a couple decent shots of blacked winged damselflies, plus a nice shot of a so far unidentified species.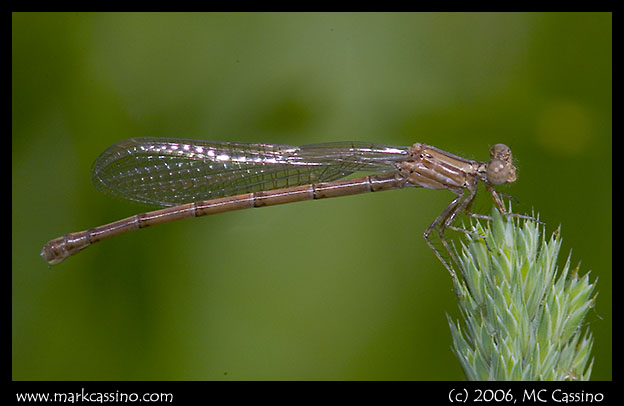 After the sudden drizzle, and a flurry of activity on my part, the really dark clouds and loud thunder rolled in. Contrary to past experience, I timed things right, and as I pulled out of the parking lot after a mere 45 minutes of shooting, the sky opened up and torrents of rain fell., and the thunderstorms have continued these last several hours.
This will break the hot spell. Tomorrow I hang a show for a local exhibit, and follow with business meetings in the afternoon. So Thursday is my next chance to try for that insect safari – it will be cool by then, but maybe I'll find some dragons sleeping on the beach near Swan Creek. 
Technical details: all shots taken with Pentax *ist-D, A* 200mm macro, flash.