We had a moderately strong winter storm in west Michigan yesterday, leaving just under 14 inches (35.5 cm) of snow - now being dubbed the Groundhog Day Snowstorm.  Unfortunately, the quality of the snow crystals was lacking and despite shooting for about 9 hours (on and off) I only managed to get a handful of acceptable images. This is the best crystal I saw all day... The plate of glass that I catch the crystals on filled up with dusty bits of broken snowflakes when suddenly in the thick of it all this very nicely formed stellar dendrite lands...  Not only is it well formed, but it also did not land on top of a lot of debris and detritus, which happens all too often in heavy snows.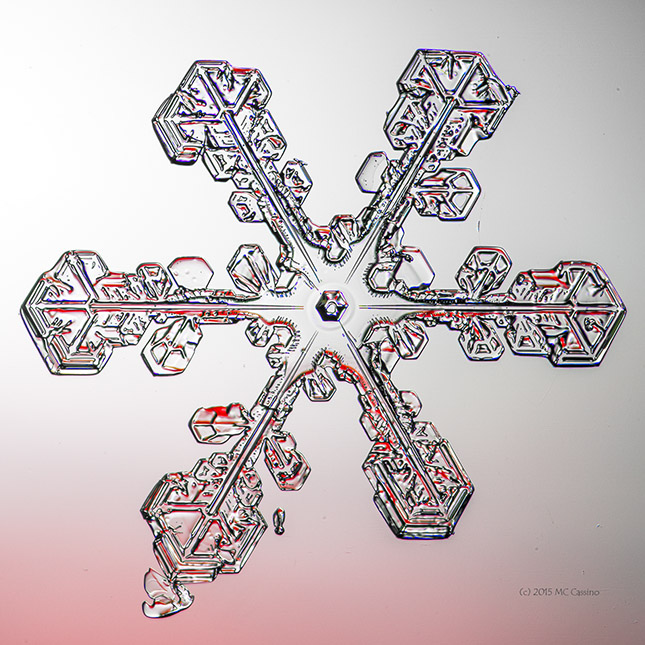 The image above is my best take of this crystal - taken with a single red led "lens" (the cover that snaps over a holiday light) on the flash. I positioned the flash so that the red lens was at the edge of the frame, resulting in a crystal that is generally lit by the white light of the flash with red light entering at an angle to create colored highlights.
Before using the red light I tried a few experiments with the yellow lens. Here's the best of those: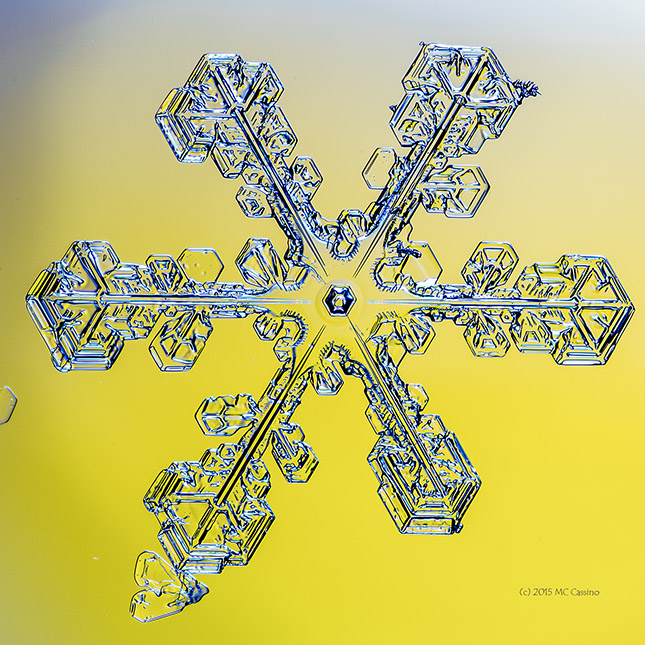 In this case the yellow lens is directly below the crystal, so it is getting the full effect of yellow light. In my last experiment I noted the blue color in the crystal, and that is repeated here.  I had wondered if it might be the result of the multi-white balance setting, but in experimenting yesterday I found n that multi white balance had no effect on the blue crystal phenomena - so it much just be how the crystal bends the light! I experimented with the yellow filter on a few more crystals, but ultimately abandoned it in favor of the red filter.
More images from yesterday's storm will be coming...