Here's an image that still speaks to me - the full moon setting over the South Haven, Michigan, lighthouse: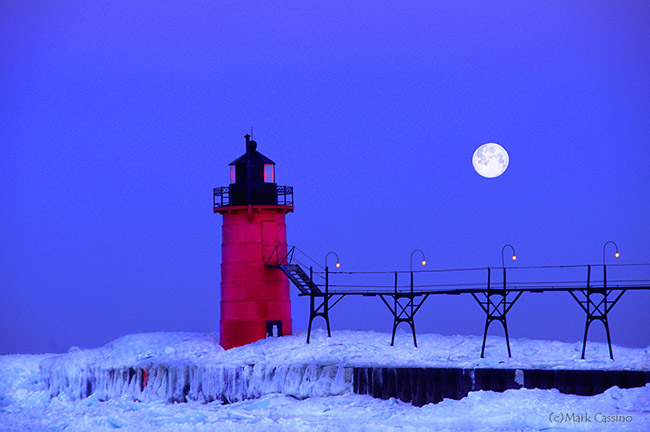 I made this image  back in 2002 and of course on film. Got up early to get to the beach on time, and set up the camera and tripod on an ice dune along the shore, south of the lighthouse. It was -12F (-24C) - i.e. damn cold! - and a steady breeze blew off the lake. I loaded Kodak E100S (if I recall correctly) into my trusty Pentax Pz-1p and shot 3 rolls of film before the cold overwhelmed me. Back at my car I dropped my keys, and actually had a hard time picking them up and  getting my fingers to  work them into the door.
Another photographer showed up shortly after I arrived.  Like me, he had watched the moon rise/set times on an online almanac and picked a time close to dawn when the conditions would be right for this kind of shot. (You need to shoot the moon in twilight if you want to balance the lighting between the moon, and the earth here below.)  He had driven up from Indiana, considerably farther than my short trip. I don't remember his name, but we grabbed some hot coffee and breakfast at a nearby fast food joint.
The ultimate irony: the extreme temperatures were just too much for the Sigma EX 70-200 f2.8 lens I was using. When the lens chilled down the aperture opened up and would not close. In fairness to Sigma the temperatures were far below the stated operating range for the lens. So, when I picked up my film from the lab I was horrified to see that all of the frames were just blank - all but the first 3. So, here is one of three...
Lighthouses are not a subject matter that I seek out much these days, but I enjoyed photographing them in the past. I came back to this image as part of a project to rebuild my archive galleries on this website -which you can find here: