Spring has arrived in force here in west Michigan, and these last several days have brought balmy weather and the re-emergence of insects. On Friday I went out to the Allegan Forest, hoping to see some early season butterflies and other insects.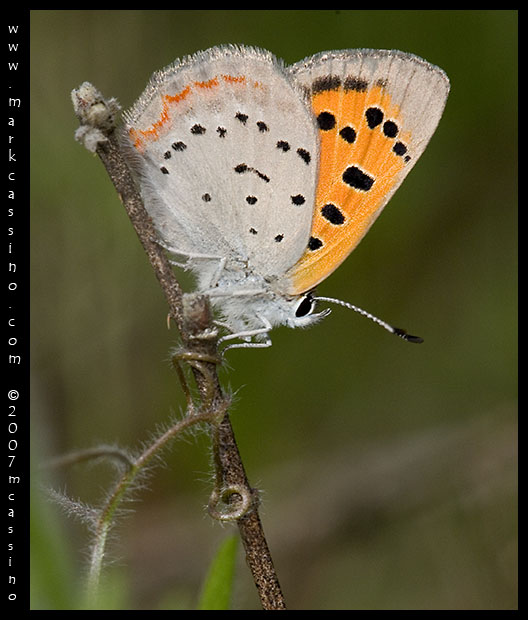 It was a nice trip – I spent several hours in the coreopsis field off 46th street (though no coreopsis are there yet.) But the early spring foliage and riot of dogwood blooms in the forest was a sight to behold. Standing on the trail near Swan Creek, I heard the staccato calls of sand hill cranes, and a pair swooped down from the hill side and gracefully glided along the levee on which the trail runs, then veered off to fly over Swan Creek, landing on the far side. It was sight I'll remember forever.
The insects were out in force – OK, mostly mosquitoes and black flies, but still they were out. The open field were full of small blue butterflies – mostly Spring Azure, but also a few Hairstreaks. The American Coppers were already out in force – I realized that one of the last insect shots I took last year was of an American Copper. These little butterflies really do stick around for the full season.
I was also pleased to see odonata for the first time this year – several damselflies along the path near Swan Creek, a few large green darners (probably migrants from the south) and a handful of medium sized brown dragonflies – which I never saw clearly, but were perhaps immature common whitetails.
The first insect shoot of the year is always a challenge. After several months without picking up the insect photography rig, late spring always finds me in a bit of re-learning mode. Holding the camera steady, tracking and stalking, re-learning the quick fine tuning of camera focus, monopod settings, and camera settings, is always an exercise.
This year I'm working with a new camera – the Pentax K10D – but it so similar to the *ist-D that I had been using, that there is virtually no new learning curve for this sort of work. However – I really delight in the huge increase in file save speed, shake reduction, and in body flash compensation.
This trip produces a handful of acceptable shots – nothing really first rate, though the bar gets higher every year. But, it's a good start – and hopefully some new shots will be coming along shortly.