Where to go on a hot July afternoon? Find a shady spot, of course. That was my logic last Thursday, when I found myself back in a clearing in the Allegan Forest - off of a barricaded two track, off of some seasonal road, off of 122nd avenue, off of M89. It was a place I've never been to before – I need to find more spots like that.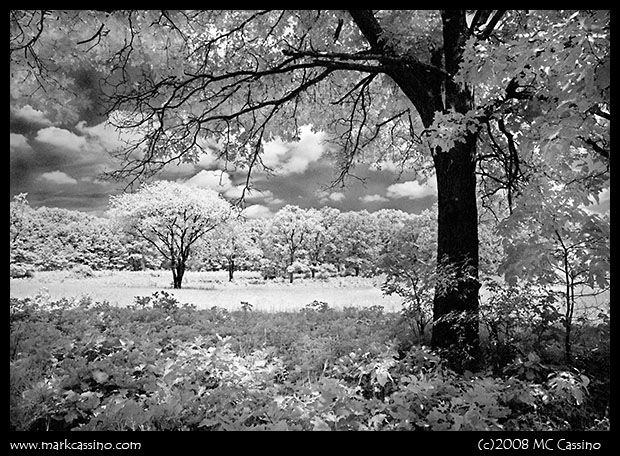 The Shadey Spot
You wouldn't expect that I'd get tired of shooting dragonflies – it seems to take longer every season, but this week I finally lost the dragonfly vibe. Though the fields were teeming with blue dashers and more than a few skimmers of various sorts, I left the digital camera and the macro rig behind. I wandered back into the clearing with a trusty Pentax LX loaded with Rollei IR 400 film, a couple of zoom lenses, and an R72 filter.
I shot two rolls of the Rollei film – 72 frames, but with bracketing only about 20 different compositions. Digital has really spoiled me – I feel like I've wasted an afternoon if I don't take 200 shots. That is one of the great perils of digital photography - you become your own army of monkeys, pounding at the shutter button. Accidental successes seem to be triumphs, but it's hard to figure out how you got there and recreate the work. Not to mention that accidnets have no concept behind them.
Well - back to the fields and forest. I found a pearl in the sandy soil, often the case there.
This was my third session with the Rollei film. It was shot with the R72 filter, metered though the lens with the ISO set at 200 (thanks, Ray!) Film was developed in HC110, Dil H (1:66) at 20C for 24 minutes, with very low agitation (gentle agitation every 3 minutes for the first 12, then every 60 seconds.) I like it, but I don't see it as a replacement for HEI. It's much too slow with the R72 filter, and I really like using a plain red filter and being able to check and tweak the composition as I'm hitting the shutter button.
Rollei IR 400, with an R72 filter, is also a pretty high contrast film. Despite my attempt at using HC110 as a compensating developer, the film is a tough beast to tame with shadow areas virtually clear on the negative. But, when it comes to B&W shots, contrast is your friend. Not a friend I've really come to terms with, but working with this film has been a big boost in helping me understand and work with higher contrast mono shots.