One nice thing about the Holga camera is that you can take as many multiple exposures as you want. That's one of the camera's nicest features.
Don't as me why, but I've been avoiding that feature. I keep the lens cap on the Holga, not so much to protect the lens, but to prevent accidental multiple exposures. Looking back, I'm not sure why I was so worried about that – after all, randomness and the happy accident are where it's at when it comes to the Holga.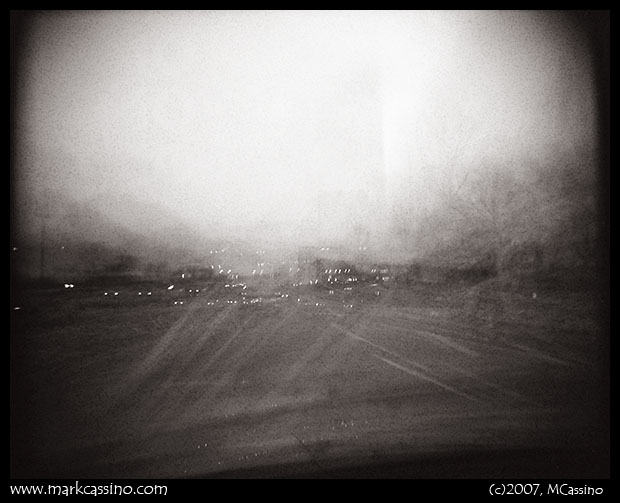 Driving into work the other day, I wondered about putting the whole commute into one image. It was a dark morning – the sun is barely up when I leave and the heavy clouds made it all the more gloomy. I didn't count the number of exposures I took – probably about 20. It was raining and the raindrops on the windshield made for an interesting patina to the shot. The wiper blades should have appeared in some of the shots – I don't know why they didn't, but they didn't.
I like this shot – kind of moody and blue, low on impact and graphic elements, but still engaging to my eye. I plan to continue to work with this technique – ideas for other multiple compositions are coming to mind already.
For those interested in technical matters – this shot was taken on JandC's Pro 100 film, developed in Agfa Rodinal 1:50 for 1 hour (very low agitation.) Well – even with 20 exposures it was still pretty dark out.